6.2.4.3 Photoshop Plugin
70 Of The Best Photoshop Actions For Enhancing Photos. The compilation consist of 70 of the best Photoshop actions collected from all around the web from photo effects to actions for even creating photo borders, An essential design resource for all designers weather your an expert or an beginner.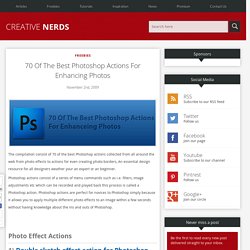 Photoshop actions consist of a series of menu commands such as i.e. filters, image adjustments etc which can be recorded and played back this process is called a Photoshop action. Photoshop actions are perfect for novices to Photoshop simply because it allows you to apply multiple different photo effects to an image within a few seconds without having knowledge about the ins and outs of Photoshop. Photo Effect Actions 1) Double sketch effect action for Photoshop This action offers a "double" sketch effect, just like if you painted the sketch twice, once from left to right, and once from right to left. 118 plugins gratuits pour Photoshop.
Rien que pour vous amis Photoshopeurs, le blog a rencensé qui vous aideront à réussir vos créations...
De petites recherches m'ont également permis de trouver . Nous propose sympathiquement sur son site . 20 of the best Free Photoshop Plugins and Filters. Written by tutorialblog Plugins and filters extend Photoshop by providing new funtionality and effects that you wouldn't otherwise be able to achieve or by simplifying a process.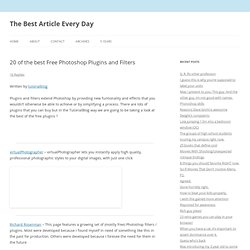 There are lots of plugins that you can buy but in the TutorialBlog way we are going to be taking a look at the best of the free plugins ? VirtualPhotographer – virtualPhotographer lets you instantly apply high quality, professional photographic styles to your digital images, with just one click Richard Rosenman – This page features a growing set of (mostly free) Photoshop filters / plugins. Most were developed because I found myself in need of something like this in the past for production.
Photoshop actions: 124+ Free Photoshop Actions to Boost Your Designs. Photoshop Actions ?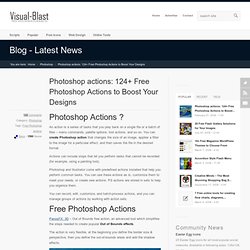 An action is a series of tasks that you play back on a single file or a batch of files – menu commands, palette options, tool actions, and so on. You can create Photoshop action that changes the size of an image, applies a filter to the image for a particular effect, and then saves the file in the desired format. Actions can include stops that let you perform tasks that cannot be recorded (for example, using a painting tool). Photoshop and Illustrator come with predefined actions installed that help you perform common tasks.
You can use these actions as is, customize them to meet your needs, or create new actions. Des plugins Photoshop gratuits - E. Filter Forge - Photoshop Plugin to Create Your Own Filters. Software Download. This page features a growing set of free Adobe Photoshop® filters / plugins coded by myself for 3D production, 2D design, and technical research.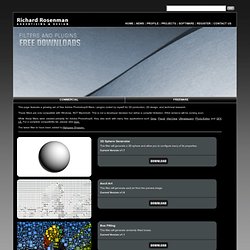 These filters are only compatible with Windows, NOT Macintosh. This is not a developer decision but rather a compiler limitation. 64bit versions will be coming soon. While these filters were created primarily for Adobe Photoshop®, they also work with many free applications such Gimp, Pixoid, IrfanView, Ultimatepaint, Photo-Editor, and QFX LE. For a complete compatibility list, please click here. Adobe Photoshop Plugins. 150 Scripts Photoshop pour améliorer vos créations - ressources. Photoshop Tutorials & Adobe Photoshop Plugins.
---