Tutorials
Learn Photo Editing: Tutorials for Designers and Photographers. Photoshop provides designers and photographers with the opportunity to professionally edit photos for the best results.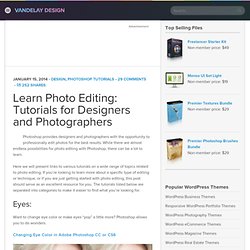 While there are almost endless possibilities for photo editing with Photoshop, there can be a lot to learn. Here we will present links to various tutorials on a wide range of topics related to photo editing. If you're looking to learn more about a specific type of editing or technique, or if you are just getting started with photo editing, this post should serve as an excellent resource for you. The tutorials listed below are separated into categories to make it easier to find what you're looking for. Eyes: Extended Definition Processing Tutorial for Photoshop CS5.
Extended Definition Processing Tutorial Intro Image Introduction Extended Definition Processing is a relatively new post processing technique created by Scott Kelby of Photoshopuser.com.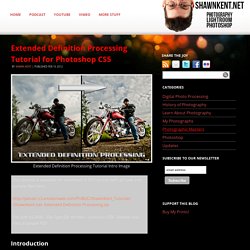 The technique has a style similar to HDR with a hyper reality sense to it. Photoshop CS4: A Picture Worth a Thousand Words. I love Photoshop techniques that offer all kinds of possibilities for experimentation—and the following tutorial is a perfect example of one of those techniques.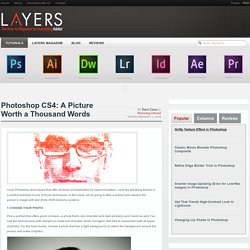 In this issue, we're going to take a portrait and replace the person's image with text (think 2009 Grammy posters). Pick a portrait that offers good contrast—a photo that's very dramatic and dark probably won't work as well. 33 Stunning Tutorials To Become A Master Of Photography. Photoshop is the basic requirement of a designer and that's why designers all around the world regularly look for the tutorials that can help them in polishing their Photoshop skills.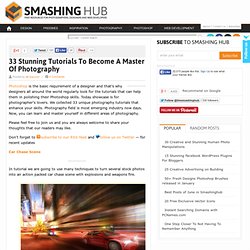 Today showcase is for photographer's lovers. We collected 33 unique photography tutorials that enhance your skills. Photography field is most emerging industry now days. Photoshop Light Effect Tutorials. The best 30 photo manipulation tutorials for Photoshop | dpxmag.com. 30 Cool Photoshop Tutorials for Beginners | LOOKS GOOD Design Magazine.
Article by Tony Chen in Design, Resources, Tutorials | 11 comments Adobe Photoshop, an essential to any designer's toolkit is probably the most popular graphics editing program out there.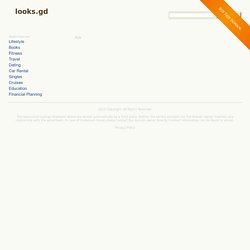 Photoshop is easy to learn and offers an extensive array of advanced tools to create some impressive and realistic compositions. Learn the Basics of Photoshop: The Complete Guide.
---