Recipes
How to Draw with Chocolate. I love to draw.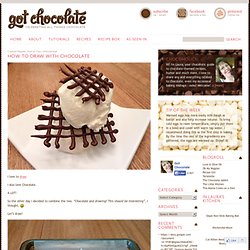 I also love Chocolate. So the other day I decided to combine the two. "Chocolate and drawing? This should be interesting", I thought. Creamy Macaroni and Cheese. A creamy macaroni and cheese recipe that will satisfy both young and old made with Kerrygold cheese and butter from grass-fed cows.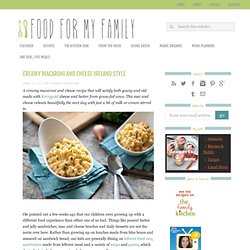 This mac and cheese reheats beautifully the next day with just a bit of milk or cream stirred in. Ole pointed out a few weeks ago that our children were growing up with a different food experience than either one of us had. Things like peanut butter and jelly sandwiches, mac and cheese lunches and daily desserts are not the norm over here. Good for you breakfast loaf « Haute Box. March 23, 2011 by allison n Raise your hand if you enjoy a warm slice chunk of quick bread in the morning or as a snack?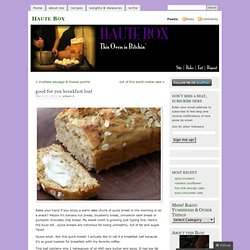 Maybe it's banana nut bread, blueberry bread, cinnamon swirl bread or pumpkin chocolate chip bread. My sweet tooth is growing just typing this. The Pastry Affair - Home - Garlic Parmesan Pull-Apart Bread. I once made the driest pancake in the world.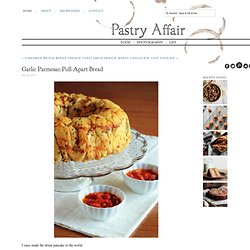 I can see you sitting at home, staring at your computer screen, and scoffing at my bold statement. Driest pancake in the world? Yeah, right. Baked Marijuana French Toast: French Toasted. Marijuana French toast?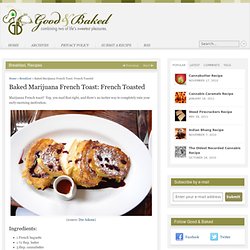 Yep, you read that right, and there's no tastier way to completely ruin your early-morning motivation. (source: Dee Adams) Ingredients: 1 French baguette1 ½ tbsp. butter3 tbsp. cannabutter4 eggs1 cup milk¼ cup sugar3 tbsp. maple syrup1 tsp. vanilla extract½ tsp. saltpowdered sugar Directions: Boston Cream Pie Minis Recipe. The Comfort of Eggs in a Basket. Eggs in a basket was the first meal I ever cooked.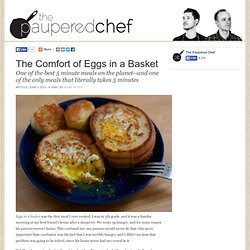 I was in 5th grade, and it was a Sunday morning at my best friend's house after a sleepover. We woke up hungry, and for some reason his parents weren't home. This confused me--my parents would never do that--but more important than confusion was the fact that I was terribly hungry, and I didn't see how that problem was going to be solved, since his house never had any cereal in it. "We'll make eggs in a basket," my friend said, pulling out a loaf of bread, a jug of oil, and a carton of eggs. You mean, we'll be cooking? #58 Asian-Style Dumplings and Prawns Soup.
Easy to make soup, that is full of deliciousness and light as a summer breeze.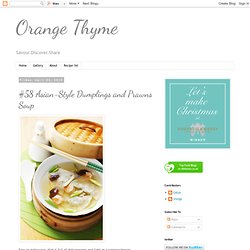 To serve 4 For the dumplings125 g pork mince30 g prawns, very finely chopped6 shitake mushrooms, finely chopped1 spring onion, finely chopped1 cm ginger, grated2 tbsp dark soy sauce½ eggwhite1 tsp corn flour12 Korean-style flour dumpling skins1 tsp cornflour to seal the dumplings For the soup:700 ml chicken stock10 shitake mushrooms, quartered 12 king prawns3 spring onions, sliced diagonally. Homemade Samoas « Yeah, that's right.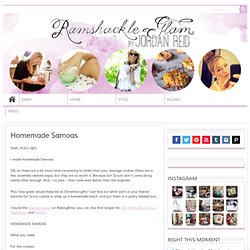 I made homemade Samoas. OK, so these are a bit more time-consuming to make than your average cookies (there are a few assembly-related steps), but they are so worth it. Because Girl Scouts don't come along nearly often enough. And – no joke – they taste even better than the originals. Big Red Kitchen: Cinnamon Roll Pancakes. The original and unique Cinnamon Roll Pancake recipe created by Robin Sue!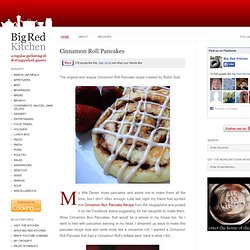 My little Deven loves pancakes and wants me to make them all the time, but I don't often enough. Late last night my friend had spotted this Cinnamon Bun Pancake Recipe from the blogisphere and posted it on her Facebook status suggesting for her daughter to make them. Wow, Cinnamon Bun Pancakes, that would be a winner in my house too. So I went to bed with pancakes dancing in my head. I dreamed up ways to make this pancake recipe look and taste more like a cinnamon roll. Pull Apart Lemon Coffee Cake. The title says "cake" but I really feel that "bread" better describes what this is.
Sweet yeasty dough cut and slathered with butter and lemon infused sugar is baked and then spread with lemon cream cheese icing. Once its iced you can just peel the slices off, no need to cut (who has time to find a knife anyways??) Sausage Kebabs | The Family Kitchen. Grilling goes hand in hand with Memorial Day celebrations. Burgers and Hot Dogs are the normal go to but sometimes you want something a little different. This Memorial Day Weekend why not try grilled kebabs! Who doesn't like food on a stick, I mean really. Broccoli Bites for Kids. File this under the Onion Soup Mix Recipe category, though there is no Lipton onion soup mix in site. I may even serve these at my next dinner party, they were that good! While babysitting for my 6 year old picky eater niece, I had to come up with a good lunch that would be fun for the two of us to make together.
Steak au Poivre - The Showstopper. I have a comment on this comment, then I have a comment for the OP. To Amy: Removing to foil is simply a way to keep the steaks warm whilst resting (FOR 5 MINUTES AT LEAST… ALWAYYYS!). When the OP says remove to foil, he/she doesn't mean to wrap them tightly. They mean to place them in a plate, and form a loose 'covering' of foil. This will simply trap some of the heat and allow it to remain warm, without trapping too much moisture. To the OP and to anyone else who decides to try 'flambe': How to cook perfect quiche lorraine. Ah, it's picnic time of year again: an excuse, for the lazy ("spontaneous") among us to empty our wallets on the counters of fancy delicatessens in order to furnish the impromptu "al fresco feasts" the media demands of us.
(Somehow, it's easier to hand over a banknote for a couple of sausage rolls when the sun's shining.) While I'm a sucker for luminous green olives and pungent cheeses worth more than my flat, I can't muster any sort of excitement for a supermarket quiche, so sadly damp and flabby in its foil tray. This classic French pastry has been done a major disservice by mass production: however imaginative the filling (I recently encountered one studded with meatballs, the memory of which still keeps me awake), they bear little resemblance to the delicately wobbling, full-flavoured beauties you can turn out at home. Cheesy baked artichoke dip. In college i was a waitress and bartender at The Loring Bar & Cafe in Minneapolis. it is where i met alex, so it will always hold a very special place in my heart. it was a really great place to work - cool co-workers, great customers and excellent food. the one thing that we were known for was artichoke dip. i can't tell you how many times i ate that for dinner. it was incredible but since The Loring closed no other artichoke dip has even came close to replacing it. i have tried several recipes for artichoke dip that really sucked. too dry - to heavy - not enough flavor - i have covered them all. but this recipe is the last artichoke dip recipe i will ever need. it is similar to the Loring recipe - dare i say - it might be even better. let me put it this way - this is THE BEST artichoke dip!
Broiled Lemon Herb Chicken. Focaccia. Herb Butter Mushrooms With Smoked Mozzarella. Bacon, Egg, and Toast Cups. Ratatouille's ratatouille. Cruft: Lasagna Cupcakes. Big Red Kitchen: More in the Freezer: Cheeseburgers.
Brie And Smoked Turkey Panini Recipe. Pauladeen.com. Aimless Omnivores. Low-Carb Snacks : Homemade Baked Cheese Crisps Recipe. Find recipes online  |  Foodily  |  Food, I love you. Sweet and Spicy Bacon coated in Nutella. CHOW - Recipes, cooking tips, resources, and stories for people who love food. With kids.
Foodgawker. Drinks. Homemade Tater Tots.
---