PgCE/Cert Ed: UoH
Prezi vs Powerpoint « Classroom201X. Best way to give a spectacular presentation?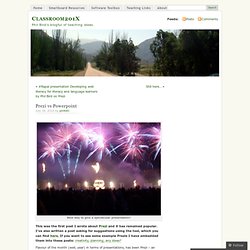 This was the first post I wrote about Prezi and it has remained popular. I've also written a post asking for suggestions using the tool, which you can find here. If you want to see some example Prezis I have embedded them into these posts: creativity, planning, any ideas? Flavour of the month (well, year) in terms of presentations, has been Prezi – an online presentation tool being held up as a being something that you can use to end the infamous "Death by Powerpoint".
I've seen loads of them online, and a few around the college where I work – so I thought I ought to give it a go – my attempts are here on this blog (last three entries). Education news, comment and analysis. Mod 1: teaching. Atherton J S (2013) Learning and Teaching; Contents [On-line: UK] retrieved 13 April 2014 from Comments (including broken links etc.) welcome (even needed) please: email me here Original material by James Atherton: last up-dated overall 10 February 2013 This work is licensed under a Creative Commons Attribution-Noncommercial-No Derivative Works 3.0 Unported License.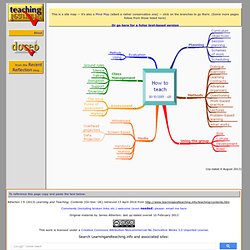 Learning Matters Online. Welcome to Learning Matters, now part of SAGE Learning Matters books are now available to buy or inspect through the SAGE website.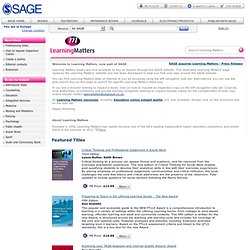 This dedicated Learning Matters' page replaces the Learning Matters' website and has been developed to help you find your way around the SAGE website. You can find Learning Matters titles of interest to you by browsing using the left navigation side bar. Dewey & Vygotsky. Lesson Planning. Geoff Petty - Teaching Today - Home page. Mod 6: Professionalism. IfL: code of practice.
Motivational Dialogue. Reflective Practice. Pages in this section:| Definitions 1 | Definitions 2 | Definitions 3 | Definitions 4 | What is reflection?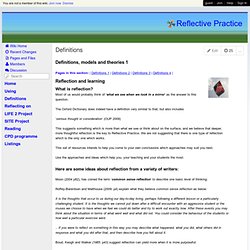 Most of us would probably think of 'what we see when we look in a mirror' as the answer to this question. The Oxford Dictionary does indeed have a definition very similar to that, but also includes 'serious thought or consideration' (OUP 2009) This suggests something which is more than what we see or think about on the surface, and we believe that deeper, more thoughtful reflection is the key to Reflective Practice. We are not suggesting that there is one type of reflection which is the only one which works. This set of resources intends to help you come to your own conclusions which approaches may suit you best. Toni Fazaeli, IfL: professionalism. Excellence Gateway. About IfL. Times Higher Education. IOE - Home.
University Home page - University of Hull. Teachers TV | Free education videos and resources for professional development. FE News - Further Education, Employability, Skills News and Video - FENews.co.uk.
---