Théories sur les médias
FTC Presentation
The New York Times Should Thank The Gods And Raise $500+ Million
Top Internet Trends of 2000-2009: Democratization of News Media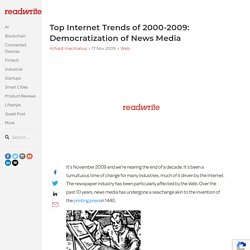 It's November 2009 and we're nearing the end of a decade. It's been a tumultuous time of change for many industries, much of it driven by the Internet. The newspaper industry has been particularly affected by the Web.
Etats-Unis : Internet supplante le papier - INTERNET MEDIAS
Posted by Tom Foremski - January 4, 2010 A massive dislocation in the crust of the media landscape caused by self-publishing media technologies will raise a media Tsunami that will wash away at the value of all media. The media is dead, long live the media.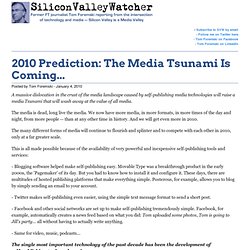 2010 Prediction: The Media Tsunami Is Coming...
How Google Is Becoming A Media Company
There is a widespread myth that search engines have taken profits away from news websites. A few months ago, Rupert Murdoch said: "Google has devised a brilliant business model that avoids paying for news gathering yet profits off the search ads sold around that content."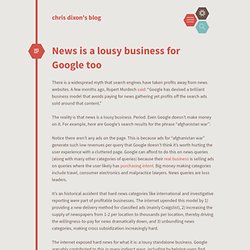 News is a lousy business for Google too cdixon.org – chris dixon
Patrice Lamothe: wondering what will be the
Patrice Lamothe: Facebook, twitter,.. amusa
Vogelsong: Les journalistes se disput
New Media Business Models