Théories sur les médias
FTC Presentation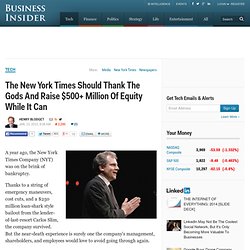 A year ago, the New York Times Company (NYT) was on the brink of bankruptcy. Thanks to a string of emergency maneuvers, cost cuts, and a $250 million loan-shark style bailout from the lender-of-last-resort Carlos Slim, the company survived. But the near-death experience is surely one the company's management, shareholders, and employees would love to avoid going through again. A year later, after more cost cuts and a stock market surge, the New York Times has been tossed a potentially permanent lifeline: The company's stock has surged to $14 after hitting a low of $3 last February, giving it $2 billion of equity market value. This, in turn, means the company can raise a lot of cash through the sale of stock without wiping out its owners.
The New York Times Should Thank The Gods And Raise $500+ Million
Top Internet Trends of 2000-2009: Democratization of News Media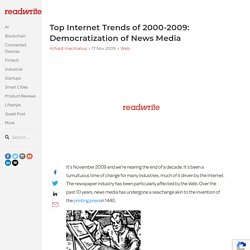 It's November 2009 and we're nearing the end of a decade. It's been a tumultuous time of change for many industries, much of it driven by the Internet. The newspaper industry has been particularly affected by the Web.
Etats-Unis : Internet supplante le papier - INTERNET MEDIAS
Posted by Tom Foremski - January 4, 2010 A massive dislocation in the crust of the media landscape caused by self-publishing media technologies will raise a media Tsunami that will wash away at the value of all media. The media is dead, long live the media.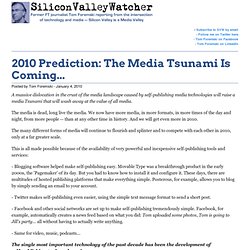 2010 Prediction: The Media Tsunami Is Coming...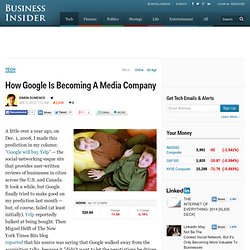 How Google Is Becoming A Media Company
A little over a year ago, on Dec. 1, 2008, I made this prediction in my column: "Google will buy Yelp" -- the social-networking-esque site that provides user-written reviews of businesses in cities across the U.S. and Canada. It took a while, but Google finally tried to make good on my prediction last month -- but, of course, failed (at least initially). Yelp reportedly balked at being bought.
There is a widespread myth that search engines have taken profits away from news websites. A few months ago, Rupert Murdoch said: "Google has devised a brilliant business model that avoids paying for news gathering yet profits off the search ads sold around that content." The reality is that news is a lousy business. Period. Even Google doesn't make money on it. For example, here are Google's search results for the phrase "afghanistan war":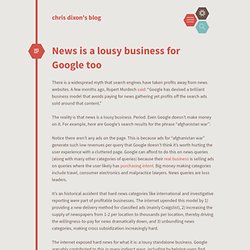 News is a lousy business for Google too cdixon.org – chris dixon
Patrice Lamothe: wondering what will be the
Language: English Bahasa Indonesia Bahasa Melayu Dansk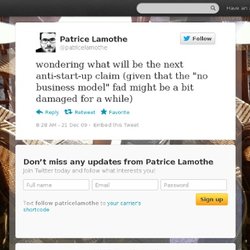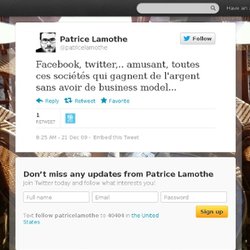 Language: English Bahasa Indonesia Bahasa Melayu Dansk Deutsch
Patrice Lamothe: Facebook, twitter,.. amusa
Language: English Bahasa Indonesia Bahasa Melayu Dansk Deutsch Español
Vogelsong: Les journalistes se disput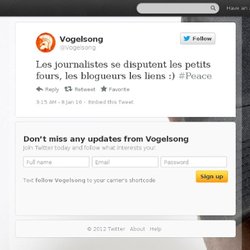 New Media Business Models