Théories sur les médias
FTC Presentation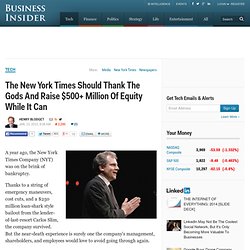 A year ago, the New York Times Company (NYT) was on the brink of bankruptcy. Thanks to a string of emergency maneuvers, cost cuts, and a $250 million loan-shark style bailout from the lender-of-last-resort Carlos Slim, the company survived. But the near-death experience is surely one the company's management, shareholders, and employees would love to avoid going through again. A year later, after more cost cuts and a stock market surge, the New York Times has been tossed a potentially permanent lifeline: The company's stock has surged to $14 after hitting a low of $3 last February, giving it $2 billion of equity market value. This, in turn, means the company can raise a lot of cash through the sale of stock without wiping out its owners.
The New York Times Should Thank The Gods And Raise $500+ Million
Top Internet Trends of 2000-2009: Democratization of News Media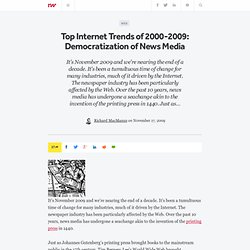 It's November 2009 and we're nearing the end of a decade. It's been a tumultuous time of change for many industries, much of it driven by the Internet. The newspaper industry has been particularly affected by the Web. Over the past 10 years, news media has undergone a seachange akin to the invention of the printing press in 1440. Just as Johannes Gutenberg's printing press brought books to the mainstream public in the 15th century, Tim Berners-Lee's World Wide Web brought commercial publishing to the people. The Web has always been a medium where people could just as easily write as read (yes, the read/write Web), however it didn't reach its potential until blogging came along earlier this decade.
Etats-Unis : Internet supplante le papier - INTERNET MEDIAS
Posted by Tom Foremski - January 4, 2010 A massive dislocation in the crust of the media landscape caused by self-publishing media technologies will raise a media Tsunami that will wash away at the value of all media. The media is dead, long live the media.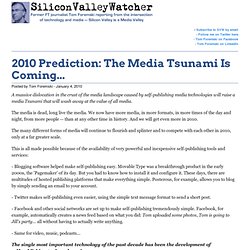 2010 Prediction: The Media Tsunami Is Coming...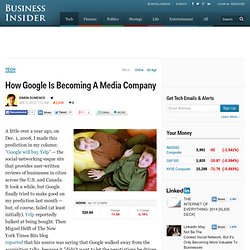 How Google Is Becoming A Media Company
A little over a year ago, on Dec. 1, 2008, I made this prediction in my column: "Google will buy Yelp" -- the social-networking-esque site that provides user-written reviews of businesses in cities across the U.S. and Canada. It took a while, but Google finally tried to make good on my prediction last month -- but, of course, failed (at least initially). Yelp reportedly balked at being bought.
There is a widespread myth that search engines have taken profits away from news websites. A few months ago, Rupert Murdoch said: "Google has devised a brilliant business model that avoids paying for news gathering yet profits off the search ads sold around that content." The reality is that news is a lousy business. Period. Even Google doesn't make money on it. For example, here are Google's search results for the phrase "afghanistan war":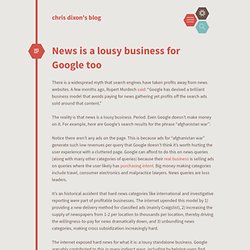 News is a lousy business for Google too cdixon.org – chris dixon
Patrice Lamothe: wondering what will be the
Language: English Bahasa Indonesia Bahasa Melayu Dansk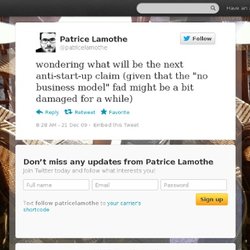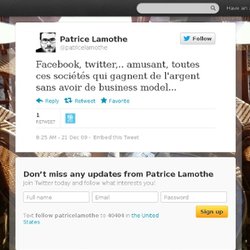 Language: English Bahasa Indonesia Bahasa Melayu Dansk Deutsch
Patrice Lamothe: Facebook, twitter,.. amusa
Language: English Bahasa Indonesia Bahasa Melayu Dansk Deutsch Español
Vogelsong: Les journalistes se disput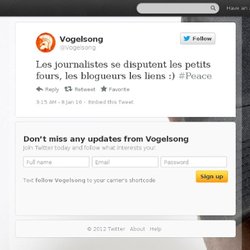 New Media Business Models