Design
Any kind works.
Graphic Design Inspiration, Design Jobs, Design Business & Design Career Advice. Digital Publishing Suite. How To Typeset a Poster. Bowne & Co., Stationers at the South Street Seaport Museum in New York frequently produces beautiful letterpress keepsakes.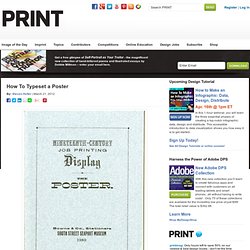 This one from 1989, "Nineteenth Century Job Printing Display – The Poster" is a delightful little guide to the dos and don'ts. Using their enviable stock of metal types, 200 copies were printed on a Vandercook Universal I. the text was adapted from "The Letter-Preess Printer: A Complete Guide to the Art of Printing; Containing Practical Instructions for Learners at Case, Press and Machine" (London, 1881).
Last year I wrote about the possible closing of Bowne & Co. here, The shop is still functioning (at 211 Water St., NYC) and still printing: Announcement cards ($165 for 50), four-piece invitations ($1,085 for 100), and reception cards ($270 for 100),all printed on Crane & Co. paper. Colossal | An art and design blog. Gizmodo, DIGITAL LIFESTYLE. Communication Arts - Home.
MoscatiVision. Minimal Movie Posters. These two posters are the finalists for the Now You See Me fan poster competition, which I posted about here.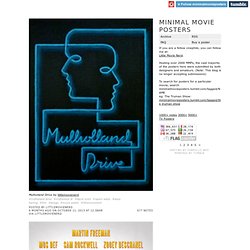 Let's call the top one Option 1, and the second Option 2. Now you'll get to help to choose the winner by answering this question: which poster do you prefer, Option 1 or Option 2? Artists and designers can make the ordinary seem magical. BrickHut. Dorothy. Business Cards Observer - Unique Business Card Design Inspiratio. Logo Design Love. Computer Arts - Home. Print: Design for Curious Minds. CreativePro | Graphic Design Software, Reviews, Tutorials, News, Graphic Design Blog is a blog about general graphic design, lear.
Dafont.com. The Font Bureau, Inc. Typophile. Typography Daily. Adobe. Smashing Magazine. Layers Magazine « The How-to Magazine for Everything Adobe Layers Magazine.
---