40ishoracle
Jen LaMaster
Director of Faculty Development, Brebeuf Jesuit Preparatory School.
http://www.ala.org/aasl/sites/ala.org.aasl/files/content/researchandstatistics/AASL%20Urban%20Schools%20Taskforce%20Report_v2.pdf
Gigabyte intros S1081 Windows slate and T1006M netvertible, both packing Cedar Trail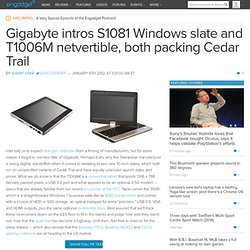 GIGABYTE Introduces Cutting Edge Mobile Products at CES 2012 CES, Las Vegas – January 9, 2012. GIGABYTE today announced an outstanding lineup of ground breaking mobile computers at CES 2012. All products feature GIGABYTE's longstanding commitment to technological prowess in terms of quality, performance and design. Exciting products to be introduced at CES include the S1081, a 10.1" powerful slate for productivity; and the T1006M, an extraordinary 10.1" convertible tablet notebook.
Sherry Turkle in Alive Enough? Reflecting on Our Technology | Civil Conversations Project [onBeing.org]
Computer Applications Modules
Corporate B.S. Generator
Professional look and feel Poll Everywhere gives you the power to design and customize polls to your own specifications. Match your presentation template, use your organization's logo and color scheme, or let your own imagination run wild. A joy to use From creating your first poll in 30 seconds to importing multiple polls at a time to easily managing sub-users, Poll Everywhere puts the user first and makes it easy to create a rock star presentation.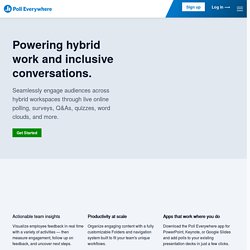 Professional Organizations EdTech
IM + Email + Social Networks
On a cold day in mid-February, The Indiana Department of Education opened applications for their Distance Virtual Learning program. The application qualifies schools to request Virtual Learning Days to cover closures due to inclement weather. On February 26, I received the official word that Brebeuf Jesuit was approved for the IDOE Inclement Weather Virtual Learning Option. In plain words – if we had to close due to snow we could officially take school online and it would count for our mandated 180 days.
Ed Tech Reflections
Open Courseware Resources