40ishoracle
Jen LaMaster
Director of Faculty Development, Brebeuf Jesuit Preparatory School.
http://www.ala.org/aasl/sites/ala.org.aasl/files/content/researchandstatistics/AASL%20Urban%20Schools%20Taskforce%20Report_v2.pdf
Gigabyte intros S1081 Windows slate and T1006M netvertible, both packing Cedar Trail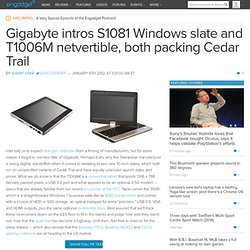 GIGABYTE Introduces Cutting Edge Mobile Products at CES 2012 CES, Las Vegas – January 9, 2012. GIGABYTE today announced an outstanding lineup of ground breaking mobile computers at CES 2012. All products feature GIGABYTE's longstanding commitment to technological prowess in terms of quality, performance and design. Exciting products to be introduced at CES include the S1081, a 10.1" powerful slate for productivity; and the T1006M, an extraordinary 10.1" convertible tablet notebook.
Sherry Turkle in Alive Enough? Reflecting on Our Technology | Civil Conversations Project [onBeing.org]
Computer Applications Modules
Corporate B.S. Generator
Professional Organizations EdTech
IM + Email + Social Networks
Ed Tech Reflections
Open Courseware Resources