BLOGS
HelloGiggles
Home
Where The Hell Is Matt?
Scribol
Once upon a time my friend Chad went to college. Now, Chad likes to tell people what made him decide to go to school and the reasons why he traded in a job at Best Buy for a few hard years of hitting the books. See, on a whim one weekend Chad packed his trunk and cruised down the highway to visit our friend Mike who was away at school. They didn't have any plans but spent a couple days going out for drinks and eating meals at the residence dining hall. And it was in that dining hall that Chad first came face to face with a big beautiful stainless steel object of his desire. Yes, he glanced up slowly and realized in a stunning moment that he was staring straight at chocolate milk on tap.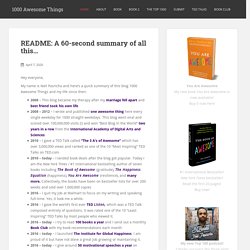 1000 Awesome Things | A time-ticking countdown of 1000 awesome things
Topics Hot: Facebook NSFW Tattoo Photoshop Categories: Art Ads Signs Names Places People Objects Gifts Science Stories Medicine Tech Home Design Misc Random
A Blog on Oddities: the odd, bizarre and strange things of our world! | Oddee.com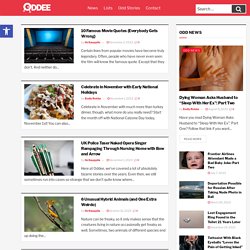 PostSecret
Trapped in the (Water) Closet January 14th, 2014 · 35 comments Writes Robert in Redmond, Washington: "In our office, in this particular bathroom, at this particular urinal, there strikes a phantom pisser, who finds joy in covering the floor in front of the urinal 1/8 inch deep in piss — every single day. One coworker got fed up with this and posted the following series of sticky notes.
PassiveAggressiveNotes.com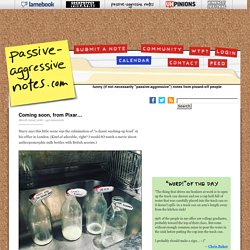 FOUND Magazine | Find of the Day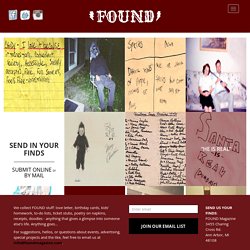 FOUND by Cindy I found this inside a 1921 copy of Oral and Written English Intermediate. Miss Grace Dietrich wrote her name inside the book as well. Not sure if it was an exercise for the class or if the letter is real. FOUND by Brian at Atlantic Station, Midtown Atlanta, Georgia Went to see The Hobbit Part 2 with friends.
Lolcats 'n' Funny Pictures of Cats - I Can Has Cheezburger?
Most Upvoted 1661 votes A Little Snow Won't Stop Me 1311 votes Now You Will Never Unsee the Fat Dragon 1239 votes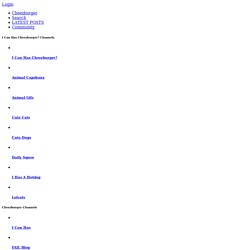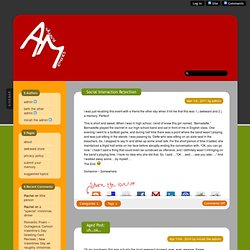 When I think of Thanksgiving, I'm surprised that I still like to get together with people after some real awkward times. The "holiday season" should be filled with "holiday cheer", but a number of times it wasn't for me. One time I was with my family for Thanksgiving. It hadn't happened very often because I many times have had to travel the longest distance of my family to get together with them. This time one of our youngest had just received horrible news from someone at school: Santa Claus didn't exist.
Awkward Memories | the funniest collection of awkward stories and embarrassing moments in the world ever! Seriously, these are painful. You are reading this. That makes you weird. Submit your own awkward memory to us.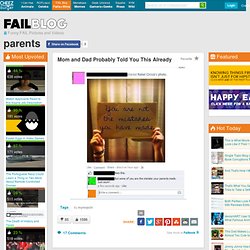 parents Share on Facebook2 Most Upvoted 647 votes You'll Never Think of Paper the Same Way After Seeing Li Hongbo's Sculptures 754 votes
Crazy Things Parents Say
FML: Your everyday life stories