Desserts
Chouquettes au sucre. La pâte à choux 1.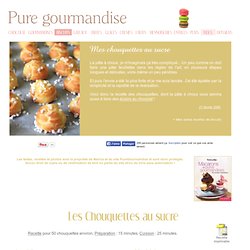 Verser le lait, l'eau, le beurre fondu, le sucre en poudre et les pincées de sel dans une casserole. Porter à ébullition. 2. Hors du feu, ajouter la farine en une fois, et mélanger aussitôt à la spatule. 3. The Ten Commandments. Recently, I've gotten to know fellow Kentuckian Victor Sizemore.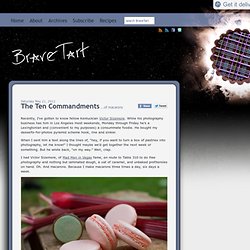 While his photography business has him in Los Angeles most weekends, Monday through Friday he's a Lexingtonian and (convenient to my purposes) a consummate foodie. He bought my desserts-for-photos pyramid scheme hook, line and sinker. When I sent him a text along the lines of, "hey, if you want to turn a box of pastries into photography, let me know!" I thought maybe we'd get together the next week or something. But he wrote back, "on my way." Salted Caramel Apple Pie. If you're looking to make new friends, salted caramel is a good place to start.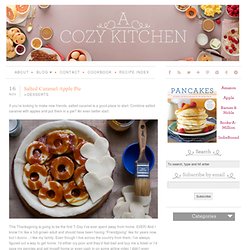 Combine salted caramel with apples and put them in a pie? An even better start. This Thanksgiving is going to be the first T-Day I've ever spent away from home. Plum Pudding Brandy Sauce - 1999: Prince Edward Island: Visitors Guide. Mini Plum Puddings recipe. Vegan Rose Water Almond Milk Pudding « TGIF!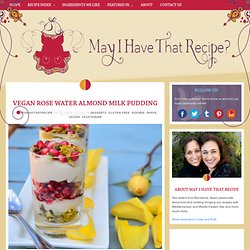 Not that I care so much about weekends, but this one is kind of special for me. I'm one of those people who remember EVERYTHING. Everything, including exact dates and times of events that happened in the past. Like the day I got my first job. Or the day I found out I was pregnant. Lemon Sugar Cookies. Sometimes the simplest cookies are the most satisfying – and these sugar cookies certainly fit that description.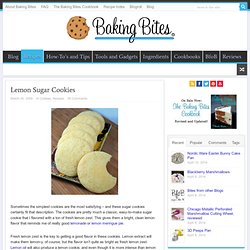 The cookies are pretty much a classic, easy-to-make sugar cookie that I flavored with a ton of fresh lemon zest. This gives them a bright, clean lemon flavor that reminds me of really good lemonade or lemon meringue pie. Fresh lemon zest is the key to getting a good flavor in these cookies. Lemon extract will make them lemon-y, of course, but the flavor isn't quite as bright as fresh lemon zest. 10 Tasty Mug Cakes That You Can Make in Just Minutes. By bellalimento | I'm sure you've heard of cakes that you make in a microwave in MINUTES.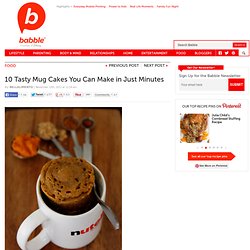 I have to admit the first time I saw a recipe for one I was skeptical. How to make macarons - some tips and tricks. For those of you who read this blog regularly, you will know that macarons are one of my obsessions.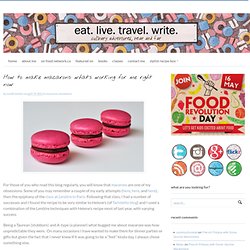 Some of you may remember a couple of my early attempts (here, here, and here), then the epiphany of the class at Lenôtre in Paris. Following that class, I had a number of successes and I found the recipe to be very similar to Helene's (of Tartelette blog) and I used a combination of the Lenôtre techniques with Helene's recipe most of last year, with varying success. Being a Taurean (stubborn) and A-type (a planner) what bugged me about macarons was how unpredictable they were. On many occasions I have wanted to make them for dinner parties or gifts but given the fact that I never knew if it was going to be a "feet" kinda day, I always chose something else.
Macaron Mythbusters. As I wrote in my first macaron post, I make macarons every day at work, learning something new with each batch.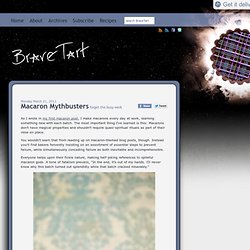 The most important thing I've learned is this: Macarons don't have magical properties and shouldn't require quasi-spiritual rituals as part of their mise en place. You wouldn't learn that from reading up on macaron-themed blog posts, though. Instead you'll find bakers fervently insisting on an assortment of essential steps to prevent failure, while simultaneously conceding failure as both inevitable and incomprehensible. Everyone harps upon their fickle nature, making half-joking references to spiteful macaron gods. Simple Sundays | Lemon Curd. Today's post comes by way of a special request from a reader comment when I published my recipe for No Bake Lemon Curd Cheesecake Bars a few weeks ago.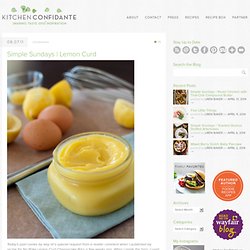 When I made the bars, I used the convenient (yet divine) lemon curd from Trader Joe's. However, we don't all have a Trader Joe's nearby, and the truth is, Lemon Curd is really very simple to make. Thanks to Stef the request! Lemon curd – I could eat it by the spoonful. I must confess, as simple as it is to make, I usually buy it.
Cherry clafoutis. You know what?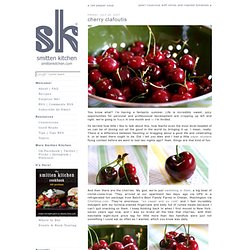 I'm having a fantastic summer. Life is incredibly sweet, juicy opportunities for personal and professional development are cropping up left and right, we're going to Napa in one month and — I'm thrilled. Its terrible how little I like to talk about this, how fearful even the most level-headed of us can be of jinxing out all the good in the world by bringing it up. I mean, really. Poppy seed lemondoodles. The internet blows my mind. I lay awake at night trying to understand how it works; how it brings us all together, how we will continue to connect, and how it knows that I am searching for the current weather in Hong Kong, even when I myself did not know I even needed that information.
How is the internet going to turn out? Are we all going to have claws for hands because of the overuse of touch screens? Are doctors going to rename the pointer finger the iPointer finger? Make the Delicious Carrot Cake They Serve on Rikers Island. How To Make Creamy Ice Cream with Just One Ingredient! Yes, that's right; you heard us. Creamy, soft-serve style ice cream with just one ingredient — and no ice cream maker needed! What is this one magic ingredient that can be whipped into perfectly rich and silky ice cream, with no additional dairy, sweeteners, or ingredients needed whatsoever? If you guessed BANANA, congratulations! You're right! Maple Pots de Crème with Almond Praline Recipe at Epicurious.
Photo by Dan Forbes yield Makes 4 active time 40 minutes total time 4 hours. Pâte à Choux Recipe (Cream Puff Pastry) Thursday, November 17, 2011 Simple Pate a Choux and Cheese Puffs Update 11/17/11 I'm re-posting this recipe from 2009 – it's perfect for Thanksgiving dinner – 3-ingredient recipe with impressive results. The Best Chocolate Mousse of Your Life Under 5 Minutes : Cafe Fernando – Food Blog - best chocolate mousse - best chocolate mousse recipe - chocolate chantilly - chocolate mousse recipe - herve this - Chocolate. MINI MONKEY BREAD. Cinnamon Toast Rolls. Triple-Chocolate Mousse Cake. Honeyed Pears in Puff Pastry. DessertStalking. Popsicles! Lemon posset, un dessert medieval anglais. Citrus Love-Lemon Posset, Langues de Chats & Lime Meltaways. 3 Ingredients, 60 Seconds: Gooey Chocolate Mug Cake. Recipe Print 5 Minute Chocolate Mug Cake recipe.
Caramel Apple Pie Cupcakes « The Craving Chronicles. Recette de Forêt noire aux cerises noires.
---