torrent helpful hints
Get flash to fully experience Pearltrees
Torrentz.com is the largest BitTorrent search engine that doesn't actually host any torrent files. This means that its millions of users still depend on third party sites in order to download .torrent files.
With anti-piracy outfits and dubious law-firms policing BitTorrent swarms at an increasing rate, many Bittorrent users are looking for ways to hide their identities from the outside world.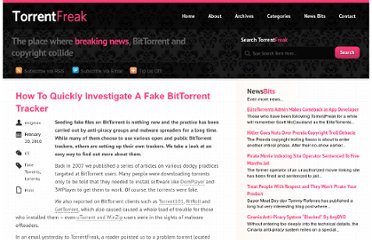 Seeding fake files on BitTorrent is nothing new and the practice has been carried out by anti-piracy groups and malware spreaders for a long time. While many of them choose to use various open and public BitTorrent trackers, others are setting up their own trackers.
February, 2013
Answer: Port forwarding is the redirecting of computer signals to follow specific electronic paths into your computer. If the computer signal can find its way into your computer a few milliseconds quicker, it will add up to be dramatic speed increases for your game or your downloading.