Physics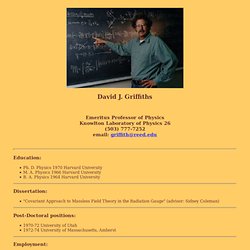 Emeritus Professor of Physics Knowlton Laboratory of Physics 26 (503) 777-7252 email: griffith@reed.edu Education: Ph.
David Griffiths
Motion Mountain is an entertaining and free e-book in six pdf files introducing physics – the science of motion. Explore the motion of wheels, birds, lightning, planets, light and empty space itself! Be fascinated by the beauty of nature and the concepts of modern physics, from the principle of cosmic laziness – least action – to gauge symmetry!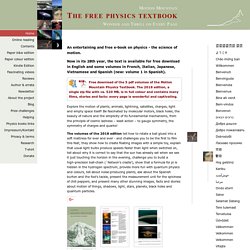 Teleportation is the name given by science fiction writers to the feat of making an object or person disintegrate in one place while a perfect replica appears somewhere else. How this is accomplished is usually not explained in detail, but the general idea seems to be that the original object is scanned in such a way as to extract all the information from it, then this information is transmitted to the receiving location and used to construct the replica, not necessarily from the actual material of the original, but perhaps from atoms of the same kinds, arranged in exactly the same pattern as the original. A teleportation machine would be like a fax machine, except that it would work on 3-dimensional objects as well as documents, it would produce an exact copy rather than an approximate facsimile, and it would destroy the original in the process of scanning it.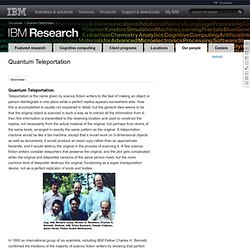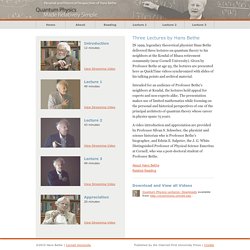 Three Lectures by Hans Bethe IN 1999, legendary theoretical physicist Hans Bethe delivered three lectures on quantum theory to his neighbors at the Kendal of Ithaca retirement community (near Cornell University). Given by Professor Bethe at age 93, the lectures are presented here as streaming videos synchronized with slides of his talking points and archival material. Intended for an audience of Professor Bethe's neighbors at Kendal, the lectures hold appeal for experts and non-experts alike.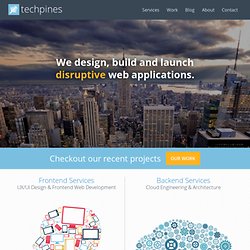 Frontend Services UX/UI Design & Frontend Web Development UX/UI Design Single Page Applications
The Elegant Universe: Part 3 PBS Airdate: November 4, 2003 NARRATOR: Now, on NOVA, take a thrill ride into a world stranger than science fiction, where you play the game by breaking some rules, where a new view of the universe pushes you beyond the limits of your wildest imagination. This is the world of "string theory," a way of describing every force and all matter from an atom to earth, to the end of the galaxies—from the birth of time to its final tick, in a single theory, a "Theory of Everything." Our guide to this brave new world is Brian Greene, the bestselling author and physicist.