Harper
Scientists target Canada over climate change | Environment. Prominent campaigners, politicians and scientists have called for Canada to be suspended from the Commonwealth over its climate change policies.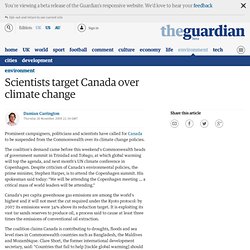 The coalition's demand came before this weekend's Commonwealth heads of government summit in Trinidad and Tobago, at which global warming will top the agenda, and next month's UN climate conference in Copenhagen. Despite criticism of Canada's environmental policies, the prime minister, Stephen Harper, is to attend the Copenhagen summit. Native group blasts Stephen Harper over gaffe - CTV News. First Nations drinking water and the federal election. As suggested by a new poll, health care remains a key issue for Canadians.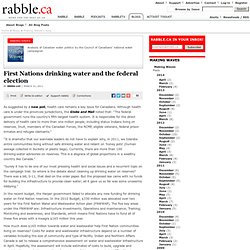 Although health care is under the provinces jurisdictions, the Globe and Mail noted that: "The federal government runs the country's fifth-largest health system. It is responsible for the direct delivery of health care to more than one million people, including status Indians living on reserves, Inuit, members of the Canadian Forces, the RCMP, eligible veterans, federal prison inmates and refugee claimants. " "It is shameful that our wannabe leaders do not have to explain why, in 2011, we tolerate entire communities living without safe drinking water and reliant on 'honey pots' (human sewage collected in buckets or plastic bags). Currently, there are more than 100 drinking-water advisories on reserves. This is a disgrace of global proportions in a wealthy country like Canada.
" Science minister's coyness on evolution worries researchers - Technology & Science. Gary Goodyear, minister of state for science and technology, left some scientists 'flabbergasted' by his refusal to say whether he accepts evolution.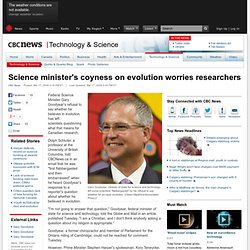 ((Sean Kilpatrick/Associated Press)) Federal Science Minister Gary Goodyear's refusal to say whether he believes in evolution has left scientists questioning what that means for Canadian research. Dolph Schluter, a professor at the University of British Columbia, told CBCNews.ca in an email that he was "first flabbergasted and then embarrassed" when he heard Goodyear's response to a reporter's question about whether he believed in evolution.
"I'm not going to answer that question," Goodyear, federal minister of state for science and technology, told the Globe and Mail in an article published Tuesday. "I am a Christian, and I don't think anybody asking a question about my religion is appropriate. " Banned aid. In the fall of 2004, when Paul Martin was prime minister and Irish rock stars were chattering ceaselessly about the need to help Africa, Canada raised the flag on a shiny new embassy here in the capital of Malawi.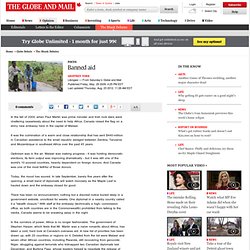 It was the culmination of a warm and close relationship that has sent $440-million in Canadian assistance to the small republic wedged between Zambia, Tanzania and Mozambique in southeast Africa over the past 45 years. Optimism was in the air. Malawi was making progress - it was holding democratic elections, its farm output was improving dramatically - but it was still one of the world's 10 poorest countries, heavily dependent on foreign donors. And Canada was one of the most faithful of those donors. Today, the mood has soured.
---