FOOD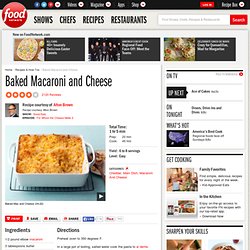 Ingredients 1/2 pound elbow macaroni 3 tablespoons butter 3 tablespoons flour 1 tablespoon powdered mustard 3 cups milk 1/2 cup yellow onion, finely diced 1 bay leaf 1/2 teaspoon paprika 1 large egg 12 ounces sharp cheddar, shredded 1 teaspoon kosher salt Fresh black pepper Topping: 3 tablespoons butter 1 cup panko bread crumbs
With the enthusiasm my children showed for this recipe, you would have thought I reinvented the wheel. I guess rigatoni standing at attention has a way of impressing children? It is kind of cool. Leave it to Martha to come up with another bang-buster of an idea to get my house in a tizzy.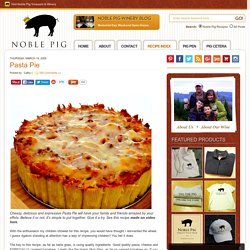 Hey there! Have you downloaded the latest version of Springpad yet? To learn about the updates in Springpad 3.0, check out this blog post: " The New Springpad Makes It Fun and Easy to Share ."
Save These 15 Creative Grilled Cheese Recipes
Ingredients 4 pounds golden creamer potatoes, peeled and cut into quarters 1 bay leaf Kosher salt and freshly ground black pepper 2 cups heavy cream 3 tablespoons unsalted butter 2 tablespoons chopped chives Directions Put the potatoes into a large pot, add the bay leaf, 2 tablespoons salt, and cover with cold water. Bring to a boil over medium-high heat and cook until the potatoes are tender, about 20 minutes.
Mashed Potatoes Recipe : Tyler Florence
Dad's going to remember exactly why he loves steak and potatoes when you serve him these. And you (along with the kids, fingers crossed!) will love them, too. Because of the way they are baked, a nice crunchy crust forms on the bottom. That, along with the soft interior and dollop of sour cream and fresh herbs, and you'll know the best reason potatoes are the most commonly eaten vegetable in our country. So see you later, french fries!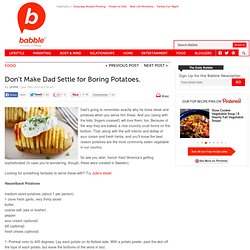 Oven-fresh bread is one of life's simple joys. Ciabatta, a crisp-crusted Italian bread with hints of sourdough and loads of crannies longing for butter, is one of the easiest breads to make at home. Why are we talking about baking bread on Lifehack? Because kitchen hacks aren't just impressive, they often have very tasty results!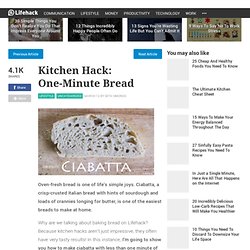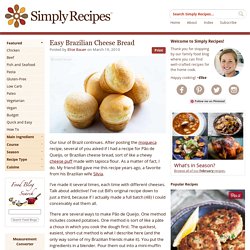 Our tour of Brazil continues. After posting the moqueca recipe, several of you asked if I had a recipe for Pão de Queijo, or Brazilian cheese bread, sort of like a chewy cheese puff made with tapioca flour. As a matter of fact, I do. My friend Bill gave me this recipe years ago, a favorite from his Brazilian wife Silvia . I've made it several times, each time with different cheeses. Talk about addictive!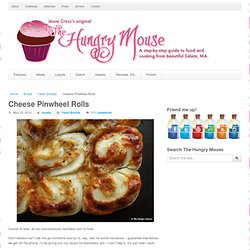 Sooner or later, all my conversations inevitably turn to food. Don't believe me? Call me up sometime and try to, say, sell me some insurance. I guarantee that before we get off the phone, I'll be giving you my recipe for blackberry jam.
Soft Pretzels (Jumbo)
The ingredients are fairly confusing in here as a lot of them are in mL instead of tea spoons or table spoons but I will convert them as I go. * 1000 mL (about 4 and 1/2 cups) All Purpose Flour * 15 mL (3 teaspoons) Quick Rise Yeast (1 pkg.) * 5 mL (1 teaspoon) Salt * 300 mL (about 1.2 cups) Hot Water * 15 mL (3 teaspoons) Vegetable Oil * 25 mL (5 teaspoons) Honey * 15 mL (3 teaspoons) Room temperature Water * 25 mL (5 teaspoons) Sesame Seeds ~ Not necessary, I didn't use them. * 2 mL (1/2 teaspoon) Coarse Salt ~ Add or Remove as taste desires. * Shortening (Butter or Margerine) Equipment you should have out: * Saucepan (The sheet you plan on baking the pretzels on ) * Large Mixing Bowl * Small measuring spoons * Measuring cup * Knife, Fork, Wooden Spoon, Pastry/BBQ Brush, Rubber Spatula
Sugar Cookies with Royal Icing « Annie's Eats
"If at first you don't succeed, try, try again." This is the phrase that ran on a loop through my head as I decorated my fourth batch of these cookies. My parents used to say this to me often as I was growing up, and while making these cookies, I was so glad that they did.
These were a huge hit! Keith, Andrew, and Kramer all ate at least two of these the other night. I brought some into work, too, and they quickly disappeared. They seriously tasted just like a s'more, and they should, considering that all of the same ingredients are used, just kicked up a notch! The crust is a graham cracker cookie, topped with marshmallow, a layer of chocolate, and a graham cracker crust to top it all off. These bars are sure to wow everyone that tries them!
I LOVE LOVE LOVE when some of the most yummiest treats are also the most easiest to make. Ten years ago my friend Nancy gave each woman in our small group a beautifully packaged container of Puppy Chow aka Muddy Buddies. This was the first time I had ever had this "crazy good" treat. From the first bite I was hooked but also intrigued by what it was made of. When she told me how she made it I couldn't believe it because it was such an easy recipe yet the combination of all the ingredients produced such a wonderful taste. I will warn you though, it is very addicting.
Preheat oven to 350 degrees. Pumpkin Creme Pies: Beat together brown sugar, sugar, oil and pumpkin. Add eggs one at time, mixing well after each addition, followed by the vanilla. In a separate bowl, mix together the dry ingredients. Slowly incorporate the dry ingredients into the wet until just combined.
Pumpkin Creme Pies – Tasty Kitchen
Courtesy of Food Network Magazine How to make a pizza: Step 1: Place a pizza stone or an inverted baking sheet on the lowest oven rack and preheat to 500 degrees. Step 2: Stretch 1 pound dough on a floured pizza peel, large wooden cutting board or parchment paper. Step 3: Top as desired, then slide the pizza (with the parchment paper, if using) onto the stone or baking sheet. Bake until golden, about 15 minutes. Pizza Dough Whisk 3 3/4 cups flour and 1 1/2 teaspoons salt.
There are so many great pizzas in the world but there is no substitute for real yeast dough - having your dough rise in the microwave while you are preheating the oven and grating the cheese is faster than calling for delivery. I make this pizza every week because I almost always have a bag of the dry ingredients sitting in the cupboard. I have probably made this pizza over 300 times.
Microwave Pizza Dough & No-Cook Tomato Sauce
Spinach, Ham And Parmesan Quiche » Merriment Design