Music
Monsieur connard. Radio WNE - ARCHIVES. Web Radio - Cannibal Caniche. Pure FM - On air, Online, On demand. Stop The Noise | Electronic Music Blog. Pitchfork: Home. Articles: You Were There: The Complete LCD Soundsystem. "Throw" A-side of the Planet E single "Throw"; 2010Written by Eich, Me, Son, Sche (Carl Craig) Produced by James Muprhy One of the tensions driving LCD's music through their history was between the machine pulse of electronics and the imperfection of live playing.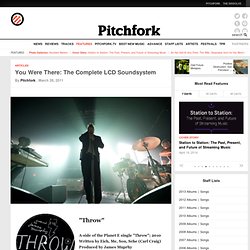 Murphy believed that people together making music in a space had a special quality all their own that couldn't be replicated with computers, but, as a committed fan of dance music, he also understood the hypnotic power of the sequencer. As he told Artist Direct in a 2007 interview, "I like a lot of Detroit techno, where it's lots of really short disco loops that really cut quickly. But I also don't like it when it's all just boring loops. Mowno - Culture, mensonges et rock&roll. The Drone: Watching Music. A L A I N F I N K I E L K R A U T R O C K. Otto Von Schirach. Venetian snares. HibOO d'Scene : Cascadeur "Into the Wild" (Live @ La Rochelle | 15 juillet 2010) Fragile Architecture. Eskmo. ROOM40. Tracks. Music - Home. A place to bury strangers - don't think lover. A Place To Bury Strangers - To Fix The Gash in Your Head.
OWNImusic, Réflexion, initiative, pratiques. FACT magazine. Musique. VS: Webzine et Communaute numero 1 en France sur le METAL : chroniques, news metal, interview, concert, live reports, mp3. Magicrpm : news indie-pop-rock, infos musique, concerts-live, video-clip, interviews, albums, actu. Magicrpm.com (magicrpm) sur Twitter. Maelström Mag. DARK GLOBE. Home: Listen to trusted DJs, radio hosts & Podcasters. Start here. Koudlam - Brother. Natas-Fd (Jamendo) Tympanik Audio. Planet Mu Records. Eklektik - De Sillons en Syllabes.
Komod.O Dragon - Komod.O Dragon recordz - Ze WebsiTe. Hymen. NOHMAD.
---