Music
Bio: .. Send me your track Animated by strange lost convictions, I walk in dark mazes. Passing ass-backwards destiny-aborted creatures, closing my eyes to listen, yawning to protect me, I try to move forward… My music, a result of the decisions I don't take, oscillates between a advantageous misfortune and a so much dreamed joy, has trouble to smile, happy to see you cry.
monsieur connard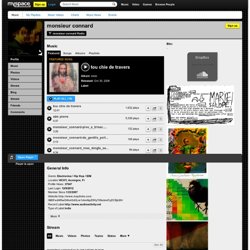 Radio WNE - ARCHIVES
Web Radio - Cannibal Caniche
Pure FM - On air, Online, On demand
Stop The Noise | Electronic Music Blog
Pitchfork: Home
"Throw" A-side of the Planet E single "Throw"; 2010Written by Eich, Me, Son, Sche (Carl Craig) Produced by James Muprhy One of the tensions driving LCD's music through their history was between the machine pulse of electronics and the imperfection of live playing. Murphy believed that people together making music in a space had a special quality all their own that couldn't be replicated with computers, but, as a committed fan of dance music, he also understood the hypnotic power of the sequencer. As he told Artist Direct in a 2007 interview, "I like a lot of Detroit techno, where it's lots of really short disco loops that really cut quickly. But I also don't like it when it's all just boring loops.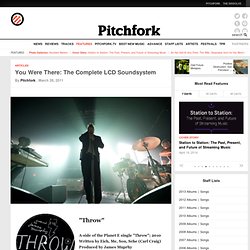 Articles: You Were There: The Complete LCD Soundsystem
Mowno - Culture, mensonges et rock&roll
The Drone: Watching Music
A L A I N F I N K I E L K R A U T R O C K
Otto Von Schirach
venetian snares
HibOO d'Scene : Cascadeur "Into the Wild" (Live @ La Rochelle | 15 juillet 2010)
Fragile Architecture
Eskmo
2013 winds its way towards an inevitable conclusion. Before we get there though, you'll be pleased to know a suite of new audio explorations are due for release and this month we're very pleased to be issuing three new editions on Room40. The first edition comes from Rafael Anton Irisarri, whom many of you will know from his outstanding The North Bend. He returns with another album of utterly spellbinding landscape music titled The Unintentional Sea.
ROOM40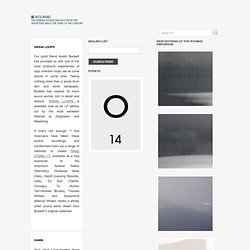 Tracks
Music - Home
a place to bury strangers - don't think lover
A Place To Bury Strangers - To Fix The Gash in Your Head
OWNImusic, Réflexion, initiative, pratiques
FACT magazine
VS: Webzine et Communaute numero 1 en France sur le METAL : chroniques, news metal, interview, concert, live reports, mp3
Magicrpm : news indie-pop-rock, infos musique, concerts-live, video-clip, interviews, albums, actu
Language: English Bahasa Indonesia Bahasa Melayu Dansk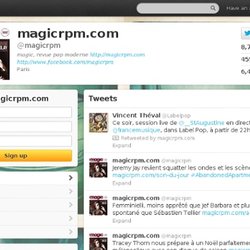 magicrpm.com (magicrpm) sur Twitter
Maelström Mag
Dix morceaux choisis... Entre coups de cœur, découvertes et retrouvailles, cette playlist rassemble autant de souvenirs que de promesses. Nous la partageons ici… N'hésitez pas à laisser quelques mots en commentaire pour nous dire quel morceau vous touche particulièrement, vous émoustille ou vous apaise. Pour ma part, c'est le titre de Future Islands, « Seasons (Waiting On You) » qui me […] Mogwai + Pye Corner Audio - Paloma (Nîmes), 29/03/14
DARK GLOBE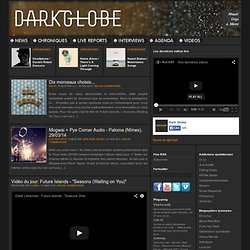 Home: Listen to trusted DJs, radio hosts & Podcasters. Start here
Koudlam - Brother on Vimeo
------> NaTaS-Fd <--------- Voila 15ans que je vogue sur l'électro. J'ai commencé sur Atari 520 sTe, puis de fil en teuf, j'ai continué mon chemin sonore. Plutôt dans le style "scotch et élastique", j'ai tendance à faire du son en récupérant tout et surtout n'importe quoi, pédales de guitares, GrooveBox 505, prise micro acoustique, triturages diverses, etc... Pratiquant aussi dans bien d'autres domaines comme le groupe Métal, chanson française, le didgeridoo, le Jazz manouche et plus si affinités, cela influence irrémédiablement dans mon son electro. En ce moment je boucle mon 4eme Lp et j'aimerais me lancer dans un projet de musique pour film/court métrage amateur.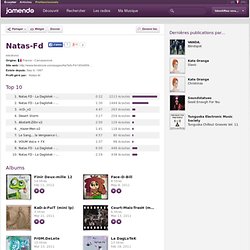 Natas-Fd (Jamendo)
Tympanik Audio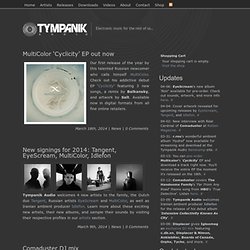 Two massive new albums are available now from Tympanik Audio. First up is Comaduster's highly-anticipated debut full-length 'Hollow Worlds'. Drawing from a deep well of influences, 'Hollow Worlds' encompasses a distinctive range of musical styles skillfully incorporating elements of industrial, dubstep, EDM, post-rock, glitch, IDM, ambient, and pop music into a wholly polished and cohesive assembly of work that garners cerebral as well as dancefloor allure.
Planet Mu Records
Kulturoblog Par – 3 décembre 2012 Cinéma , Kulturoblog 2007 La genèse des films cultes est souvent difficile. n'échappe pas à la règle puisqu'il aura fallu près de 8 ans à Koen Mortier pour réaliser son premier long-métrage, et ce avec un budget microscopique. À l'origine, il y a ce roman homonyme publié par Herman Brusselmans, intitulé Ex Drummer. Celui-ci relate la (courte) existence d'un groupe de rock formé par trois handicapés-loseurs rejoints par un écrivain à succès.
Eklektik - De Sillons en Syllabes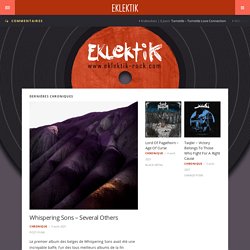 Komod.O Dragon - Komod.O Dragon recordz - Ze WebsiTe
Hymen
NOHMAD