ART
Rhizome. Shore ...or how Sandy came to town... Instant artist statement: Arty Bollocks Generator. The Instant Art Critique Phrase Generator. Salvation is here!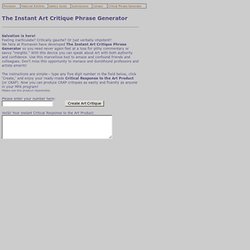 Feeling inarticulate? Critically gauche? Or just verbally impotent? We here at Pixmaven have developed The Instant Art Critique Phrase Generator so you need never again feel at a loss for pithy commentary or savvy "insights. " Art tools and software. Vector Magic. DEPTHCORE. 3D Paintings. Digicult- Digital Culture. The Creators Project- Technology, Music, Art, Film, and Design. Neural.it :: new media art. UbuWeb. NODE10 - Forum for Digital Arts - Welcome. Preternatural. The preternatural, as explored by these artists, disturb the ontological boundaries of art, nature and metaphysics.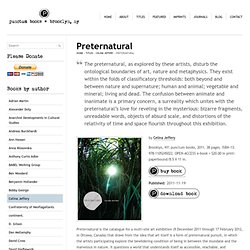 They exist within the folds of classificatory thresholds: both beyond and between nature and supernature; human and animal; vegetable and mineral; living and dead. The confusion between animate and inanimate is a primary concern, a surreality which unites with the preternatural's love for reveling in the mysterious: bizarre fragments, unreadable words, objects of absurd scale, and distortions of the relativity of time and space flourish throughout this exhibition. by Celina Jeffery Brooklyn, NY: punctum books, 2011. 38 pages. Digital Arts. Digital, Net & Sound Art.
U.S.O Project on Sound Exploration, Unseen Noises Library. U.S.O (Unidentified Sound Object) Project is defined as a continuing evolving organism of sound.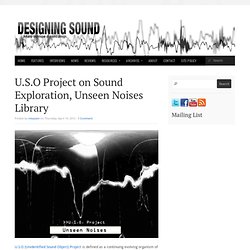 Created by Matteo Milani and Federico Placidi, two sound artists working on several fields and exploring sound in many inspiring ways. Perhaps you already know about their fantastic blog, where they share lots of great things, making the site a must for anyone interested on sound experimentation, film sound design, electronic music, sound synthesis, signal processing, etc. Digital art. Net art. Net art misc. Net art exhibitions. Net art with google. Webart. Art SELL. Art. Ernst Haeckel: Kunstformen der Natur. Diese elektronische Ausgabe wurde erstellt mit Hilfe einer Original-Ausgabe des Haeckel'schen Werkes, das freundlicherweise von Prof.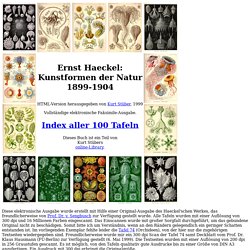 Dr. v. Sengbusch zur Verfügung gestellt wurde. Alle Tafeln wurden mit einer Auflösung von 300 dpi und 16 Millionen Farben eingescannt. Zdzislaw Beksinski - Official website presented by Belvedere Gallery. ART. Land art. Art tres contemporain. Hyperrealism. Art contemporain.
---