ART
Rhizome
Tony Conrad, Yellow Movie 12/17/72 If, as Tony Conrad might have us suppose, a Movie is light and any marking of the passage of time, what is Documentary Cinema as a category? In fact, the Minimalist structural filmmaking practices of Conrad and others share concerns with documentary's base impulse, namely the transmission of a "factual record or report." As screen culture settles into its well-earned ubiquity, we must revisit old questions about the where and the what of cinema as an object and what constitutes something separately known as the "cinematic."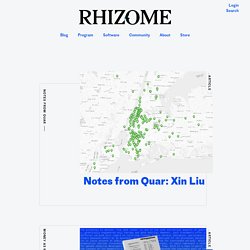 Shore ...or how Sandy came to town...
Instant artist statement: Arty Bollocks Generator
The Instant Art Critique Phrase Generator
Salvation is here! Feeling inarticulate? Critically gauche? Or just verbally impotent? We here at Pixmaven have developed The Instant Art Critique Phrase Generator so you need never again feel at a loss for pithy commentary or savvy "insights."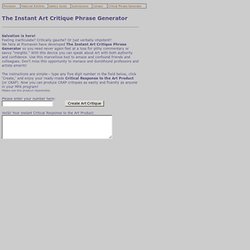 Vector Magic
DEPTHCORE
3D Paintings
Digicult- Digital Culture
The Creators Project- Technology, Music, Art, Film, and Design
Soichiro Michara – [Blank] Project, An Experience Of The Unfelt A changing sculpture of bubbles and a weirdly constructed bell catch the visitor's eye when confronted with Soichiro Michara's [Blank] project. The environment seems quiet, subtle and cryptic. But on closer inspection one realises that the components of the work, → Neural 46 extra – the first 20 years poster (70cm x 100cm)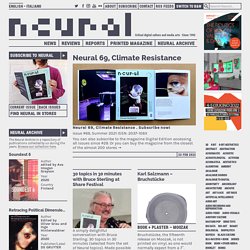 Neural.it :: new media art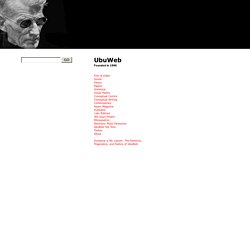 UbuWeb | Spring 2014 Robert Ashley, 1930-2014 UbuWeb mourns the passing of the great American composer Robert Ashley. You can listen to his music and invterviews here, watch his films here, read about him here. If you're unfamiliar with his work, the best place to start is Peter Greenaway's documentary Four American Composers: Robert Ashley (1983). His most well-known video work is Perfect Lives (1978-83), a television opera in seven parts. He interviewed composers such as Terry Riley, Philip Glass, Alvin Lucier, Pauline Oliveros, David Behrman, and Gordon Mumma in his epic video series, Music With Roots in the Aether, where interviews are followed by performances.
UbuWeb
NODE10 - Forum for Digital Arts - Welcome
The purpose of NODE is to facilitate the exchange between art, design and engineering in interactive and generative media. The 'NODE - Forum for Digital Arts' emerged in 2008 from an initiative of associates of MESO who at the same time had been developers and users of the graphical programming language vvvv. At first, NODE was meant to support the community of people using vvvv to create artistic and creative software projects, but it quickly changed into an international forum for knowledge exchange between designers, artists and engineers of various fields believing in the powers of programming and digital technologies. NODE08 turned out to be a one week-long rush of discussions, theoretical and practical lectures and workshops, artist presentations and events.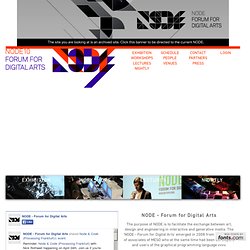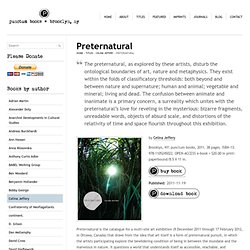 Preternatural
The preternatural, as explored by these artists, disturb the ontological boundaries of art, nature and metaphysics. They exist within the folds of classificatory thresholds: both beyond and between nature and supernature; human and animal; vegetable and mineral; living and dead. The confusion between animate and inanimate is a primary concern, a surreality which unites with the preternatural's love for reveling in the mysterious: bizarre fragments, unreadable words, objects of absurd scale, and distortions of the relativity of time and space flourish throughout this exhibition. by Celina Jeffery Brooklyn, NY: punctum books, 2011. 38 pages.
Digital Arts
U.S.O (Unidentified Sound Object) Project is defined as a continuing evolving organism of sound. Created by Matteo Milani and Federico Placidi, two sound artists working on several fields and exploring sound in many inspiring ways. Perhaps you already know about their fantastic blog, where they share lots of great things, making the site a must for anyone interested on sound experimentation, film sound design, electronic music, sound synthesis, signal processing, etc.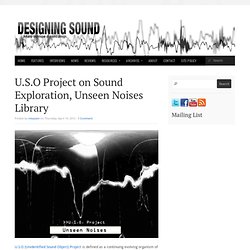 U.S.O Project on Sound Exploration, Unseen Noises Library
Diese elektronische Ausgabe wurde erstellt mit Hilfe einer Original-Ausgabe des Haeckel'schen Werkes, das freundlicherweise von Prof. Dr. v. Sengbusch zur Verfügung gestellt wurde. Alle Tafeln wurden mit einer Auflösung von 300 dpi und 16 Millionen Farben eingescannt.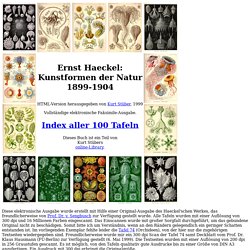 Ernst Haeckel: Kunstformen der Natur
Zdzislaw Beksinski - Official website presented by Belvedere Gallery