ART
Rhizome
Ben Aqua, NEVER LOG OFF, 2013 (Limited edition t-shirt designed for #FEELINGS)We are no longer mostly dealing with information that is transmitted form a source to a receiver, but increasingly also with informational dynamics—that is with the relation between noise and signal, including fluctuations and microvariations, entropic emergences and negentropic emergences, positive feedback and chaotic processes. If there is an informational quality to contemporary culture, then it might be not so much because we exchange more information than before, or even because we buy, sell or copy informational commodities, but because cultural processes are taking on the attributes of information—they are increasingly grasped and conceived in terms of their informational dynamics.- Tiziana Terranova, Network Culture: Politics for the Information Age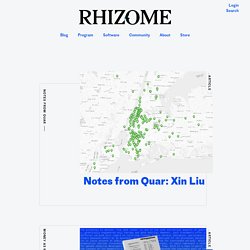 Shore ...or how Sandy came to town...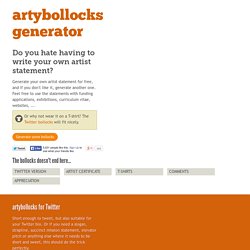 Instant artist statement: Arty Bollocks Generator
My work explores the relationship between the tyranny of ageing and emotional memories. With influences as diverse as Kierkegaard and Frida Kahlo, new tensions are manufactured from both traditional and modern layers. Ever since I was a student I have been fascinated by the endless oscillation of relationships. What starts out as triumph soon becomes manipulated into a tragedy of temptation, leaving only a sense of decadence and the possibility of a new order. As momentary forms become distorted through diligent and repetitive practice, the viewer is left with an impression of the corners of our culture.
The Instant Art Critique Phrase Generator
Salvation is here! Feeling inarticulate? Critically gauche? Or just verbally impotent? We here at Pixmaven have developed The Instant Art Critique Phrase Generator so you need never again feel at a loss for pithy commentary or savvy "insights."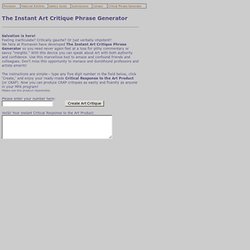 Vector Magic
DEPTHCORE
3D Paintings
Digicult- Digital Culture
The Creators Project- Technology, Music, Art, Film, and Design
EYEsect, Reality From A Feet Perspective EYEsect is an oblong and amorphous helmet coated with a mirror. It provides users with a very particular visual experience, one that is both binocular and stereoscopic. Two cameras are positioned at the bottom of two extendable arms, anchored on → VooDooMan – Voices From Antidimension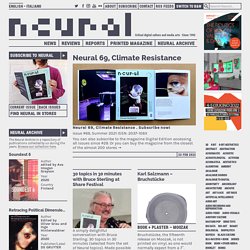 Neural.it :: new media art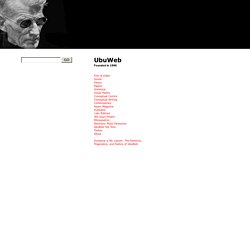 UbuWeb | Winter 2014 Seven Films by Annika Eriksson (2000-2013) Annika Eriksson is a Swedish artist living in Berlin. Over the years, she has produced a large number of works in which the perception of time, structures of power, and once acclaimed social visions are called into question. Strategically Eriksson plays with the heated debates around the public realm and structures that regulate it, revealing the urban changes and how this is subject to unexpected political appropriations and inversions. UbuWeb Sound Goes Streaming We're creeping into the twenty-first century. All of our sound pages are now embedded with a player that can stream every MP3 on a page, one after another.
UbuWeb
NODE10 - Forum for Digital Arts - Welcome
The purpose of NODE is to facilitate the exchange between art, design and engineering in interactive and generative media. The 'NODE - Forum for Digital Arts' emerged in 2008 from an initiative of associates of MESO who at the same time had been developers and users of the graphical programming language vvvv. At first, NODE was meant to support the community of people using vvvv to create artistic and creative software projects, but it quickly changed into an international forum for knowledge exchange between designers, artists and engineers of various fields believing in the powers of programming and digital technologies. NODE08 turned out to be a one week-long rush of discussions, theoretical and practical lectures and workshops, artist presentations and events.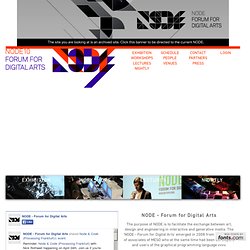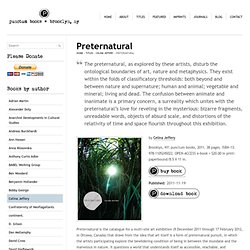 Preternatural
The preternatural, as explored by these artists, disturb the ontological boundaries of art, nature and metaphysics. They exist within the folds of classificatory thresholds: both beyond and between nature and supernature; human and animal; vegetable and mineral; living and dead. The confusion between animate and inanimate is a primary concern, a surreality which unites with the preternatural's love for reveling in the mysterious: bizarre fragments, unreadable words, objects of absurd scale, and distortions of the relativity of time and space flourish throughout this exhibition. by Celina Jeffery Brooklyn, NY: punctum books, 2011. 38 pages.
Digital Arts
U.S.O (Unidentified Sound Object) Project is defined as a continuing evolving organism of sound. Created by Matteo Milani and Federico Placidi, two sound artists working on several fields and exploring sound in many inspiring ways. Perhaps you already know about their fantastic blog, where they share lots of great things, making the site a must for anyone interested on sound experimentation, film sound design, electronic music, sound synthesis, signal processing, etc.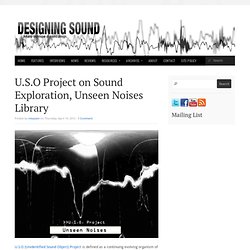 U.S.O Project on Sound Exploration, Unseen Noises Library
Diese elektronische Ausgabe wurde erstellt mit Hilfe einer Original-Ausgabe des Haeckel'schen Werkes, das freundlicherweise von Prof. Dr. v. Sengbusch zur Verfügung gestellt wurde. Alle Tafeln wurden mit einer Auflösung von 300 dpi und 16 Millionen Farben eingescannt.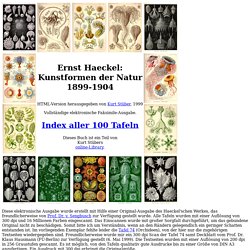 Ernst Haeckel: Kunstformen der Natur
Zdzislaw Beksinski - Official website presented by Belvedere Gallery