semantic_web
Get flash to fully experience Pearltrees
This structure is a "triple" composed of a subject, predicate, and object. People are the subject of everything happening in Facebook.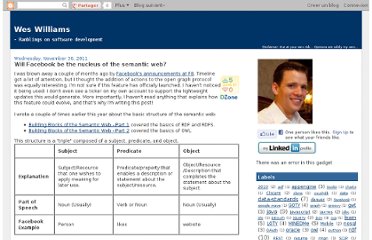 Last updated March 25, 2011. RDF/RDFa is major new functionality in Drupal 7 which describes Drupal entities (nodes, user, comments, terms) and their relationship in a format machines can understand. Mappings are defined between local Drupal entities and widely used vocabularies like Dublin Core, FOAF, SIOC, SKOS, etc.
This page is a profile for GRDDL source documents using the latest GRDDL RDFa transform.
I initially associated RDF to data within XML documents that referenced data within other XML documents. Similar to how a XML document has associated XSD(s) that can reference other XSD(s). The difference is that RDF is interested in the meaning and relationships of the data instead of the data's structure.
From Semantic Web Standards
W3C Recommendation 15 January 2008 New Version Available: SPARQL 1.1 (Document Status Update, 26 March 2013) The SPARQL Working Group has produced a W3C Recommendation for a new version of SPARQL which adds features to this 2008 version.
Last week, the W3C Provenance Working group released 13 documents simultaneously that together define a framework for interchanging provenance on the Web.