Woutergrove
Wouter Grove
What a year! Thank you God for doing the impossible!
Employee Engagement Study
In this employee engagement study, Elizabeth Craig of the Accenture Institute for High Performance and Lauren DeSimone of the International Consortium for Executive Development Research, explore this topic in depth. Based on research, they identify the key drivers of engagement, revealing how companies can create it in their organizations and, more importantly, sustain high levels of engagement over time. The research surveyed 1,367 employees in large US companies across a range of industries.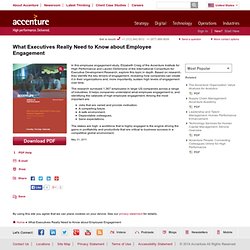 Gamification in Education
RSA Animate - Changing Education Paradigms
Games in Education
TEDxBloomington - The Wisdom of Play
Schoology
Shipping on time by Gamasutra Community [04.03.14] "How do we, as obsessive, design happy, feature happy, develop happy engineers actually ship something?" This blog post explains -- in detail. Programming, Production, Console/PC, Serious, Indie, Social/Online, Smartphone/Tablet Blog: The Unity Asset Store and the hidden cost of doing it yourself by Gamasutra Community [03.31.14] "One of the things that we often forget when developing a game, especially when you are an indie, is that everything has a cost.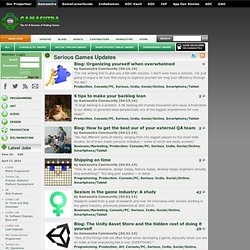 Topic: Serious Games
Education Resources Information Center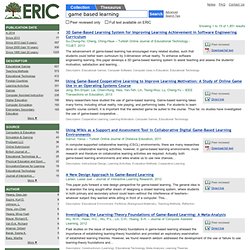 Showing 1 to 15 of 1,851 results Su,Chung-Ho; Cheng, Ching-Hsue – Turkish Online Journal of Educational Technology - TOJET, 2013 The advancement of game-based learning has encouraged many related studies, such that students could better learn curriculum by 3-dimension virtual reality. To enhance software engineering learning, this paper develops a 3D game-based learning system to assist teaching and assess the students' motivation, satisfaction and learning… Descriptors: Educational Games, Computer Software, Computer Uses in Education, Educational Technology Jong, Bin-Shyan; Lai, Chien-Hung; Hsia, Yen-Teh; Lin, Tsong-Wuu; Lu, Cheng-Yu – IEEE Transactions on Education, 2013
Tim Rylands - Game Based Learning 2010
gaming and how to solve real world problems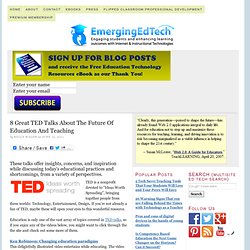 8 Great TED Talks About The Future Of Education And Teaching
These talks offer insights, concerns, and inspiration while discussing today's educational practices and shortcomings, from a variety of perspectives. TED is a nonprofit devoted to "Ideas Worth Spreading", bringing together people from three worlds: Technology, Entertainment, Design. If you're not already a fan of TED, maybe these will open your eyes to this wonderful resource. Education is only one of the vast array of topics covered in TED talks, so if you enjoy any of the videos below, you might want to click through the the site and check out some more of them. Ken Robinson: Changing education paradigms This delightfully illustrated video entertains while educating.
TEDxBloomington -- Edward Castronova -- "Be A Gamer"
Game Developers Conference | February 28-March 4, 2011 | Moscone Convention Center | San Francisco, California
TREND HUNTER - #1 in Trends - The world's MOST updated, LAR
Springwise | New business ideas, trends and innovation
Writing a Thesis or dissertation
Science and Information Economy - South Australian Government
The theme of this year's Web 2.0 Summit is web squared (pdf). That is, its time to focus on impact in the real world. Fred Wison says the big trends driving this space are social, mobile and real time -- to form a golden triangle. I'd suggest geo, or location, provides as big of a vector for exploration and impacts the others.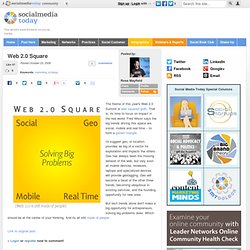 Web 2.0 Square
Open Framework, Information Management Strategy & Collaborative Governance | Data & Social Methodology - MIKE2.0 Methodology
Mobile iEducator
Presentations
6 Ways To Protect Your Brand With So