Politics
The New York Times public editor's very public utterance | Clay Shirky | Comment is free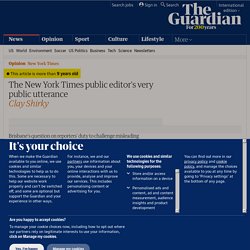 'Should the Times be a Truth Vigilante?' asked Arthur Brisbane. 'Yes,' came the resounding reply. Photograph: Lucas Jackson/Reuters
The phrase Purple America refers to the belief that a more detailed analysis of the voting results of recent United States national elections reveals that the U.S. electorate is not as polarized between "Red" America ( Republican ) and "Blue" America ( Democratic ) as is often depicted in news analysis. The term reflects the fact that news organizations generally use the colors red and blue on maps to indicate when a state or congressional district has been won by a Republican or Democratic candidate, respectively. Because the American political system often awards a state or congressional district entirely to one candidate ("winner take all") without regard to the margin of victory, it results in a map that does not reflect the true distribution of "red" or "blue" votes across the nation. The distortions contained in these maps, the argument goes, contribute to the misperception that the electorate is highly polarized by geography.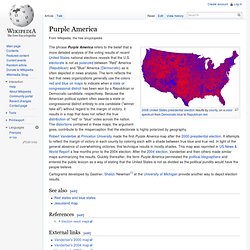 Purple America
Education and the electorate
Reasons to Disagree with the GOP (Gaurdians of Plutocracy)
Shortly after the invasion of Iraq in 2003, I interviewed Ray McGovern, one of an elite group of CIA officers who prepared the President's daily intelligence brief. At that time, McGovern was at the apex of the "national security" monolith that is American power and had retired with presidential plaudits. On the eve of the invasion, he and 45 other senior officers of the CIA and other intelligence agencies wrote to Bush that the "drumbeat for war" was based not on intelligence, but lies. "It was 95 percent charade," McGovern told me. "How did they get away with it?"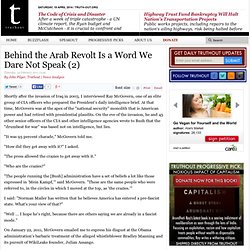 Behind the Arab Revolt Is a Word We Dare Not Speak
American Politics Unveiled