Politics
The New York Times public editor's very public utterance | Clay Shirky | Comment is free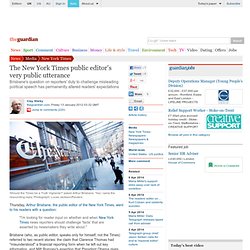 Thursday, Arthur Brisbane, the public editor of the New York Times, went to his readers with a question: "I'm looking for reader input on whether and when New York Times news reporters should challenge 'facts' that are asserted by newsmakers they write about." Brisbane (who, as public editor, speaks only for himself, not the Times) referred to two recent stories: the claim that Clarence Thomas had "misunderstood" a financial reporting form when he left out key information, and Mitt Romney's assertion that President Obama gives speeches "apologising" for America. Brisbane asked whether news reporters should have the freedom to investigate and respond to those comments. The reaction from readers was swift, voluminous, negative and incredulous. "Is this a joke?
Robert Vanderbei at Princeton University made the first Purple America map after the 2000 presidential election. It attempts to reflect the margin of victory in each county by coloring each with a shade between true blue and true red. In light of the general absence of overwhelming victories, this technique results in mostly shades. This map was reprinted in US News & World Report a few months prior to the 2004 election.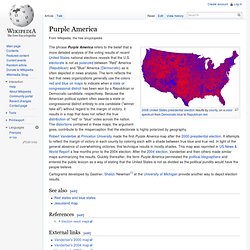 Purple America
Education and the electorate
Reasons to Disagree with the GOP (Gaurdians of Plutocracy)
Shortly after the invasion of Iraq in 2003, I interviewed Ray McGovern, one of an elite group of CIA officers who prepared the President's daily intelligence brief. At that time, McGovern was at the apex of the "national security" monolith that is American power and had retired with presidential plaudits. On the eve of the invasion, he and 45 other senior officers of the CIA and other intelligence agencies wrote to Bush that the "drumbeat for war" was based not on intelligence, but lies. "It was 95 percent charade," McGovern told me. "How did they get away with it?"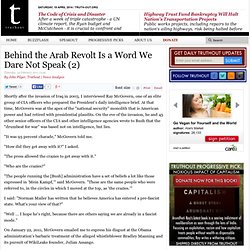 Behind the Arab Revolt Is a Word We Dare Not Speak
American Politics Unveiled