Useful / Interesting links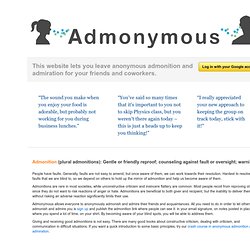 Admonymous: Anonymous Admonition and Admiration.
"The sound you make when you enjoy your food is adorable, but probably not working for you during business lunches." "You've said so many times that it's important to you not to skip Physics class, but you weren't there again today – this is just a heads up to keep you thinking!" "I really appreciated your new approach to keeping the group on track today, stick with it!" Admonition (plural admonitions): Gentle or friendly reproof; counseling against fault or oversight; warning. People have faults. Generally, faults are not easy to amend, but once aware of them, we can work towards their resolution.
by David Silverman | 11:34 AM June 5, 2009 A Google search for "résumé" results in over 178,000,000 hits, whereas "possum" nets only 5,340,000. Thus the documentation of work experience is 33 and 1/3 more popular than arboreal marsupials. But what does this really tell us? Not much, but neither does the average résumé that comes across my desk. Some excerpts: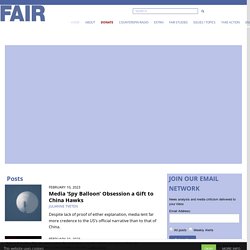 How the Big Papers Remember Ariel SharonHow the New York Times and the Washington Post whitewashed some of the bloodiest incidents from Israeli leader Ariel Sharon's record. FAIR TV January 10, 2014Media are looking back at Iraq--but what do they forget about Fallujah? Plus: Crossfire's climate 'balance' and ABC discusses the 'resurgent left'--without the left.
The Future Issue - An FP Special Report
Scale_of_Universe_In93570
Money Chart
Year 2011 Events What would you Remember 2011 for? Vote Now
Flythere on Vimeo
Combination of yoga and breakdancing
TED: Ideas Worth Spreading
- STREET ART UTOPIA
Easily Distracted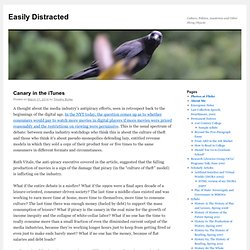 High Anxiety In modernity, dread only takes a holiday once in a while. Right now Mr. Dread is hard at work all around the world, and he's not just sticking to the big geopolitical dramas or some single-issue fear. He's kicking back and making himself comfortable everywhere where uncertainty holds sway, which is to say everywhere: homes, workplaces, boardrooms, the shop, the street, the wilderness. So asking: why so anxious?
Dispatches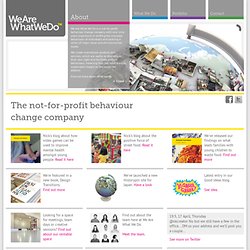 The not-for-profit behaviour change company Nick's latest blog is about harnessing social capital in our communities.Read it here The Box Chicken pilot evaluation is now available. You can view or download the full report here
odyssey - Maps + timelines
Maps charts graphs metrics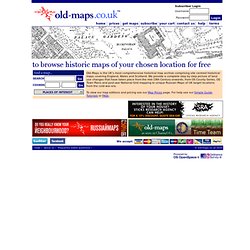 Old-Maps is the UK's most comprehensive historical map archive comprising site centred historical maps covering England, Wales and Scotland. We provide a complete step by step picture of land use changes that have taken place from the mid-19th Century onwards, from OS County Series, OS Town Plans and post-war National Grid mapping to unique Russian Maps of UK target locations from the cold-war era. To view our map editions and pricing see our Map Prices page. For help see our Simple Guide, Tutorials or FAQs.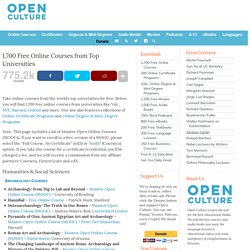 Get free online courses from the world's leading universities – Stanford, Yale, MIT, Harvard, Berkeley, Oxford and more. This collection includes over 875 free courses in the liberal arts and sciences. You can download these audio & video courses (often from iTunes, YouTube, or university web sites) straight to your computer or mp3 player. Over 30,000 hours of free audio & video lectures, await you now. Humanities & Social Sciences Art & Art History Courses
Software Open Source, Free...
#1 UC Berkeley Ranked as the #1 public school in the United States, Berkeley offers podcasts and webcasts of amazing professors lecturing. Each course has an RSS feed so you can track each new lecture. For printable assignments and notes you can check the professors homepage, which is usually given in the first lecture or google his name.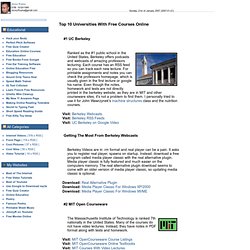 Simply start by clicking on the Play button on the left. Reading is that one activity that we do every day but we don't really practice. Most people learn the basics of reading in kindergarten and never graduate to the next levels. You are probably using the same basic rudimental tools and techniques that you learned when you were 6. The average American person reads at an average speed of 180 to 240 words per minute and has done so since he was 16 years old. Does it make sense that we hit our best performance at age 16 and that we don't improve much after that?