Journalism
Covering Crime and Justice
My Account : Journal of Amer Academy of Child & Adolescent Psychiatry
About a week ago, my editor and I started a Facebook group.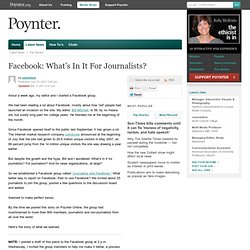 Online - Centerpieces
Inside Story | Politics, Society and Culture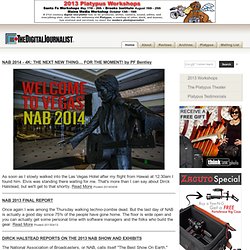 The Digital Journalist August 2008 Issue
In Memory — The War In Iraq — Ten Years On by Peter Turnley © 2013 Peter Turnley / Corbis, All Rights Reserved It is important that a photographic record serve as a constant opportunity to assess the past, and think about the future. Somethings should never be forgotten. - See the Iraq War images on Peter Turnley's site. Posted 20130320
Amid the hand-wringing about the downward spiral of print economics, one recurring fear has been the fate of expensive, time-consuming investigative journalism. With less money, fewer reporters and the need to feed the twenty-four-hour news monster, will newspapers and magazines still be willing and able to invest in investigative projects that tackle the tough issues of mismanagement and malfeasance in their own backyards or in the world at large? A recent Harvard journalism roundtable featuring prize-winning investigative reporters who have uncovered health scandals from Iraq to China suggested that while a few big papers-at least for the moment-are still putting a premium on investigative coverage, other regional and local papers are struggling to do so.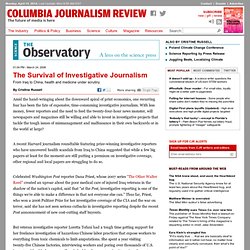 The Survival of Investigative Journalism : CJR:
Journalists and Facebook
For copyright protection, watermarks are occasionally placed on front pages that cover news events of historic significance. Through a special agreement with more than 800 newspapers worldwide, the Newseum displays these front pages each day on its website.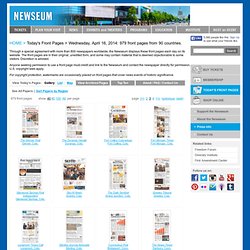 Todays Front Pages | Gallery View
Resources for Covering Uprising in Egypt Several helpful tools and links from Sree Sreenivasan. Egypt: A Complete Guide to the 2011 Revolution Curation of dozens of resources. Wired: Guide to Arab World Protests Online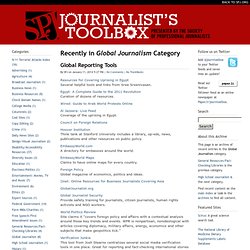 Global Journalism Archives