Journalism
My Account : Journal of Amer Academy of Child & Adolescent Psychiatry
About a week ago, my editor and I started a Facebook group. We had been reading a lot about Facebook, mostly about how "old" people had launched an invasion on the site. My editor, Bill Mitchell, is 58, by no means old, but surely long past his college years. He friended me at the beginning of the month.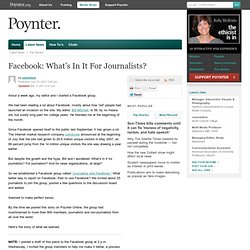 Online - Centerpieces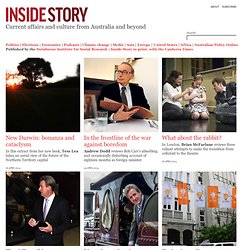 Inside Story | Politics, Society and Culture
The God of big things In his new book, reviewed here by Janna Thompson, Terry Eagleton explores the persistence of religious ideas in political life and culture 01 April 2014 Heads above water Sylvia Lawson reviews Hannah Arendt, The Missing Picture, Tracks and The Great Beauty 03 April 2014 Is it too early to talk about 2016? The next US presidential election is two-and-a-half years away, but some key decisions are likely much sooner, writes Lesley Russell 31 March 2014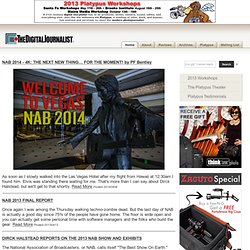 Once again I was among the Thursday walking techno-zombie dead. But the last day of NAB is actually a good day since 75% of the people have gone home. The floor is wide open and you can actually get some personal time with software managers and the folks who build the gear.
Amid the hand-wringing about the downward spiral of print economics, one recurring fear has been the fate of expensive, time-consuming investigative journalism. With less money, fewer reporters and the need to feed the twenty-four-hour news monster, will newspapers and magazines still be willing and able to invest in investigative projects that tackle the tough issues of mismanagement and malfeasance in their own backyards or in the world at large? A recent Harvard journalism roundtable featuring prize-winning investigative reporters who have uncovered health scandals from Iraq to China suggested that while a few big papers-at least for the moment-are still putting a premium on investigative coverage, other regional and local papers are struggling to do so.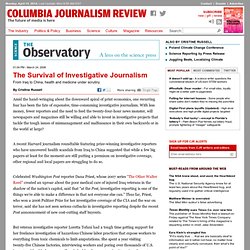 The Survival of Investigative Journalism : CJR:
Through a special agreement with more than 800 newspapers worldwide, the Newseum displays these front pages each day on its website. The front pages are in their original, unedited form, and some may contain material that is deemed objectionable to some visitors. Discretion is advised. Anyone seeking permission to use a front page must credit and link to the Newseum and contact the newspaper directly for permission. U.S. copyright laws apply. For copyright protection, watermarks are occasionally placed on front pages that cover news events of historic significance.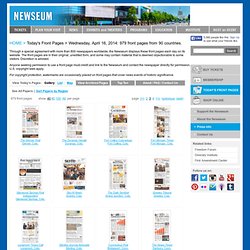 Todays Front Pages | Gallery View
Resources for Covering Uprising in EgyptSeveral helpful tools and links from Sree Sreenivasan. Egypt: A Complete Guide to the 2011 RevolutionCuration of dozens of resources. Wired: Guide to Arab World Protests Online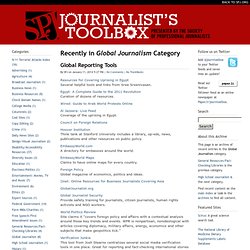 Global Journalism Archives