Functional
Paint chip calendar | Maple and Magnolia. A few weeks ago, I saw this paint chip calendar on my friend David's blog Cheltenham Road and knew I had to make one!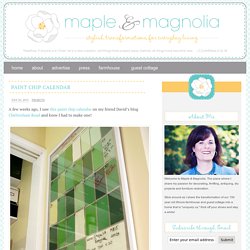 It combines two things that I love…stylishness and organization. And the fact that it utilizes paint chips? Even better. I mostly followed David's tutorial with just a few modifications. That's the beauty of this project…it's totally customizable. The Magic With Corks. If you enjoy in good wine and you didn't trow away the old corks you can create interesting home gadgets that are both interesting and creative.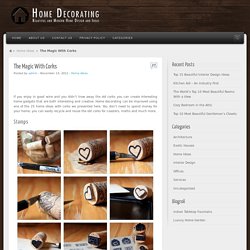 Home decorating can be improved using one of the 25 home ideas with corks we presented here. You don't need to spend money for your home, you can easily recycle and reuse the old corks for coasters, maths and much more. 22 Perfect DIY Gifts For Stressed-Out Moms. 14 Creative Ways To Use Embroidery Hoops. Mason Jar Craft Storage! Braided Rag Rug. Pin your three sewn strips anywhere you can be comfy (you are going to be there for a while!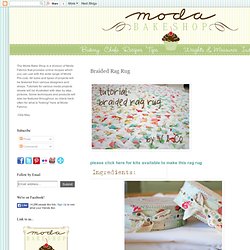 I did mine to my runner on my dining room table) this is the start of your braid. once you get close to the end of your braid you are going to fold over the end of your strip and snip with your a slit. Wool and the gang™ — watch the videos. Our 20 Favorite Crochet Sites - Womans Day - StumbleUpon. 1.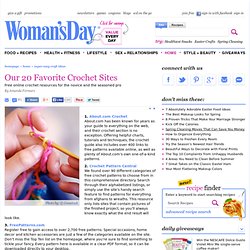 About.com CrochetAbout.com has been known for years as your guide to everything on the web, and their crochet section is no exception. Offering helpful charts, tutorials and techniques, the crochet guide also includes over 400 links to free patterns available online, as well as plenty of About.com's own one-of-a-kind patterns. What can you do with an old pallet? So many things!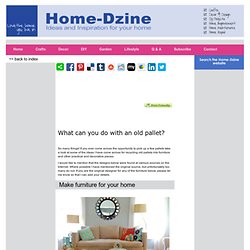 If you ever come across the opportunity to pick up a few pallets take a look at some of the ideas I have come across for recycling old pallets into furniture and other practical and decorative pieces. I would like to mention that the designs below were found at various sources on the Internet. How to Turn a Pallet into a Garden.
Good news and bad news.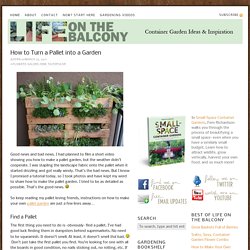 I had planned to film a short video showing you how to make a pallet garden, but the weather didn't cooperate. I was stapling the landscape fabric onto the pallet when it started drizzling and got really windy. That's the bad news. But I know I promised a tutorial today, so I took photos and have kept my word to share how to make the pallet garden. I tried to be as detailed as possible. Wednes-diy | Free People Clothing Boutique Blog - StumbleUpon. UPDATE: This post originally ran on March 23 2011, but with summer winding down we wanted to bring it back up for some late summer inspiration!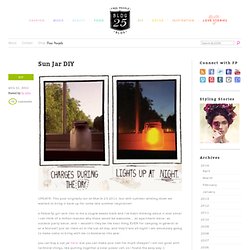 A fellow fp girl sent this to me a couple weeks back and i've been thinking about it ever since! I can think of a million reasons why these would be awesome… as apartment décor, as outdoor party décor, and – wouldn't they be the best thing EVER for camping in general or at a festival? How to Make Paper Pencils (tutorial) | scissors.paper.wok - StumbleUpon. I have always wanted to make my own pencils, but the thought of shaping two pieces of wood to allow a piece of lead to sit perfectly inside made me think it wasn't worth the effort.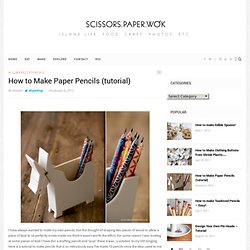 For some reason I was looking at some pieces of lead I have (for a drafting pencil) and "pop" there it was.. a solution to my DIY longing. Here is a tutorial to make pencils that is so ridiculously easy I've made 10 pencils since the idea came to me yesterday! Tutorial: Homemade Sidewalk Chalk | oh my! handmade goodness - StumbleUpon. By Michelle Vackar, Modern Handmade Child One of our favorite outside activities at our home is drawing with chalk on the driveway.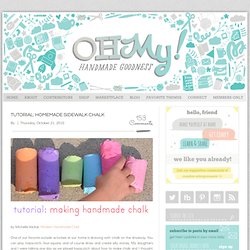 You can play hopscotch, four-square, and of course draw and create silly stories. My daughters and I were talking one day as we played hopscotch about how to make chalk and I thought to myself, let's try it! It ended up being quite a lot of fun. What you will need: • Toilet paper or paper towel tubes • Scissors • Duct tape • Wax paper • Small bucket or disposable container to make the recipe • ¾ cup of warm water • 1 ½ cups Plaster of Paris • 2-3 tablespoons of tempera paint • Paper bag or a "mess mat"
Holder for Charging Cell Phone (made from lotion bottle) | Make It and Love It - StumbleUpon. My husband and I both have cell phones.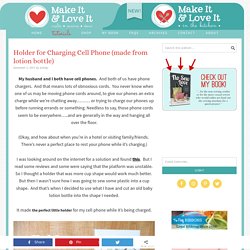 And both of us have phone chargers. And that means lots of obnoxious cords. You never know when one of us may be moving phone cords around, to give our phones an extra charge while we're chatting away……… or trying to charge our phones up before running errands or something. Needless to say, those phone cords seem to be everywhere…..and are generally in the way and hanging all over the floor. Print Hula Hoop Rug Page | Crafts | FamilyFun - StumbleUpon.
This photo originally appeared in FamilyFun Magazine Total Time 2 to 3 hours Ages school-age What does it take to transform a pile of old T-shirts into spectacular works of woven art? DIY Organization Solution - Grocery Bag Holder - StumbleUpon. Delightful country cookin: homemade air freshener - StumbleUpon. "Don't you get fresh with me, ya hear! " Oh, I love it when adults (especially grandparents) say that to little kids. What does it mean exactly?
---