Desserts and Baking
Get flash to fully experience Pearltrees
When my youngest daughter was born some friends of ours made us pink cookies. They were delicious. I had to have the recipe.
This summer, double your pleasure by serving your family's favorite ice-cream flavors in edible chocolate chip cookie bowls. What you'll need 1/4 cup shortening 1/4 cup butter, softened 2/3 cup sugar 1 egg 1/2 teaspoon vanilla extract 1/2 teaspoon salt 1/4 teaspoon baking powder 1 1/2 cups flour 1/4 cup miniature semisweet chocolate chips How to make it To make the cookie cups, beat together the shortening, butter, and sugar in a large bowl. Add the egg and vanilla extract, beating until combined.
Upward and Onward Growing Morning Glory • 35 Comments
Jun 29
Whipped, mixed, baked or frozen, at one point or another, most of us have lingered in our love affair with cheesecake.
Cheesecake Stuffed Strawberries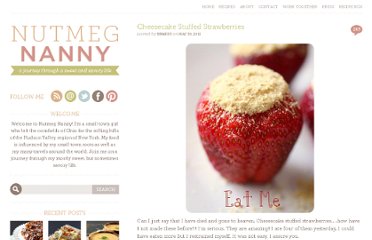 Cinnamon Roll Pancakes Updated 9/22/11 to Add: If you're coming here to sample these delicious Cinnamon Roll Pancakes, you just might like the latest recipe that I've posted for Pumpkin Cinnamon Roll Pancakes too.
I'm just finishing up the photos for my next recipe, but since we're entering into flowery, lovely springtime, I wanted to bring this quick and easy—and too precious for color TV—dessert idea from my archives.