Drawing
Jason Thielke - Art. Manuel Larino. Yuta Onoda* Yuta Onoda* Alltelleringet.com. - byroglyphics-news. Christoph Niemann. Maximilian bode. Macacolandia. Nekro portfolio | Design & Illustration by Borja Fresco.
Bruno Leyval. Anry. Craig Kosak Paintings. NIcklas-h. Latest Peter Conradi new JH/Jonathan Höglund new Static Cirkel 1-5 new Static new "Another Direction" at Eugén & Williams new VB/Valentin&Byhr coming soonVolvo Buses newBlack LightVision Volvo Cunstruction Equipment coming soon"Cosmic Love Deer" newPlayful Type/Gestalten Los Logos 4/Gestalten Volvo Trucks Los Logos 5/Gestalten coming soon Image BlogDusty Pink new Logosby Flowervalley Twist & TangoLevinThorénIcons Of EcoVictoria Arena TASTE International Velour Dokken Berså LunchXpress KS theMERCADO GreenPeopleMarket Promessa GS2H Mancare Pita Midaircondo IllustrationFriendLoving You Is WrongRamlösa Forum AID Pervers Kroki Femkul_ Kaiserin Magazine NOISE Festival Arkitip 0035 Kub'ich 7 Sins Midaircondo Porn Coverups Printed Matter Breathe/TF014 I Saw What You Did Last Summer (a walk dowm the memory lane of shame) Subway Mums Falcon 25 Images, almost no text Summer greeting NN.07 Zeigeist Black Milk Vegas/Svenska Spel Electrolux BRUTE N°1 BRUTE N°2 Manual#2Manual#1.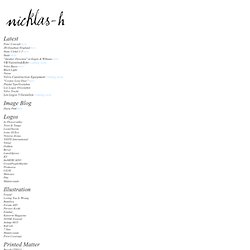 Laura Laine. My Schizophrenic Brain.
---