Resources/Tutorials
Do-it-yourself isn't always about pinching pennies and saving a few bucks, sometimes it's about making good use of your free time and building a custom tool. So with the summer heat just inviting you to whip out those power tools and build something great, here are 12 projects designed to make your life easier on set. 1. Frontbox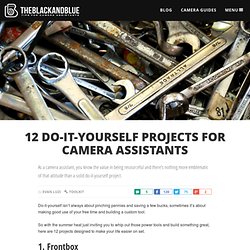 12 Do-It-Yourself Projects for Camera Assistants | The Black and Blue
It's that time of year again, so we thought it was time to update last years killer feature "Horror Filmmaking: From Script to Scream." That's right a sequel! This time we are narrowing the focus a bit and concentrating on the DIY (Do It Yourself) elements. Hopefully this will help you slash the budget without murdering your production values. DIY: Blood, Bullets & Stunts DIY: Stage Effects/Green Screen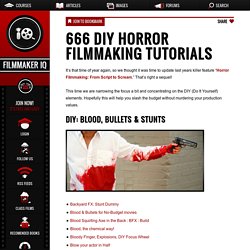 Japan - Heartbeats of Time on Vimeo
Products | Ikonoskop
Make Video Look Like Film: Shot Design - Filmmaking Tutorial 1
Lens Genealogy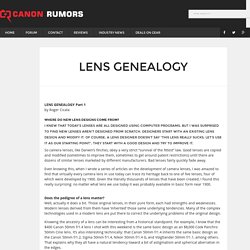 LENS GENEALOGY Part 1by Roger Cicala Where do new lens designs come from?I knew that today's lenses are all designed using computer programs, but I was surprised to find new lenses aren't designed from scratch.
Film School Online to Learn Filmmaking
The Time-Lapse Photography Guide | Untamed Science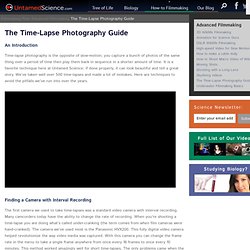 An Introduction Time-lapse photography is the opposite of slow-motion; you capture a bunch of photos of the same thing over a period of time then play them back in sequence in a shorter amount of time. It is a favorite technique here at Untamed Science; if done properly, it can look beautiful and tell a great story.
The 20 classic films children should see
29 Documentaries Receive $582,000 In Grants From Sundance Institute Documentary Film Program
Includes Two Grants From Cinereach Project at Sundance Institute and One From Time Warner Foundation Los Angeles, CA — Sundance Institute today announced the 29 feature-length documentary films that will receive $582,000 in grants from the Documentary Film Program, including two films selected to receive grants from the Cinereach Project at Sundance Institute and one Time Warner Foundation Fellow. The DFP celebrates its 10th anniversary in 2012 and since its inception has awarded grants to more than 300 documentary filmmakers in 61 countries. "For many of these filmmakers, receiving a grant will be just the beginning of our relationship with them," said Cara Mertes, Director of the Sundance Institute Documentary Film Program. "These filmmakers are also eligible for year-round creative support through our programs, including Creative Labs, Work-in-Progress screenings, and events and activities at the Sundance Creative Producing Summit and Sundance Film Festival.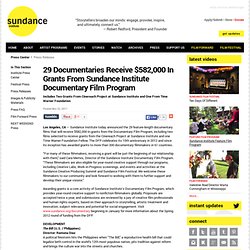 Cinetics
A complete immersion in the art and craft of dramatic filmmaking, the Cineplex Entertainment Film Program offers residents the opportunity to hone their talent, while building strategic relationships in the industry. Over five-and-a-half months, producers, editors, writers and directors are joined by illustrious storytellers and industry professionals who inspire, question and challenge our filmmakers to elevate their craft. Application information for 2014 is available now. CLICK HERE for more details. Take a look at some of the guests we've welcomed for the Cineplex Entertainment Film Program!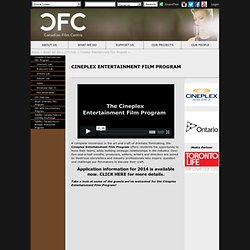 The Canadian Film Centre :: What We Do - Cineplex Entertainment Film Program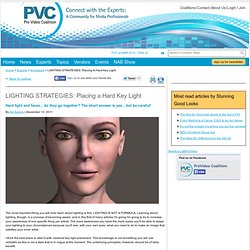 Stunning Good Looks by Art Adams
The most important thing you will ever learn about lighting is this: LIGHTING IS NOT A FORMULA. Learning about lighting, though, is a process of becoming aware, and in this first of many articles I'm going I'm going to try to increase your awareness of one specific thing per article. The more awareness you have the more easily you'll be able to adapt your lighting to your circumstances because you'll see, with your own eyes, what you need to do to make an image that satisfies your inner artist. I think the best place to start is with classical key light placement. This knowledge is not something you will use verbatim as this is not a style that is in vogue at the moment. The underlying principles, however, should be of daily benefit.
Art Adams - Director of Photography - Showreel
CML Cameras table of contents
Recent CML Tests 9 cameras RAW Alexa 4 stops over and back Alexa - 435/5219 Film - Alexa - Epic Aces Rushes One Light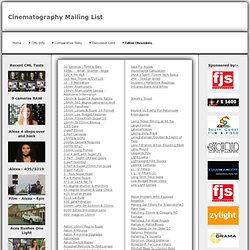 Film Sound Bibliography Film Sound Theory and Postproduction Books and Articles. Visit New for more articles, radio programmes etc. Film Sound History Sound recording and the ability to photograph and reproduce motion pictures began intersecting at the very beginning, 1895!!!!.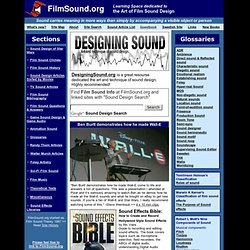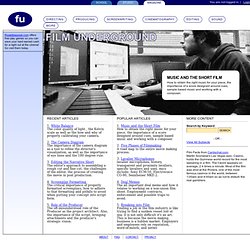 1. White Balance The color quality of light , the Kelvin scale as well as the how and why of properly calibrating your camera. 2. The Camera Diagram The importance of the camera diagram as a tool to refine the director's visualization, as well as the importance of eye lines and the 180 degree rule.
College of Production - College of Production
Recent Lessons Hey there, mobile meanderers, This spring tease of warm weather in NYC has awoken a sedentary population. Feet are hitting the pavement with more enthusiasm than in previous months, and it seems like the world is more kinetic than before. I'm no longer the lone dancer on the train — everyone's got a little pep in their step!
FilmSecrets - Dynamic Film Resource
Off the back of a successful Kickstarter campaign, Digital Bolex (a JV between the original Bolex company and start-up Cinemeridian) are set to launch their first product - the D16 Bolex, digital 16mm camera. The chaps over at SoundWorks Collection explore Director J.C. Chandor's new film, All is Lost. Premiered at the 2013 Cannes Film Festival, the film features only one character and contains almost no dialogue yet is brought to life almost entirely by sound design.