Système
Get flash to fully experience Pearltrees
Mise à jour, le 2 octobre 2012 : Les parlementaires français se penchent aujourd'hui sur le Traité européen. Son credo ? Plus de rigueur budgétaire. Et si d'autres solutions existaient ? Terra eco s'était penché en décembre dernier sur deux d'entre elles : la planche à billet et l'annulation de dette. Une famille dont la maison s'effondre, mais qui ne peut rien réparer parce qu'elle croule sous les dettes.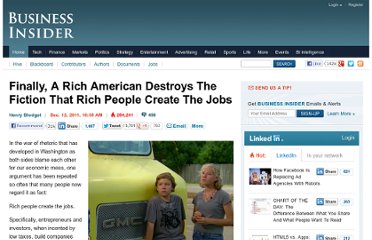 In the war of rhetoric that has developed in Washington as both sides blame each other for our economic mess, one argument has been repeated so often that many people now regard it as fact: Rich people create the jobs. Specifically, entrepreneurs and investors, when incented by low taxes, build companies and create millions of jobs.
Source Basta ! : Quel bilan tirez-vous des lois Aubry sur les 35 heures ? Pierre Larrouturou : Selon l'Insee, elles ont permis de créer entre 300 000 et 350 000 emplois à temps plein.
Crise financière, révolutions arabes, protestations urbaines, notre monde est-il à ce point déréglé ? Le malaise que traverse actuellement le monde se manifeste de diverses manières. Tant de choses semblent échapper à tout contrôle ! La tourmente financière qui secoue la planète est évidemment l'un des signes de ce dérèglement. Quand on croit que la crise s'est apaisée, elle repart de plus belle. Et les solutions qui sont censées régler les problèmes en profondeur s'avèrent à chaque fois insuffisantes.