HIGH EXISTENCE!
50 Life Secrets and Tips. 15 Big Life Insights I Wish I Knew at 18. One of the most popular posts of all time on HE is my 50 Life Secrets and Tips.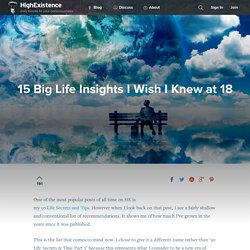 However when I look back on that post, I see a fairly shallow and conventional list of recommendations. It shows me of how much I've grown in the years since it was published. The Science of Meditation. Over the past few hundred years the power of organized religion has steeply declined in the west.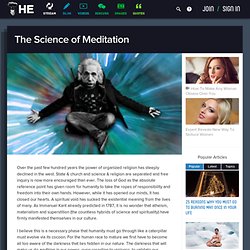 State & church and science & religion are separated and free inquiry is now more encouraged than ever. The loss of God as the absolute reference point has given room for humanity to take the ropes of responsibility and freedom into their own hands. However, while it has opened our minds, it has closed our hearts. A spiritual void has sucked the existential meaning from the lives of many. As Immanuel Kant already predicted in 1787, it is no wonder that atheism, materialism and superstition (the countless hybrids of science and spirituality) have firmly manifested themselves in our culture. Awesome Variations on Meditation.
Meditation is simply the training of the mind.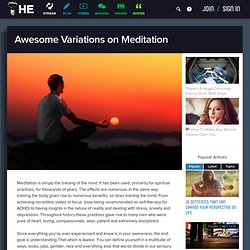 It has been used, primarily for spiritual practices, for thousands of years. The effects are numerous. The Art of Meditation / Stop Being a Zombie! A person who thinks all the time has nothing to think about except thoughts.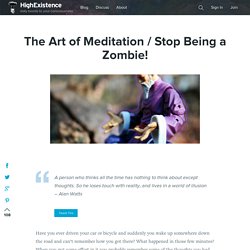 So he loses touch with reality, and lives in a world of illusion – Alan Watts Tweet Have you ever driven your car or bicycle and suddenly you wake up somewhere down the road and can't remember how you got there? What happened in those few minutes? The Ultimate Guide to Fitness: Men's Edition. If you've read Tim Ferris's "The 4-Hour Body," then you're familiar with the term "Harajuku moment."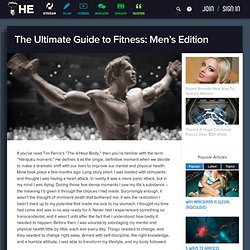 He defines it as the single, definitive moment when we decide to make a dramatic shift with our lives to improve our mental and physical health. Mine took place a few months ago. 10 EPIC Quotes from "Conversations With God" "Conversations With God: An Uncommon Dialogue" by Neal Walsh is one of my favorite books of all time, hands down.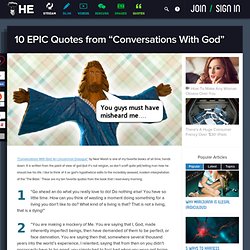 It is written from the point of view of god (but it's not religion, so don't scoff quite yet) telling man how he should live his life. I like to think of it as god's hypothetical edits to the incredibly skewed, modern interpretation of the 'The Bible.' These are my ten favorite quotes from the book that I read every morning: Becoming a Bodhisattva: 4 Vows to Take on the Road to Enlightenment Pt.1. Dear Traveler, Do you think you've got what it takes to be a bodhisattva?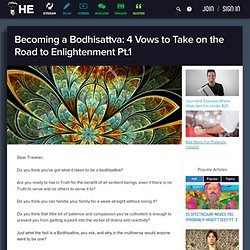 Are you ready to live in Truth for the benefit of all sentient beings, even if there is no Truth to serve and no others to serve it to? Do you think you can handle your family for a week straight without losing it? Do you think that little bit of patience and compassion you've cultivated is enough to prevent you from getting sucked into the vortex of drama and reactivity?
Just what the hell is a Bodhisattva, you ask, and why in the multiverse would anyone want to be one? 25 Reasons Why You MUST Go To Burning Man Once In Your Life. Burning Man is the biggest and most bizarre party in the world, comprised of 60,000 people camping in the desert of Nevada for a week.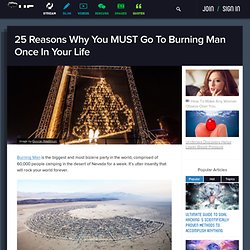 It's utter insanity that will rock your world forever. photo by Duncan Rawlinson Here are 25 reasons why you won't be able to stop yourself from going after reading this article… How Your Thoughts Program Your Cells. Some "Basic" Cellular Biology There are thousands upon thousands of receptors on each cell in our body.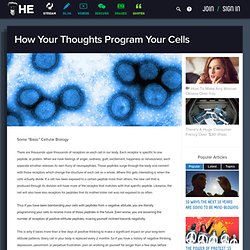 Each receptor is specific to one peptide, or protein. When we have feelings of anger, sadness, guilt, excitement, happiness or nervousness, each separate emotion releases its own flurry of neuropeptides. Those peptides surge through the body and connect with those receptors which change the structure of each cell as a whole. Where this gets interesting is when the cells actually divide.
A Reason For Today. A man named Roy was sitting on a park bench one warm and sunny day, staring off into the abyss of reality.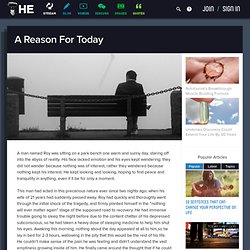 His face lacked emotion and his eyes kept wandering; they did not wander because nothing was of interest, rather they wandered because nothing kept his interest. He kept looking and looking, hoping to find peace and tranquility in anything, even if it be for only a moment. This man had acted in this precarious nature ever since two nights ago, when his wife of 21 years had suddenly passed away. Roy had quickly and thoroughly went through the initial shock of the tragedy, and firmly planted himself in the "nothing will ever matter again" stage of the supposed road to recovery.
He had immense trouble going to sleep the night before due to the content chatter of his depressed subconscious, so he had taken a heavy dose of sleeping medicine to help him shut his eyes. The Ultimate Guide to Fitness: Men's Edition. Not Your Typical New Years Article. While your feeds and inboxes are being flooded with articles about new years resolutions, take a quick moment to reflect on 2012. Can you remember where you were in life at this time last year? What has changed since then? 18 Thought-Provoking Questions.
If you could make a 30 second speech to the entire world, what would you say? If you were going to die at midnight, what would you be doing at 11:45pm? How do you really KNOW anything for sure? If you had all the money in the world but still had to have some kind of job, what would you choose to do? How & Where To Educate Yourself Online. Generation after generation the human species stacks knowledge upon knowledge. This intricate web of symbols acts like a map for our inner and outer world. We use math to trade goods and we use words to convey we are in love. Be The Change, Be The Hero. Life is a dance Where we had the waltz in earlier times, a slow-paced and fixed dance we have dubstep in modern times, much faster and chaotic. In the same way the pace of life has gone up a notch or two aswell and life isn't fixed anymore, it's faster and more chaotic.
Where once you could rarely visit another city, now the whole world is in your home with a click of the mouse. Increasing interconnectedness at an accelerating rate. How We Can (Actually) Change The World – Pt. 2/3. The Fastest Way to Change Something About Yourself. How We Can (Actually) Change The World – Pt. 1/3. Turning The Problem Around: Mental Health In A Sick Society. The Love Experiment: Introduction. The Most Effective Way to Create New Habits. The Dalai Lama Answers A Question. The Origins of High Existence. Spoiler Alert: You Do Not Exist. 50 (More) Life Secrets and Tips. Law of Attraction – Take Control of Your Life.
50 Life Secrets and Tips. 25 Spectacular Movies You (Probably) Haven't Seen. Educate Yourself Without School. Lucid Dreaming. Alternative Sleep Cycles: You Don't Really Need 6-8 Hours! The Science of Meditation. High Existence | Challenging the way you live! Top 5 Videos Of Alan Watts. The Non-Conformist Samurai & A Cage Full Of Monkeys.
---