Info Défense Sécurité 4
Washington's Blog. SpyTalk - Intelligence for thinking people. Bruxelles2 - Europe de la défense et de la sécurité. Les Yeux du Monde : le site d'actualité et de géopolitique. ELP Defens(c)e Blog. The InsideDefense NewsStand. STRATFOR - Geopolitical intelligence, economic, political, and m.
Lexington Institute. Ares Homepage. Géopolitique. Maintenant que les négociations sont bien lancées sur le dossier nucléaire iranien, le jeu diplomatique avec Téhéran s'ouvre.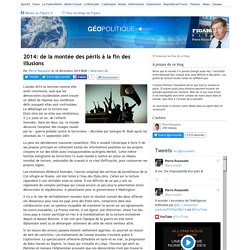 Si un accord est loin d'être acquis, la perspective d'un compromis a suffi à ouvrir les vannes. Les Occidentaux et leurs concurrents se bousculent pour bénéficier de l'accès escompté à un marché de près de 80 millions d'habitants dans un pays qui sera pour longtemps l'une des premières puissances pétrolières, avec des besoins d'investissements considérables. La semaine dernière, un cadre a été fixé à Vienne pour les discussions qui, selon l'accord intérimaire de novembre, s'étaleront jusqu'au 20 juin. Le délai sera peut-être prorogé mais cela peut aller vite. Les deux principaux interlocuteurs, l'Iran et les Etats-Unis, ont intérêt à battre le fer tant qu'il est chaud.
Print - Hypersonic Cruise Missile: America's New Global Strike W. A tip sets the plan in motion--a whispered warning of a North Korean nuclear launch, or of a shipment of biotoxins bound for a Hezbollah stronghold in Lebanon.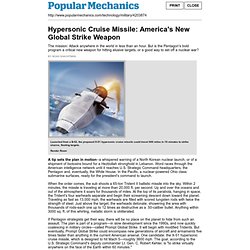 Word races through the American intelligence network until it reaches U.S. Strategic Command headquarters, the Pentagon and, eventually, the White House. In the Pacific, a nuclear-powered Ohio class submarine surfaces, ready for the president's command to launch. Booby-trapping PDF files: A new how-to. High performance access to file storage Updated A security researcher has demonstrated a mechanism that exploits PDF files without taking advantage of any particular vulnerabilities.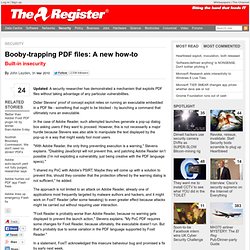 Didier Stevens' proof of concept exploit relies on running an executable embedded in a PDF file - something that ought to be blocked - by launching a command that ultimately runs an executable. In the case of Adobe Reader, such attempted launches generate a pop-up dialog box asking users if they want to proceed. The Price of Assassination - Opinionator Blog. I wouldn't have believed you if you'd told me 20 years ago that America would someday be routinely firing missiles into countries it's not at war with.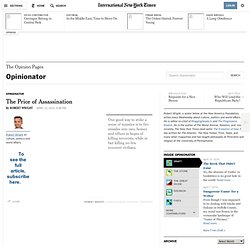 For that matter, I wouldn't have believed you if you'd told me a few months ago that America would soon be plotting the assassination of an American citizen who lives abroad. Shows you how much I know. Prospective U.S. Cyber Commander Talks Terms of Digital Warfare. For years, the military has worried about the vulnerability of the United States to cyberattack — and how and when to return fire in digital warfare.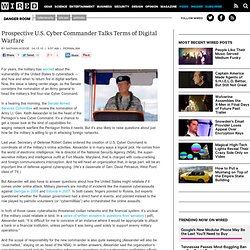 Now, the issue is taking center stage, as the Senate considers the nomination of an Army general to head the military's first four-star Cyber Command. In a hearing this morning, the Senate Armed Services Committee will review the nomination of Army Lt. Gen. Danger Room. Accueil. 28 février 2014 : Le Sri Lanka a violé deux résolutions successives du Conseil des droits de l'homme (CDH) des Nations unies.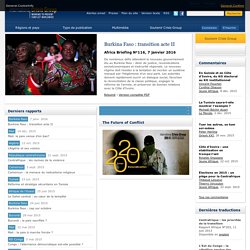 Plusieurs tendances en témoignent : l'absence de responsabilité et de poursuites pour les crimes de guerre et crimes contre l'humanité commis lors de la phase finale de la guerre civile, mais également l'absence de décentralisation du pouvoir, la militarisation du Nord et de l'Est du pays, et la dérive autoritaire du régime en place. Face à l'incapacité du gouvernement sri-lankais à adopter les mesures nécessaires, le CDH doit agir fermement afin d'éviter la résurgence du conflit et son lot de victimes innocentes. §. Sahel Intelligence, l'information stratégique sur le Sahel. CWC_SR2-2009-10-01.pdf (Objet application/pdf)
---