Info Défense Sécurité 4
Posted at 11:47 AM ET, 03/15/2011 Charlie Sheen, Anna Chapman marry, flee in UFO By Jeff Stein Now that I have your search-engine's attention … Thank you, thank you very much, dear readers, for spending another year with me at SpyTalk. Alas, however, SpyTalk is going dark.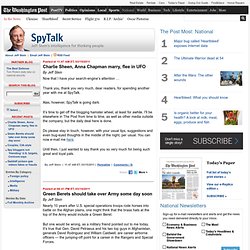 SpyTalk - Intelligence for thinking people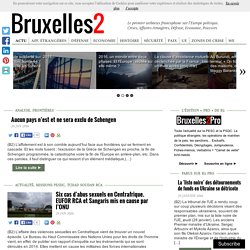 Leonor Hubaut / Interview, Sahel / Le général Guibert dans la salle de réunion du QG d'EUTM Mali à Bamako. © Leonor Hubaut/B2 (BRUXELLES2 à Bamako) Avant son départ et la relève par le général Marc Rudkiewicz (lire : Un chasseur alpin, franco-allemand, prend le commandement d'EUTM Mali), le général Guibert a tenu à faire le point, avec plusieurs journalistes (dont B2), du « 1 an » de la mission européenne de formation de l'armée malienne (EUTM Mali). Une « mission ambitieuse mais indispensable pour permettre à l'armée malienne de revenir dans le match et de retrouver la confiance en elle, qu'elle avait perdue » selon Bruno Guibert. EUTM Mali, çà marche… Déployée depuis le 18 février 2013, la mission a pour mandat « de contribuer à restaurer les capacités militaires des Forces armées maliennes (FAMA).
http://www.abassoc.com/
ELP Defens(c)e Blog
Elements of the Australian defence industry are crying a river because the current government is incompetent (just like the last one) yet they look toward the moronic Defence White Paper of 2009 as if it is the crown jewels. Interesting; they seem to avoid talking less about the cancer that is the DMO and friends. They want a 4th air warfare destroyer—which we do not need–and are deluded enough to think that Australia can make its own Collins-class sub replacement. Since Australia refuses to pursue a true air domination mission, things like the air warfare destroyer will only see a watery grave if there is a big battle. So what about helping out U.S. aircraft carriers?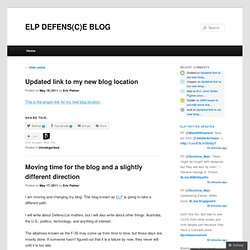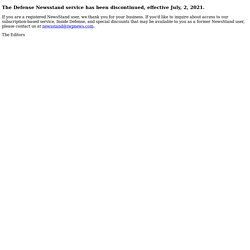 The InsideDefense NewsStand
Top Story DefenseAlert , Oct. 28, 2011 -- The Asia-Pacific region looms large in the Army's latest look at the national security challenges of 2020 and beyond, according to the three-star general overseeing the effort. DefenseAlert , Oct. 28, 2011 -- The Army and Marine Corps are inviting executives from companies expected to compete in the next round of the Joint Light Tactical Vehicle competition to meet with top brass next month to "solicit feedback" on the JLTV draft solicitation, according to Army sources. DefenseAlert , Oct. 28, 2011 -- The Defense Department and other agencies that deal with nuclear weapons are likely to encounter a "bow wave" of significant costs to modernize all three legs of the nuclear triad after fiscal year 2017, a top Air Force nuclear official said today.
Lexington Institute
Ares Homepage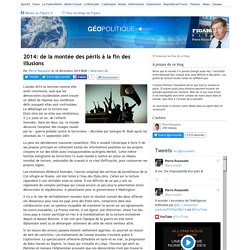 Maintenant que les négociations sont bien lancées sur le dossier nucléaire iranien, le jeu diplomatique avec Téhéran s'ouvre. Si un accord est loin d'être acquis, la perspective d'un compromis a suffi à ouvrir les vannes. Les Occidentaux et leurs concurrents se bousculent pour bénéficier de l'accès escompté à un marché de près de 80 millions d'habitants dans un pays qui sera pour longtemps l'une des premières puissances pétrolières, avec des besoins d'investissements considérables. La semaine dernière, un cadre a été fixé à Vienne pour les discussions qui, selon l'accord intérimaire de novembre, s'étaleront jusqu'au 20 juin. Le délai sera peut-être prorogé mais cela peut aller vite. Les deux principaux interlocuteurs, l'Iran et les Etats-Unis, ont intérêt à battre le fer tant qu'il est chaud.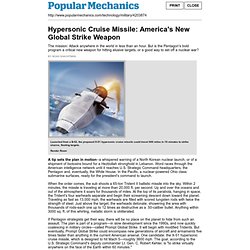 A tip sets the plan in motion--a whispered warning of a North Korean nuclear launch, or of a shipment of biotoxins bound for a Hezbollah stronghold in Lebanon. Word races through the American intelligence network until it reaches U.S. Strategic Command headquarters, the Pentagon and, eventually, the White House. In the Pacific, a nuclear-powered Ohio class submarine surfaces, ready for the president's command to launch.
Print - Hypersonic Cruise Missile: America's New Global Strike W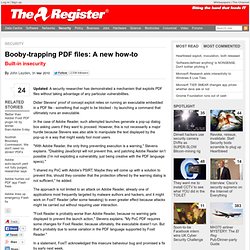 Booby-trapping PDF files: A new how-to
High performance access to file storage Updated A security researcher has demonstrated a mechanism that exploits PDF files without taking advantage of any particular vulnerabilities. Didier Stevens' proof of concept exploit relies on running an executable embedded in a PDF file - something that ought to be blocked - by launching a command that ultimately runs an executable. In the case of Adobe Reader, such attempted launches generate a pop-up dialog box asking users if they want to proceed.
The Price of Assassination - Opinionator Blog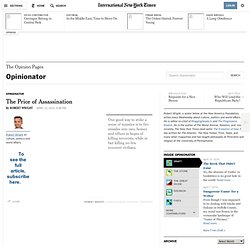 I wouldn't have believed you if you'd told me 20 years ago that America would someday be routinely firing missiles into countries it's not at war with. For that matter, I wouldn't have believed you if you'd told me a few months ago that America would soon be plotting the assassination of an American citizen who lives abroad. Shows you how much I know.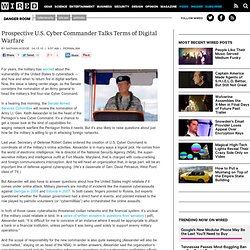 Prospective U.S. Cyber Commander Talks Terms of Digital Warfare
For years, the military has worried about the vulnerability of the United States to cyberattack — and how and when to return fire in digital warfare. Now, the issue is taking center stage, as the Senate considers the nomination of an Army general to head the military's first four-star Cyber Command. In a hearing this morning, the Senate Armed Services Committee will review the nomination of Army Lt. Gen.
These Playing Cards School U.S. Soldiers in Archaeology By Elise Craig Thursday, December 12 0 Comments When Laurie Rush, an army archaeologist and anthropologist, heard that the military had built a helipad directly on top of ancient Babylon, she realized she needed to do more to educate US soldiers about historic places. New Stealth Spy Drone Already Flying Over Area 51 By Jason Paur Friday, December 6 1 Comment The latest top secret unmanned spy plane to be uncovered isn't just a design idea, it's already flying at the Air Force's famed Area 51.
Danger Room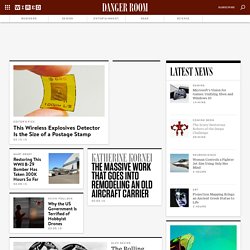 28 février 2014 : Le Sri Lanka a violé deux résolutions successives du Conseil des droits de l'homme (CDH) des Nations unies. Plusieurs tendances en témoignent : l'absence de responsabilité et de poursuites pour les crimes de guerre et crimes contre l'humanité commis lors de la phase finale de la guerre civile, mais également l'absence de décentralisation du pouvoir, la militarisation du Nord et de l'Est du pays, et la dérive autoritaire du régime en place. Face à l'incapacité du gouvernement sri-lankais à adopter les mesures nécessaires, le CDH doit agir fermement afin d'éviter la résurgence du conflit et son lot de victimes innocentes.
Lobbying Anti Terrorisme Immigration Diplomatie Focus Energie
Sahel Intelligence, l'information stratégique sur le Sahel
CWC_SR2-2009-10-01.pdf (Objet application/pdf)