Info Défense Sécurité 4
SpyTalk - Intelligence for thinking people
http://www.abassoc.com/
ELP Defens(c)e Blog
The InsideDefense NewsStand
Lexington Institute
Early Warning Blog BAE Systems announced today that defense-industry veteran Gerard (Jerry) DeMuro will succeed Linda Hudson as President & CEO of the company's $12 billion U.S. business. BAE Systems, Inc., as the. . . Read more Author: Loren B.
Ares Homepage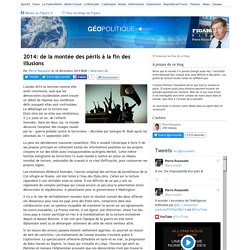 Ceux qui espéraient en France qu'une cohabitation entre la droite et la gauche en Allemagne serait favorable aux intérêts de Paris en Europe vont en être pour leurs frais. L'accord de coalition en cours de négociation entre la CDU/CSU, conduite par la chancelière Angela Merkel, et le parti social démocrate reflète le souverainisme grandissant outre-Rhin et fait peu de cas du couple franco-allemand pour la conduite d'une Union européenne à la dérive. L'accord prévoit, certes, un salaire minimum à l'échelle du pays, mesure qui marque une certaine convergence avec la France... vers plus de chômage et moins de compétitivité. Elle constitue une rupture avec la saine tradition allemande de laisser les partenaires sociaux maîtres du niveau des salaires. Mais, cette décision, très politique, imposée par la montée des populismes de droite et de gauche, était largement anticipée.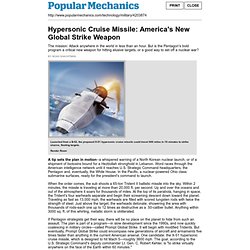 A tip sets the plan in motion--a whispered warning of a North Korean nuclear launch, or of a shipment of biotoxins bound for a Hezbollah stronghold in Lebanon. Word races through the American intelligence network until it reaches U.S. Strategic Command headquarters, the Pentagon and, eventually, the White House. In the Pacific, a nuclear-powered Ohio class submarine surfaces, ready for the president's command to launch.
Print - Hypersonic Cruise Missile: America's New Global Strike W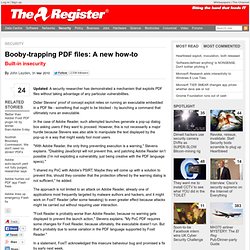 Booby-trapping PDF files: A new how-to
A guide to transactional email Updated A security researcher has demonstrated a mechanism that exploits PDF files without taking advantage of any particular vulnerabilities. Didier Stevens' proof of concept exploit relies on running an executable embedded in a PDF file - something that ought to be blocked - by launching a command that ultimately runs an executable. In the case of Adobe Reader, such attempted launches generate a pop-up dialog box asking users if they want to proceed.
The Price of Assassination - Opinionator Blog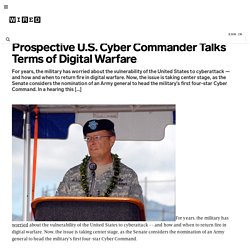 Prospective U.S. Cyber Commander Talks Terms of Digital Warfare
For years, the military has worried about the vulnerability of the United States to cyberattack — and how and when to return fire in digital warfare. Now, the issue is taking center stage, as the Senate considers the nomination of an Army general to head the military's first four-star Cyber Command. In a hearing this morning, the Senate Armed Services Committee will review the nomination of Army Lt. Gen.
Sahel Intelligence, l'information stratégique sur le Sahel
CWC_SR2-2009-10-01.pdf (Objet application/pdf)