Design Sites
Soleil Noir 2012 | We believe in... 55 Examples of Light and Clean Resume Designs. 99 Excellent Examples of Forced Perspective Photography | Photography. Forced perspective is a technique that employs optical illusion to make an object appear farther away, closer, larger or smaller than it actually is.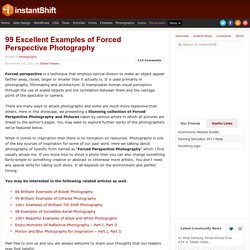 It is used primarily in photography, filmmaking and architecture. It manipulates human visual perception through the use of scaled objects and the correlation between them and the vantage point of the spectator or camera. There are many ways to attack photography and some are much more expensive than others. Here in this showcase, we presenting a Stunning collection of Forced Perspective Photography and Pictures taken by various artists in which all pictures are linked to the author's pages. A Doodle A Day Keeps The Stress Away. Sketchbook by Terra Belle A Photographer by Lei Melendres Unfinished Doodle by Lei Melendres Lucky Lucky Lucky by Voz Perkins Bobsmade Doodle 2011 by Bobsmade The Sketchbook Project by Patrick Burnell.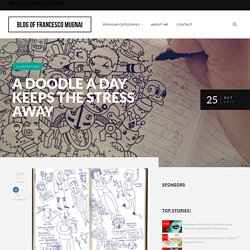 Great Resume Designs that Catch Attention–and Got People Hired. Inspiration June 21, 2011 When applying for a job, you have no choice but to do your best to outshine competition.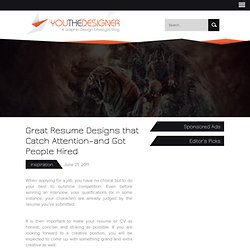 Even before winning an interview, your qualifications (or in some instance, your character) are already judged by the resume you've submitted. It is then important to make your resume or CV as honest, concise, and striking as possible. If you are looking forward to a creative position, you will be expected to come up with something grand and extra creative as well. Take a look at how other designers compose their creative resumes. Ghostbuster, Mario, les Goonies… – 24 excellents posters retro de Strongstuff. Ghostbuster, Mario, les Goonies… – 24 excellents posters retro de Strongstuff Une superbe collection de posters retro imaginés par l'illustrateur Strongstuff aka Tom Whalen, qui détourne films et jeux vidéos en de magnifiques illustrations retro.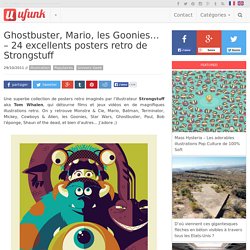 On y retrouve Monstre & Cie, Mario, Batman, Terminator, Mickey, Cowboys & Alien, les Goonies, Star Wars, Ghostbuster, Paul, Bob l'éponge, Shaun of the dead, et bien d'autres… J'adore ;) via. Wrongdistance.com. Cool Infographics - Blog. 35 Brilliant Resume Designs at DzineBlog. Learn how to earn $125 or more per hour as a freelancer - Click Here Looking for hosting?.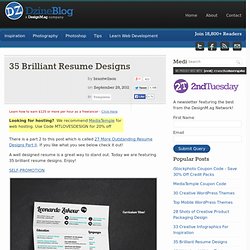 We recommend MediaTemple for web hosting. Use Code MTLOVESDESIGN for 20% off There is a part 2 to this post which is called 27 More Outstanding Resume Designs Part II. » Blog Archive » The Most Beautiful Wedding Invitation of All Time? Barcinski & Jeanjean. Jellyvampire :: Nettserier.no. This was my entry to a contest held by Yuumei, at www.yuumei.deviantart.com!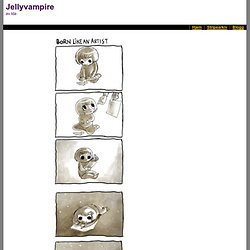 I hope you like it c: My deviantart: www.jellyvampire.deviantart.com My blog: jellyvampire.blogspot.com Will you vote for me in this design contest? My entry is the girl with white hair and butterflies: 64 kommentarer. Best wallpapers. Well Done: a food company annual report that has to be cooked first. Croatian creative agency Bruketa & Zinić have designed an annual report for food company Podravka that has to be baked in an oven before it can be read.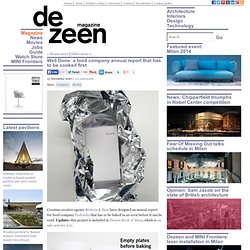 Update: this project is included in Dezeen Book of Ideas, which is on sale now for £12. Called Well Done, the report features blank pages printed with thermo-reactive ink that, after being wrapped in foil and cooked for 25 minutes, reveal text and images. Here are details from Bruketa & Zinić: Business Cards | Business Cards. 30 Innovative And Creative Text Effect Tutorials. Text effects are used in almost everything we see: whether it a simple inner or drop shadow, a subtle gradient, or a full-blown illustrated header.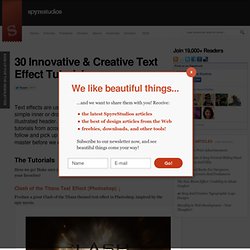 Below we have a selection of thirty great tutorials from across the design community, ready for you to follow and pick up tons of new techniques. You'll be a text-effect master before we can say the word "go! The Photocabine. A visual exploration on mapping complex networks. Hand Drawings Overlapped With Reality. Leaves | Bartek Drozdz, Everyday Flash. Juan Francisco Casas e Ballpoint Artworks - Design Atento. Juan Francisco Casas é um artista espanhol de 33 anos que consegue a proeza de fazer impressionantes desenhos realísticos usando apenas a boa e velha caneta Bic azul.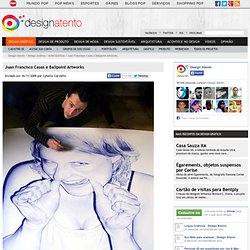 O processo é assim: de uma foto digital, Juan amplia a imagem obtida e a transforma em enormes painéis desenhados a mão. E não tem nada de Photoshop. É pura habilidade mesmo. Carnovsky's RGB wallpaper. For the Milan Design Week, Italian studio Carnovsky created a series of wallpapers that react to different coloured lights UPDATE: new versions of the wallpapers are on display in a new exhibition in Berlin alongside prints and playing cards using the same technique.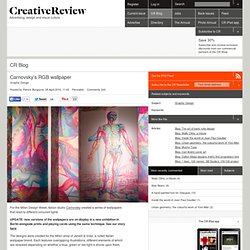 See our story here The designs were created for the Milan shop of Janelli & Volpi, a noted Italian wallpaper brand. Each features overlapping illustrations, different elements of which are revealed depending on whether a blue, green or red light is shone upon them. Japanese graphic design from the 1920s-30s. In the 1920s and 1930s, Japan embraced new forms of graphic design as waves of social change swept across the nation. This collection of 50 posters, magazine covers and advertisements offer a glimpse at some of the prevailing tendencies in a society transformed by the growth of modern industry and technology, the popularity of Western art and culture, and the emergence of leftist political thought. "Buy Domestic! " Designers' List - All your favorite websites in one place!
ShirtMockup.com - Upload your art. Mock it up. Download your image for FREE! STC :: fontBROWSER :: Funnel Design Group. Brand Nu - Art Direction, Illustration, Graphic Design, Typography and more.
Introduction to Manhattan Timeformations. 50 Extremely Awesome Examples of Typography. This time we're gonna show you some truly inspiring works with text, also referred to as typography. This can be used many places; in magazines, advertisements, websites, logos and more. These great pieces will show you that there are no boundaries and that you can make almost anything with text if you have a good portion of creativity and talent.
Typography can in todays terms be so much more than what you find in a book or magazine. It's turned into a very inspiring form of art, and there are many great pieces out there. Information is beautiful: 30 examples of creative infography. Unfortunatly I never had the opportunity to do client work on an infography, but it seems to be one of the most challenging task for a graphic designer.
The perfect infography must synthetize complex information in a simple visual representation, which is not easy. The following examples take information architecture to another level by making it beautiful. 30 Top Best Free Fonts From 2010. Their was a huge amount of great free fonts released this year, therefore i thought it would on be only wright to do a roundup of the top 30 best fonts released into the design community within 2010. This a great resource and something every designer should check out. 4. The Rasterbator 1.2 at arje.net. ScribblerToo :: Mario Klingemann update :: zefrank. Login | CREATIU. Project Seven: Dreamweaver Menus, CSS Templates, Widgets, Slide Shows, Tooltips, and More.
LogoPond - Identity Inspiration - HTML Tags.
---