Verone75
super pro
Un dessin animé absolument délicieux sur l'autisme - Bâtir des cours à partir des conférences TED. Les conférences TED remportent un énorme succès, tant aux Etats-Unis où elles sont nées qu'ailleurs dans le monde grâce au travail de tous les bénévoles qui étabissent les sous-titres des vidéos d'une part, et des déclinaisons de la formule, intitulées TedX, qui fleurissent dans de nombreux pays d'autre part.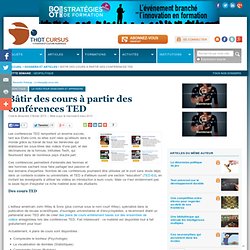 Ces conférences permettent d'entendre des femmes et des hommes sachant nous faire partager leur passion et leur domaine d'expertise. Nombre de ces conférences pourraient être utilisées (et le sont sans doute déjà) dans un contexte scolaire ou universitaire, et TED a d'ailleurs ouvert une section "éducation" (TED-Ed), en invitant les enseignants à utiliser les vidéos en introduction à leurs cours. Mais ce n'est évidemment pas la seule façon d'exploiter ce riche matériel avec des étudiants. Des cours TED.
Smartphone sensitif/internet intracorporel. Autisme. Science et art. Transition energétique. Get your Mangatar. Nanotechnologie. Ressources minérales, ressources stratégiques. Gestion des risques. Débat citoyen.
Medicaments géneriques. Internet et cie. Mes blogs scooopit préférés. Sources science etc.(revues/journaux blogs etc..)science etc.. Mur de news.
Images
The 30 Project. 30 Project. In 1980, I was born, along with millions of my peers around the world.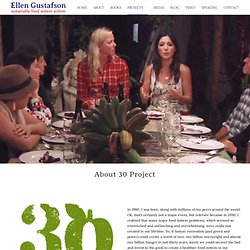 Ok, that's certainly not a major event, but relevant because in 2010, I realized that many major food system problems, which seemed so entrenched and unflinching and overwhelming, were really just created in our lifetime. So, if human innovation (and greed and power) could create a world of over one billion overweight and almost one billion hungry in just thirty years, surely we could unravel the bad and invest in the good to create a healthier food system in our lifetime, too?
In pursuit of this goal, I decided that the first step was to get people to really understand the problem. In 2010, around the time I gave my first TEDx Talk, I created a little organization called the 30 Project. My goal was to change the conversation that had theretofore been very segmented—between hunger-fighters on one side and obesity activists on the other.
Accueil  Autres dossiers doc. Design (fr) Biodiversite. Forêt/deforestation. Experimentation OGM. Creative common. Budget Nasa. Vidéos Pearltrees.
---