Writing
I know you don't watch me walk away. I know you don't watch me walk away.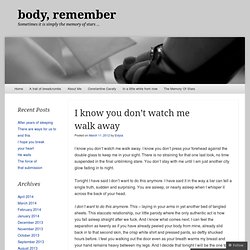 I know you don't press your forehead against the double glass to keep me in your sight. There is no straining for that one last look, no time suspended in the final unblinking stare. You don't stay with me until I am just another city glow fading in to night. Tonight I have said I don't want to do this anymore. Archetype: The Fiction Writer's Guide to Psychology. | A. Victoria Mixon, Editor. Write to Done | Unmissable articles on writing.
4 Reasons You Should Do NaNoWriMo … and 4 Reasons You Shouldn't. If you read blogs about writing, or follow writers on Twitter, there's a good chance you've heard the word "NaNoWriMo" recently.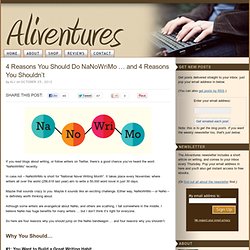 In case not – NaNoWriMo is short for "National Novel Writing Month". It takes place every November, where writers all over the world (256,618 last year) aim to write a 50,000 word novel in just 30 days. Internet Resources - Writers Resources - Writing Links & Writers Links for Writers. 12 Character Writing Tips for Fiction Writers. Character writing tips.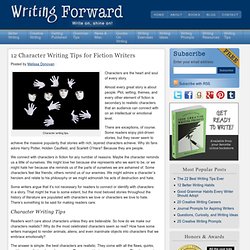 Characters are the heart and soul of every story. Almost every great story is about people. Exercises for Fiction Writers - Page 2. English 50 – Intro to Creative Writing: Exercises for Story Writers More Exercises: Write the first 250 words of a short story, but write them in ONE SENTENCE.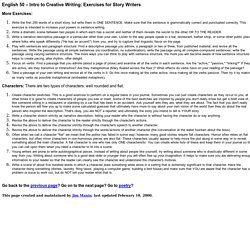 Make sure that the sentence is grammatically correct and punctuated correctly. This exercise is intended to increase your powers in sentence writing. Write a dramatic scene between two people in which each has a secret and neither of them reveals the secret to the other OR TO THE READER. Absolute Write | Write hard. Write true. And write on. Writing Realistic Injuries. Quick Contents Introduction General remarks What's normal?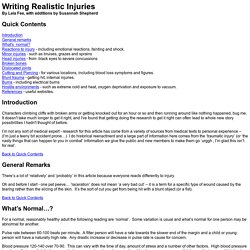 Reactions to injury - including emotional reactions, fainting and shock. Minor injuries - such as bruises, grazes and sprains Head injuries - from black eyes to severe concussions Broken bones Dislocated jointsCutting and Piercing - for various locations, including blood loss symptoms and figures. Blunt trauma - getting hit, internal injuries.Burns - including electrical burns Hostile environments - such as extreme cold and heat, oxygen deprivation and exposure to vacuum. References - useful websites. BlaBlaMeter - Bullshit detection tool.
DarkCopy - Simple, full screen text editing.
---