Webcomics
Court - By Tom Siddell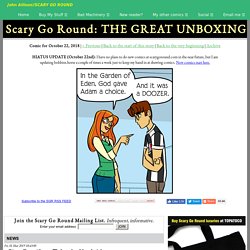 Bad Machinery
Bobbins and Bad Machinery Just a quick note to say that Bad Machinery should be back towards the end of February. I'm currently working on 22 new pages and a few art fixes for the Case Of The Simple Soul book, which somewhat limits my plotting and drawing time, so Bobbins makes an ideal fill in. But I'm eager to return to mystery, so The Case Of The Modern Men (Bad Machinery 8) will begin as soon as I can manage it. And I'll do my best to keep firing out Bobbins strips on a Friday whenever I can.
QC: New Comics Every Monday Through Friday
Paranatural - And Other Stories by Zack Morrison
Ava's Demon updates twice a week now! Mondays and Thursdays! I will also be attending a few conventions this year: MOCCA - April 5 & 6 11:00 a.m. - 6:00 p.m. in NYC, selling extra books, stickers, etc.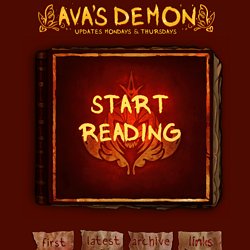 Ava's Demon
Monster Pulse
Unsounded
Amya - A Graphic Novel
Some of this may need to be edited in the near future when I wake up, and I do apologize for that – I just returned from working overnight and may overlook a few things. So, let's talk Amya, starting with the country that the comic is currently in and the one in which we began. Perennion, the Machinist's State. Perennion is a region of the continent of Amya, a comparatively large area which is both one of the most heavily populated and filled with natural resources. There are diverse geographic features running across the region, from an immense mountain range by the border of Greater Amya to lush forests and blue lakes.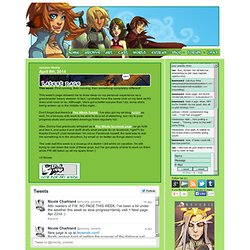 Fey Winds - Fantasy webcomic
Updates Weekly January 7th , 2014 This week: Keres is back to being creepy again! And there are ONLY 3 DAYS TO GO ON THE CFFT KICKSTARTER! We made goal, and we're almost at our first stretch goal! Alright, so coming back to work after the holiday break has been expectedly brutal, but soon I'll be back in the swing of things, trying to cram as much as much comic-making into my evenings and weekends! Bring it on future!! (...just maybe let me catch up on my sleep first....)
Bird Boy - by Annie Szabla
Earthsong
Roza : The Cursed Mage
Seed | Comics - Page 123
Chapter 9 | Page 7 January 2nd, 2014 There will not be an update next week because I'll be out of town, so I hope you enjoy Loki's return for an extra week. :3 Thanks for reading! <3333 Hope you all had a great holiday season.
Thistil Mistil Kistil - by Sarah Schanze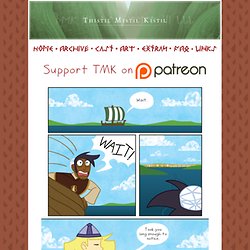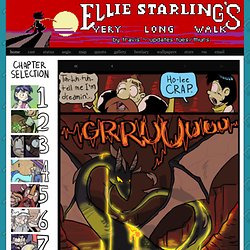 This is probably gonna be the last comic for a little bit. I don't have a lot of time these days and I'm moving really soon, so my backlog of comics has run dry. Sorry!
Ellie Starling's Very Long Walk
Saint for Rent
Everblue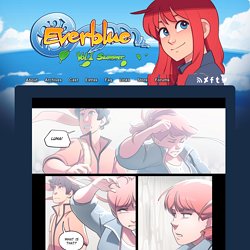 Author's Comment Progress! Agh. I didn't realize how long it had been since I'd actually painted a background, and as always a new environment means a new color palette, so I had to spend a while getting that figured out. Not quite satisfied with it, but I can probably fix that up later.
The Meek
The Fox Sister - Chapter 3 Page 18
Thermohalia - webcomic
Carciphona
C05P01
Nimona
String Theory - A Weekly Updated Downward Spiral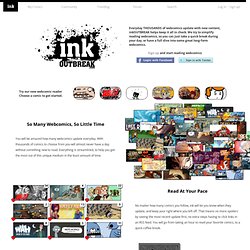 So many webcomics sites will tell you who to follow, what comics are "the best", well doesn't that change for each individual? We built ink around finding out what matters to YOU. This mean every comic you follow, every update you thumb up, every tag you select counts towards and overall path for webcomics. After you are done reading your favorites, ink will be giving you suggestions for new comics to read based on this path. It does not just stop there, also if you have friends or follow creators on ink they can influence what you are reading as well. If they have horrible suggestions, you can always ignore the the specific suggestions.
SPINDRIFT
Boys with Wings - Welcome
The Seraph-Inn
Blip - Strip for Wednesday, 17th August, 2011
(maritza says) Page 4: Mixed feelings. Whaaa Drew, why, you can't have tattoos AND read contracts??? Happy New Year guys, and thank you for reading! Love ya.
POWER NAP - the sleep of reason brings forth monsters
Chimneyspeak - A Crime Drama Penny Dreadful
posted 01-04-2014 at 12:00 am Thanks ma. Can't blog for too long tonight! We stayed up late gettin' this page finished and Leslie's gettin' up early in the morning so she can go and visit the family. I'll be home all day tomorrow so hey, maybe I can answer some tumblr questions and work on getting my streamin' stuff up. Unfortunately, still suffering from random crashes.
Blaster Nation - by Leslie and Brad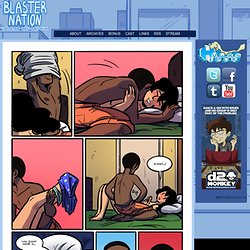 News & Comments posted 01-15-2014 at 12:00 am If you're interested in the Paleo diet, which I follow along with one of my room-mate, there are one or two interesting articles about it, and I'm sure google can tell you more about it.
Go Get a Roomie - She loves life, beer, and girls!
Buttersafe – Updated Tuesdays and Thursdays
xkcd
With real cardboard!
Buttersafe on YouTube - VairProductions