Webcomics
Elemental Strife
Court - By Tom Siddell. Bad Machinery. QC: New Comics Every Monday Through Friday. Paranatural - And Other Stories by Zack Morrison. Ava's Demon. Monster Pulse. Unsounded. April 18, 2014, at 12:00 AM Two pages today.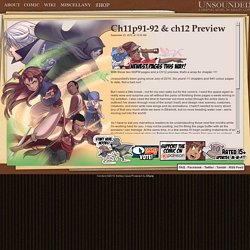 Fear the sinister Deadly Nevergreen House Special, the undoing of many an adventurer! The script on the second page is safe if you get a pop-up, no worries. The green fellow at the bottom is a goblin named Kilroy, a roleplaying character belonging to the lovely Greg H., who got himself a cameo off the last Kickstarter. You'll see him again in the coming pages. Amya - A Graphic Novel. Fey Winds - Fantasy webcomic. Bird Boy - by Annie Szabla. Earthsong. Roza : The Cursed Mage. Seed | Comics - Page 123. Thistil Mistil Kistil - by Sarah Schanze. Ellie Starling's Very Long Walk. Saint for Rent. Everblue. The Meek. The Fox Sister - Chapter 3 Page 18. Thermohalia - webcomic.
Carciphona. C05P01. Nimona. String Theory - A Weekly Updated Downward Spiral. SPINDRIFT. Boys with Wings - Welcome. The Seraph-Inn. Blip - Strip for Wednesday, 17th August, 2011. POWER NAP - the sleep of reason brings forth monsters. Chimneyspeak - A Crime Drama Penny Dreadful. Blaster Nation - by Leslie and Brad. Go Get a Roomie - She loves life, beer, and girls! Buttersafe – Updated Tuesdays and Thursdays. Xkcd. With real cardboard! Buttersafe on YouTube - VairProductions.
---