Comics
Failing Sky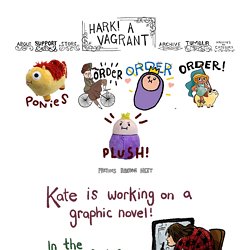 Hark, a vagrant
Friends: Lynn AllinghamJohn AllisonAmy AshDawn and Margie BeatonMarc BellSally BloodbathJohn CampbellScott CampbellRyan CarleyAnthony ClarkRebecca ClementsMelanie ColosimoDomitille CollardeyJillian Comeau, Kim Carson and Michelle SkeldingAaron DiazThe Doug Wright AwardsJess FinkEric FeursteinBrian FukushimaSarah GliddenMeredith GranLisa HanawaltDustin HarbinChristopher HastingsEmily Horne and Joey ComeauJimmie KilpatrickJon KlassenSteve LambkeHope LarsonJoe ListDavid MalkiPhil McAndrewCarolyn MerrimanCarly MonardoVicki NerinoAndre RichardRyan NorthRyan PequinNeil RoughJeffrey RowlandGabby SchulzSmart and BirdDeana SobelNathan StapleyHenry SvecMatthew TraffordJulia WertzBritt WilsonStephanie WeirathmuellerSteve WolfhardYou've Changed RecordsChip Zdarsky Good comic shops that have taught me a thing or two: The Beguiling, TorontoStrange Adventures, HalifaxLegends Comics and Books, VictoriaDesert Island, Brooklyn
Johnny Wander
cat versus human
Extra Ordinary
Hyperbole and a Half
Power is intoxicating. Everyone loves having the ability to make their decisions into reality — to think "this should be something that happens," and then actually be able to make that thing happen. It is also dangerous.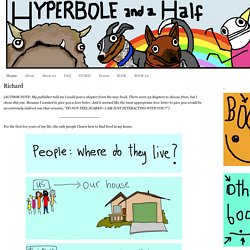 xkcd
lunchbreath
Saturday Morning Breakfast Cereal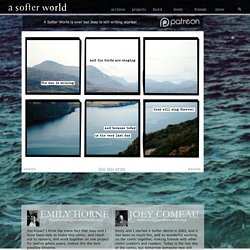 A Softer World
emily A great documentary called Stripped just came out last week, about the transition between newspaper comic strips and webcomics. There are some great interviews in there, inclusing Bill Watterson (WHAT!). Find out more about it here, including how to watch it yourself! joey
The Perry Bible Fellowship
Buttersafe
pictures for sad children
Oglaf
BabyBatman - Happy Easter!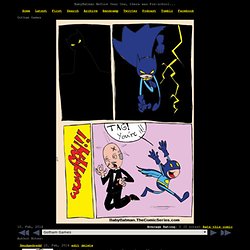 BabyBatman Before Year One, there was Pre-school... Gotham Games 10.