Educate
UFOs/Interdimensional/Ultraterrestrials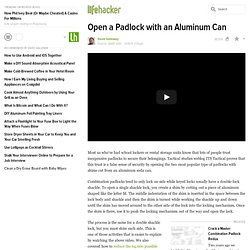 Yup, it was so easy that he had to use a key with the key lock. Note that you don't ever see the bottom of the lock, and that two points in the video after the cut-away show him not really holding the lock at all, because he's stabilizing it by holding onto the key in his palm. Not to mention the obvious "twist" right before the lock opens. I'm not even so sure about the combination lock, since it looks like he turns the dial slightly just before it opens. That could easily have been rigged, too. Especially with how much that shim bent against the locking mechanism.
Open a Padlock with an Aluminum Can
Free Scientific Books | Sciyo.com
Seven Wonders of The Ancient World
37 Tech Shortcuts From the Experts
Make Your Gmail Work for You Your time is valuable. On the Gmail team, we work hard to offer a user ex­­perience that won't bog you down. But we also want to share some tips for be­­ing even more productive with Gmail. Focus on search, not folders: Google was built on search, and we've aimed to bring that same search experience to Gmail.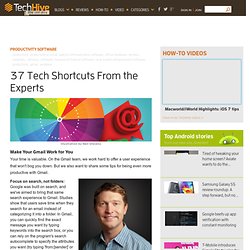 The Analysis of mind, by Bertrand Russell.
Skittles Vodka Tutorial
How to Develop a Photographic Memory
Law Library - Basics of Legal Research
How to Read Body Language to Reveal the Underlying Truth in Almost Any Situation
If your file is that cheap, you need a better file. As for worrying about your file, I'd worry more about what the bump key will do to the lock you're trying to open.. They can really do some damage in the hands of the wrong person.. Hacksaw blade was already suggested so I'll give it a +1. For car locks, I was at a garage sale in Anchorage many moons ago and everything was on the floor of the garage, dang near walked by a complete lockpick set for cars and truck, including the book. Wish I could get an updated version of the book.
Learn to Pick Locks for Fun and an Increased Understanding of Security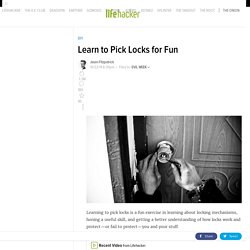 Paper CD case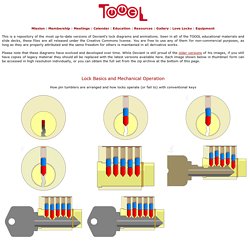 This is a repository of the most up-to-date versions of Deviant's lock diagrams and animations. Seen in all of the TOOOL educational materials and slide decks, these files are all released under the Creative Commons license. You are free to use any of them for non-commercial purposes, as long as they are properly attributed and the same freedom for others is maintained in all derivative works. Please note that these diagrams have evolved and developed over time.
The Open Organisation Of Lockpickers :: Meetings
protest records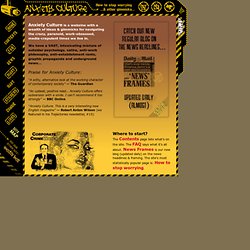 Anxiety Culture is a webzine with a wealth of ideas & gimmicks for navigating the crazy, paranoid, work-obsessed, media-crapulent times we live in. We have a VAST, intoxicating mixture of outsider psychology, satire, anti-work philosophy, anti-establishment rants, graphic propaganda and underground news... Praise for Anxiety Culture: "A witty, alternative look at the working character of contemporary society" — The Guardian "An upbeat, positive read...
Intro
Avoid these crooks ! agefotostock.com "propose" to sell stock photos from their website which is a kind of stock photo library. Initially, they do like other companies of this kind like Getty Image or Corbis. Customers register and buy pictures online. On the other side, photographers (contributors) register as well and try to sell their photos online to clients through this type of platform.
Stressed at work? Thinking 'I hate my job', 'I hate my boss' or 'I hate my co-workers'?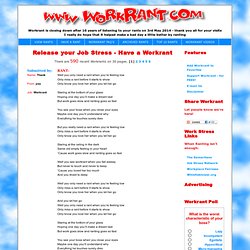 Why Work? // Index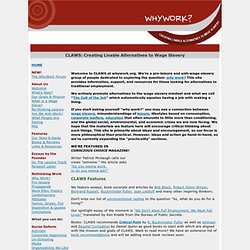 Welcome to CLAWS at whywork.org. We're a pro-leisure and anti-wage-slavery group of people dedicated to exploring the question: why work? This site provides information, support, and resources for those looking for alternatives to traditional employment. We actively promote alternatives to the wage slavery mindset and what we call "The Cult of the Job" which automatically equates having a job with making a living. If you start asking yourself "why work?" you may see a connection between wage slavery, misunderstandings of leisure, lifestyles based on consumption, corporate welfare, education that often amounts to little more than conditioning, and the global social, environmental, and economic crises we are now facing.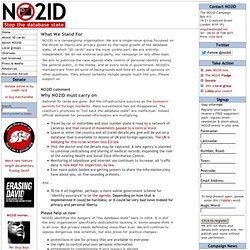 NO2ID is a campaigning organisation. We are a single-issue group focussed on the threat to liberty and privacy posed by the rapid growth of the database state, of which "ID cards" were the most visible part. We are entirely independent. We do not endorse any party, nor campaign on any other topic.
stop the database state » NO2ID
The Zeitgeist Film Series Gateway | Zeitgeist: The Movie, Zeitgeist: Addendum, Zeitgeist Moving Forward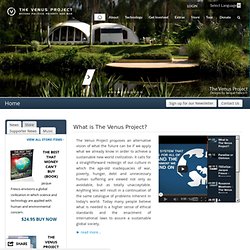 The Venus Project
The Venus Project proposes an alternative vision of what the future can be if we apply what we already know in order to achieve a sustainable new world civilization. It calls for a straightforward redesign of our culture in which the age-old inadequacies of war, poverty, hunger, debt and unnecessary human suffering are viewed not only as avoidable, but as totally unacceptable. Anything less will result in a continuation of the same catalogue of problems inherent in today's world. Today many people believe what is needed is a higher sense of ethical standards and the enactment of international laws to assure a sustainable global society. ► read more...
Corporate Accountability Project
Welcome | Grownup Notions
9/11 Missing Links
Educate-Yourself.org:The Freedom of Knowledge; The Power of Thought
Chomsky Takes on the World (Bank)
Noam Chomsky is a noted linguist, author, and foreign policy expert. On April 26, Michael Shank interviewed him about the conflict between Congress and the U.S. president over Iraq and Syria, the scandal enveloping World Bank head Paul Wolfowitz, and the nature of foreign debt. Michael Shank: Given that the U.S. Congress is no longer calling for binding timelines for troop withdrawal, how is this indicative of a broader struggle between the executive and legislative branches? Noam Chomsky: There are a number of issues.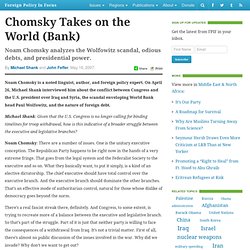 A Dozen Reasons to Oppose the IMF and World Bank By Russell Mokhiber and Robert Weissman The next citizen showdown against corporate globalization will be on April 16 and 17, when thousands of people come to Washington, D.C. to protest -- through legal demonstrations and/or civil disobedience -- the politics of the International Monetary Fund (IMF) and World Bank. For details on events, see www.a16.org Here's a dozen reasons why you should join the protests:
12 Reasons to fight usury and speculative evil
Remember Building 7 Campaign Donations New York City 10 million people in the New York Metro Area will see the ads on TV and in the subway. Other Major U.S. Cities
9/11 10th Anniversary Campaign by Remember Building 7
10 must-read books for developers | Development tools
Philosophy 132, 001|Spring 2010|UC Berkeley - Download free content from UC Berkeley on iTunes