Libs and frameworks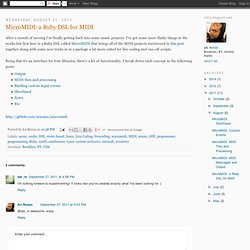 MicroMIDI: a Ruby DSL for MIDI
After a month of moving I'm finally getting back into some music projects. I've got some more flashy things in the works but first here is a Ruby DSL called MicroMIDI that brings all of the MIDI projects mentioned in this post together along with some new tricks in to a package a bit more suited for live coding and one-off scripts. Being that it's an interface for four libraries, there's a lot of functionality.
Download the library: helios-kernel-0.9.1.tar.gz [2 kb] Download the docs: helios-kernel-0.9.1-guide.pdf [290 kb] Download the source: helios-kernel-0.9.1-src.tar.gz [8 kb] Contact author: heliosframework@gmail.com Helios Kernel is an open-source Javascript library which provides an opportunity to manage a Javascript code split into a set of separate modules.
Helios Kernel
jeresig/jquery.hotkeys - GitHub
madrobby/keymaster - GitHub
GutenYe/o - GitHub
The Better Choice The UnboundID LDAP SDK for Java is a fast, powerful, user-friendly, and completely free Java API for communicating with LDAP directory servers. It offers better performance, better ease of use, and more features than other Java-based LDAP APIs, and it's the only one that's being actively developed and enhanced.
LDAP SDK for Java - UnboundID Products - UnboundID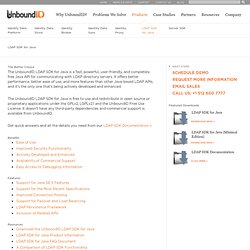 Faraday is a library for making HTTP requests and to serve as a backbone for writing API wrapper libraries such as twitter .
Faraday: advanced HTTP requests made easy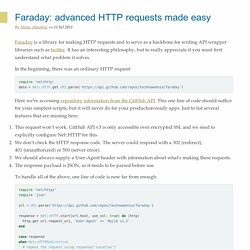 I've spend a lot of time recently working on a new concurrency library for Ruby called Celluloid .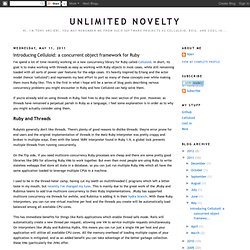 Introducing Celluloid: a concurrent object framework for Ruby
firmafon/to_google_spreadsheet - GitHub
UnBBoolean - Boolean Set Operations for Java3D
UTF8-CPP: UTF-8 with C++ in a Portable Way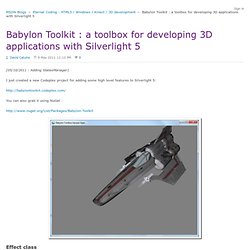 Babylon Toolkit : a toolbox for developing 3D applications with Silverlight 5 - Eternal Coding
[05/10/2011 : Adding StatesManager] I just created a new Codeplex project for adding some high level features to Silverlight 5: http://babylontoolkit.codeplex.com/
arirusso/unimidi - GitHub
arirusso/nibbler - GitHub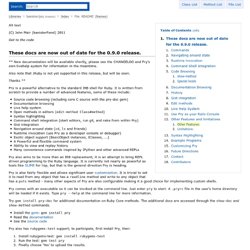 File: README
(C) John Mair (banisterfiend) 2011 Get to the code ** New documentation will be available shortly, please see the CHANGELOG and Pry's own livehelp system for information in the meantime.
EchoTeam/mavg - GitHub
CityHash provides hash functions for strings.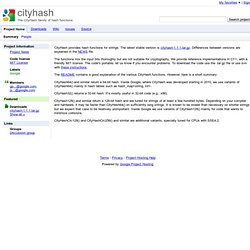 cityhash - The CityHash family of hash functions
snappy - A fast compressor/decompressor
Snappy is a compression/decompression library. It does not aim for maximum compression, or compatibility with any other compression library; instead, it aims for very high speeds and reasonable compression.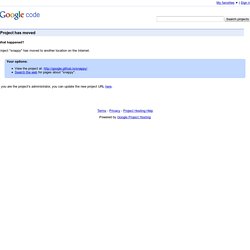 mikbe/commandable - GitHub
Goliath
Goliath is an open source version of the non-blocking (asynchronous) Ruby web server framework powering PostRank .
TBB Home
Using the Flex DeBugger (FDB)
19 Jan 2011 – Luke Bayes
amatsuda/kaminari - GitHub
jnicklas/carrierwave - GitHub
Haaf's Game Engine - Hardware accelerated 2D game engine
Three Routes to Spaghetti-Free Javascript « I am Zef
(If you are familiar with the problems of moving from synchronous to asynchronous programming, feel free to move to the next section.) Update: A lot of people misunderstood the main issue: here is another shot at explaining it better.
Blog - SproutCore 1.5.pre.4 - TemplateView is Here
Handlebars.js: Minimal Templating on Steroids
microsage/cenum - GitHub
File: README
tmm1/rbtrace - GitHub
VST.NET
matthuhiggins/foreigner - GitHub
jimmycuadra/to_lang - GitHub
sferik/rails_admin - GitHub
OverviewBanners2 (Field)
Field is a development environment for experimental code and digital art in the broadest of possible senses. While there are a great many development environments and digital art tools out there today, this one has been constructed with two key principles in mind:
(C) John Mair (banisterfiend) 2011
File: README
grape: a Ruby DSL for making APIs
mujaheed/erlang-osc - GitHub
oscpack - Project Hosting on Google Code
oscpack -- a simple C++ OSC packet manipulation library
File: README
cldwalker's ripl at master - GitHub
.: Sammy :: Quirkey.com :: Code :: :: Quirkey NYC, LLC :: Aaron Quint :: Web Developer :: Brooklyn, NY :.