Web reading
EZ Pipe. Reddit-chart-illusion-choice.png (960×568) Seven Speaking Tips That Beat "Pretend Your Audience Is Naked". Aggh.
Everyone showed up clothed! Once upon a time, I suffered from glossophobia. This affliction touches billions. It's the fear of public speaking , even to a tiny group. 30 Books I'm Glad I Read Before 30. Post written by: Marc Chernoff Email In various ways, these 30 books convey some of the philosophy of how Angel and I live our lives.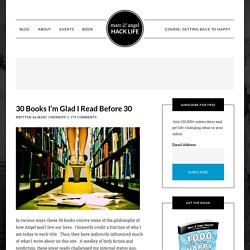 What Makes a Leader? It was Daniel Goleman who first brought the term "emotional intelligence" to a wide audience with his 1995 book of that name, and it was Goleman who first applied the concept to business with his 1998 HBR article, reprinted here.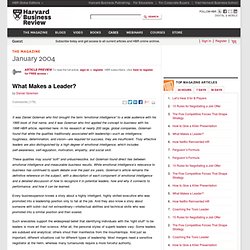 In his research at nearly 200 large, global companies, Goleman found that while the qualities traditionally associated with leadership—such as intelligence, toughness, determination, and vision—are required for success, they are insufficient. Truly effective leaders are also distinguished by a high degree of emotional intelligence, which includes self-awareness, self-regulation, motivation, empathy, and social skill. These qualities may sound "soft" and unbusinesslike, but Goleman found direct ties between emotional intelligence and measurable business results. Sc-tech: I just don't get atheism. That world-view seems so... meager... 30 Very Funny Books--Seriously. It's a dreary day, so I thought I'd indulge myself and come up with a list of my favorite comedies.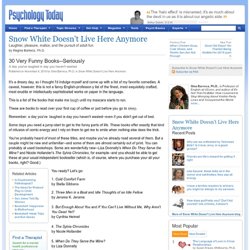 A caveat, however: this is not a fancy English-professor-y list of the finest, most exquisitely crafted, most erudite or intellectually sophisticated works on paper in the language. This is a list of the books that make me laugh until my mascara starts to run. These are books to read over your first cup of coffee or just before you go to sleep . Friends. Love Deactivates Brain Areas For Fear, Planning, Critical Social Assessment. Love Deactivates Brain Areas For Fear, Planning, Critical Social Assessment Andreas Bartels and Semir Zeki of the Wellcome Department of Imaging Neuroscience, University College London have found using Functional Magnetic Resonance Imaging (fMRI) that love turns down activity in some areas of the brain in part so that we will not see flaws in the object of our affections.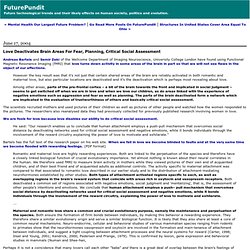 However the key result was that it's not just that certain shared areas of the brain are reliably activated in both romantic and maternal love, but also particular locations are deactivated and it's the deactivation which is perhaps most revealing about love. Among other areas, parts of the pre-frontal cortex – a bit of the brain towards the front and implicated in social judgment – seems to get switched off when we are in love and when we love our children, as do areas linked with the experience of negative emotions such as aggression and fear as well as planning.
The Great Big Narcotics Cookbook. The Perks Of Being A Wallflower. You really need to upgrade Internet Explorer to be here...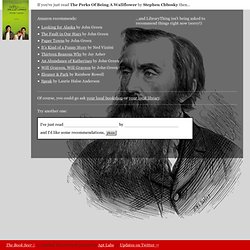 Download it now... The Book Seer β — Another literary web project by Apt Labs // Updates on Twitter → If you've just read The perks of being a wallflower by Stephen chbosky then... Amazon recommends: The Best Science Fiction Books (According to Reddit) Recently, someone asked Reddit for a list of the best science fiction books of all time.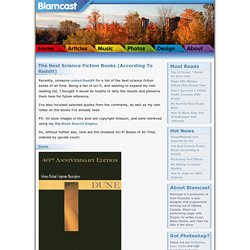 Being a fan of sci-fi, and wanting to expand my own reading list, I thought it would be helpful to tally the results and preserve them here for future reference. I've also included selected quotes from the comments, as well as my own notes on the books I've already read. About 23. This is about the synchronicity number 23, and thus about the phenomena of synchronicity in general.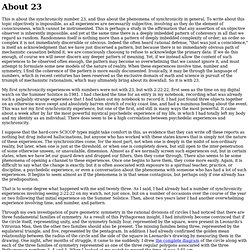 To write about this topic objectively is impossible, as all experiences are necessarily subjective, involving as they do the element of consciousness, which cannot be instrumented. This is perhaps a study in the affirmation that any assertion of an objective observer is inherently impossible, and yet at the same time there is a deeply imbedded pattern of coherency in all that we regard as random. Randomness itself is nothing more than a pattern of deeply imbedded complexity of order; an order so complex it is not immediately discernible or obvious. Indeed the often heard rational defense, "that was just a coincidence," is itself an acknowledgment that we have just discerned a pattern, but because there is no immediately obvious path of mechanistic causation behind it, we are consciously choosing to refuse to acknowledge the primary data.
---