Food
Pesto Chicken Stuffed Shells. When I'm in my cooking 'zone', creative juices tend to flow and I start throwing random things together so nothing goes to waste.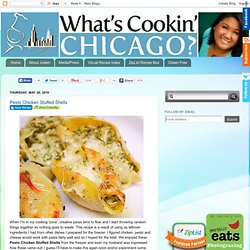 This recipe is a result of using up leftover ingredients I had from other dishes I prepared for the freezer. I figured chicken, pesto and cheese would work with pasta fairly well and so I hoped for the best. We enjoyed these Pesto Chicken Stuffed Shells from the freezer and even my husband was impressed how these came out! Creamy Caprese Pasta. Unfettered F-U-N . . . Rainbow Jelly Shooter! Rainbow Jelly Shooter Its been a whirlwind at the test kitchen.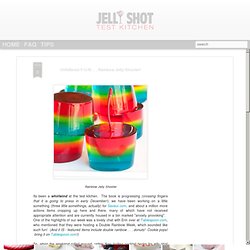 The book is progressing (crossing fingers that it is going to press in early December!) , we have been working on a little something (three little somethings, actually) for Saveur.com, and about a million more actions items cropping up here and there, many of which have not received appropriate attention and are currently housed in a bin marked "anxiety provoking". One of the highlights of our week was a lovely chat with Erin over at Tablespoon.com, who mentioned that they were hosting a Double Rainbow Week, which sounded like such fun! Broccoli Cheddar Soup. Comfort in a bowl.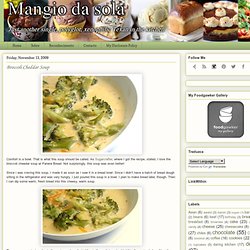 That is what this soup should be called. As Sugarcrafter, where I got the recipe, stated, I love the broccoli cheedar soup at Panera Bread. Not surprisingly, this soup was even better! Linguine with Garlicky Bread Crumbs. With My Husband away on a business trip for a few days this week, I kept the cooking simple.
Often letting the boys choose their dinner, thankfully, a vegetable was always chosen as part of the meal since they both have been learning about eating healthy foods. I don't always indulge my little men, but with Daddy away I thought I'd be extra nice to them - and, it doesn't hurt that their desires are simpler than what I normally make. I must admit that I am a pasta lover. Spinach Pesto Grilled Cheese Sandwich. Earlier on in the week, when I made the spinach, or spanakopita pesto pasta I made sure to keep some of the pesto left over for something new.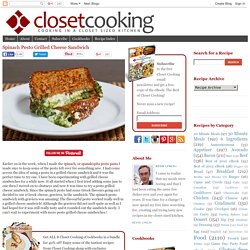 I had come across the idea of using a pesto in a grilled cheese sandwich and it was the perfect time to try one. I have been experimenting with grilled cheese sandwiches for a while now. It all started when I first tried adding some jam to one then I moved on to chutneys and now it was time to try a pesto grilled cheese sandwich. Fast Food: Creamy Shrimp and Mushroom Pasta. October 18th, 2008 by katie I love this recipe.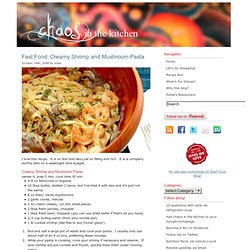 It is so fast and easy yet so filling and rich. It is a company worthy dish on a weeknight time budget. Most gawked all-time | foodgawker - StumbleUpon. Perfect Mac-n-Cheese « My Cooking Quest. November 13, 2008 by joejhorn A few weeks ago I started a quest for some good mac and cheese.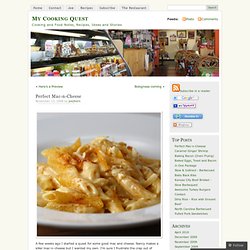 Nancy makes a killer mac-n-cheese but I wanted my own. I'm sure I frustrate the crap out of Nancy sometimes because I'm always looking for something better when it comes to food and recipes. Garlicky Baked Fries. I'm never going to make garlic potato fries any other way.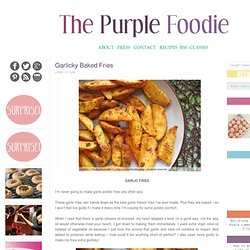 These garlic fries, win hands down as the best garlic french fries I've ever made. Plus they are baked – so I won't feel too guilty if I make it every time I'm craving for some potato comfort. When I read that there is garlic infused oil involved, my heart skipped a beat (in a good way, not the way oil would otherwise treat your heart). I got down to making them immediately. I used extra virgin olive oil instead of vegetable oil because I just love the aroma that garlic and olive oil combine to impart.
---