Tips for Life
20 Quotes For Getting Through Tough Times. 1.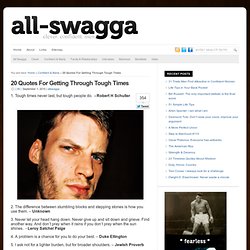 Tough times never last, but tough people do. - Robert H Schuller 2. The difference between stumbling blocks and stepping stones is how you use them. – Unknown. The Number One Mistake People I Interview Are Making These Days. Simple Ideas That Are Borderline Genius 5.
How to Start the Big Project You've Been Putting Off - Peter Bregman. I want to write a screenplay.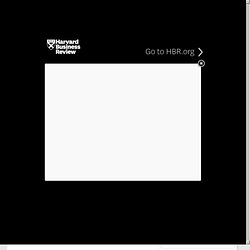 I wanted to write one last year, but other work took more time than I expected, and I kept pushing "write screenplay" off my to-do list. I know I'm not alone in struggling to make incremental progress on long-term projects or goals. How do you get started when you have "all the time in the world"? Maybe you have a project with no deadline, like my screenplay. 89 Simple Swaps That Could Change Your Life.
Whole grains for white, quality for quantity, Wii Fit for Mario Kart—just one smart swap can pave the way to a healthier and happier life.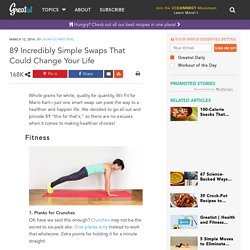 We decided to go all out and provide 89 "this for that's," so there are no excuses when it comes to making healthier choices! Fitness 1. Planks for crunches. Okay okay, have we said this enough? 70 Reminders to Help You Break Any Barrier. I am pleased to introduce this guest article by a new friend John, the creator of HiLife2B, where he hopes to inspire people and to help them achieve their dreams.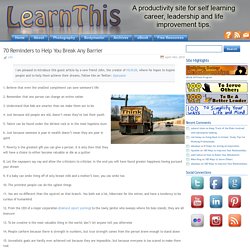 Follow him on Twitter: @janyasor 1. 60 Small Ways to Improve Your Life in the Next 100 Days. Contrary to popular belief, you don't have to make drastic changes in order to notice an improvement in the quality of your life.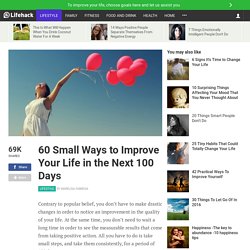 At the same time, you don't need to wait a long time in order to see the measurable results that come from taking positive action. All you have to do is take small steps, and take them consistently, for a period of 100 days. Below you'll find 60 small ways to improve all areas of your life in the next 100 days. Home 1. 30 Things to Stop Doing to Yourself. Post written by: Marc Chernoff Email When you stop chasing the wrong things you give the right things a chance to catch you.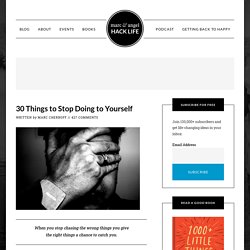 As Maria Robinson once said, "Nobody can go back and start a new beginning, but anyone can start today and make a new ending." Nothing could be closer to the truth. But before you can begin this process of transformation you have to stop doing the things that have been holding you back. Skip the Phone Support Queue by Calling Sales and Acting Confused. The Disadvantages of an Elite Education. Exhortation - Summer 2008 Print Our best universities have forgotten that the reason they exist is to make minds, not careers By William Deresiewicz.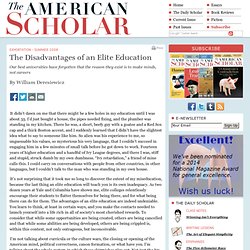 Why We Owe Amazon a Huge "Thank You"
---