SEO
The Ultimate Google+ SEO Guide. This comprehensive Google+ SEO guide covers every aspect and angle of Google+ and how it impacts search.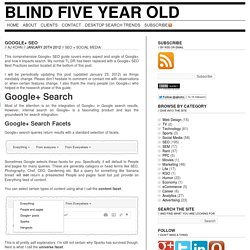 My normal TL;DR has been replaced with a Google+ SEO Best Practices section located at the bottom of this post. I will be periodically updating this post (updated January 23, 2012) as things inevitably change.
Agencies
Scaling SEO by Eliminating Pain Points. Being a "great" SEO, now, is something that comes from various levels of proficiency.
Talent isn't relegated to one point along the scale – you can be a great in-house, a great agency SEO, a great link builder, or otherwise, have the computer science background to understand the algorithm more than most other search practitioners. Much of this won't change ten years from now. All of these factors will offer deliminating characteristics that separate the top three positions from the top thirty.
Link Building Strategies – The Complete List. 5.7K Flares5.7K Flares × Note: the wording of this page was changed from "strategies" to "tactics" since that's exactly what they are: tactics.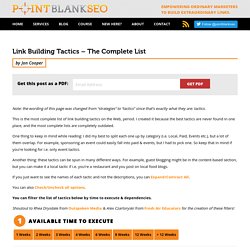 This is the most complete list of link building tactics on the Web, period. I created it because the best tactics are never found in one place, and the most complete lists are completely outdated. Blog Archive » Content Creation. Google Keyword Click Data by Search Ranking Position. Keyword suggestion tool — Google suggest scraper — Übersuggest. Tools for Inbound Marketing: Presentation from Searchfest 2012. Delegating Link Development: Outsource or In-house? You hear all the time about the need for great links in the realm of SEO.
There are tons of quality ways to get new inbound links, but most webmasters find they that don't have the time or inclination to spend hours each day building links to their sites. In addition, many SEO firms are trying to keep up with increasing demand from clients for link development services. How to Get 40,000 Readers Without Guest Blogging. 5+ Ways To Automate SEO With Google Docs. One of my favorite SEO tools helps me with link building, project management, website crawling, and web scraping, and it's completely free.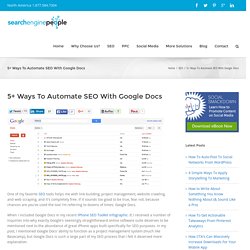 If it sounds too good to be true, fear not, because chances are you've used the tool I'm referring to dozens of times: Google Docs. When I included Google Docs in my recent iPhone SEO Toolkit infographic , I received a number of inquiries into why exactly Google's seemingly straightforward online software suite deserves to be mentioned next to the abundance of great iPhone apps built specifically for SEO purposes.
---