Negócios / Inspiração
Creative-life-2-xl-1.jpg (JPEG Image, 1500 × 932 pixels) - Scaled (72. Inspirational quotes | #433. The 45 Most Powerful Images Of 2011. Mind = Blown. Inspiring Picture Quotes. 201 Ways to Arouse Your Creativity. Arouse your creativity A guest post by Katie Tallo of Momentum Gathering.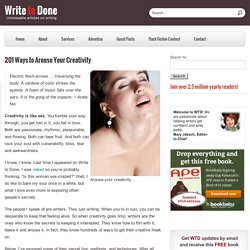 Electric flesh-arrows … traversing the body. 25 Insights on Becoming a Better Writer. When George Plimpton asked Ernest Hemingway what the best training for an aspiring writer would be in a 1954 interview, Hem replied, "Let's say that he should go out and hang himself because he finds that writing well is impossibly difficult.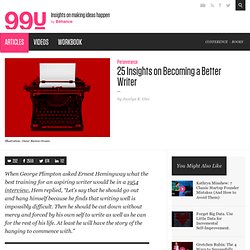 Then he should be cut down without mercy and forced by his own self to write as well as he can for the rest of his life. At least he will have the story of the hanging to commence with." Today, writing well is more important than ever. Far from being the province of a select few as it was in Hemingway's day, writing is a daily occupation for all of us — in email, on blogs, and through social media. Tiny Buddha. Nine Things Successful People Do Differently - Heidi Grant Halvorson.
Learn more about the science of success with Heidi Grant Halvorson's HBR Single, based on this blog post.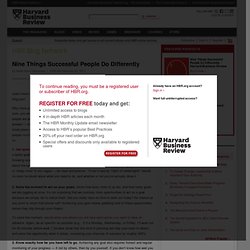 Why have you been so successful in reaching some of your goals, but not others? If you aren't sure, you are far from alone in your confusion. It turns out that even brilliant, highly accomplished people are pretty lousy when it comes to understanding why they succeed or fail. The intuitive answer — that you are born predisposed to certain talents and lacking in others — is really just one small piece of the puzzle.
---