Global Financial and Economic Crisis
Welcome to MichaelMoore.com
Democracy Now!
Home | Common Dreams
CorpWatch : Index
The Yes Men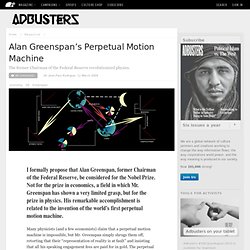 I formally propose that Alan Greenspan, former Chairman of the Federal Reserve, be considered for the Nobel Prize. Not for the prize in economics, a field in which Mr. Greenspan has shown a very limited grasp, but for the prize in physics. His remarkable accomplishment is related to the invention of the world's first perpetual motion machine. Many physicists (and a few economists) claim that a perpetual motion machine is impossible, but Mr.
Alan Greenspan's Perpetual Motion Machine
AlterNet's Mission AlterNet is an award-winning news magazine and online community that creates original journalism and amplifies the best of hundreds of other independent media sources. AlterNet's aim is to inspire action and advocacy on the environment, human rights and civil liberties, social justice, media, health care issues, and more. Since its inception in 1998, AlterNet.org has grown dramatically to keep pace with the public demand for independent news.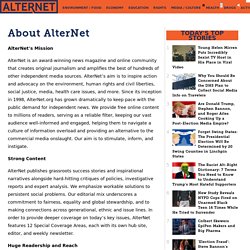 About AlterNet
What went wrong with finance
Rise of Neoliberal and Undemocratic Europe
What is the continuity you see between the moment of Maastricht through the Lisbon Agenda and the Lisbon Treaty, to the Six Pack and now this new Fiscal Treaty? The Maastricht Treaty was a treaty that presented two completely arbitrary figures: 3 percent budget deficit with regard to the GNP and 60 percent for the debt. Why not 4 per cent or 2 per cent? Why not 55 or 65 per cent? Nobody knows.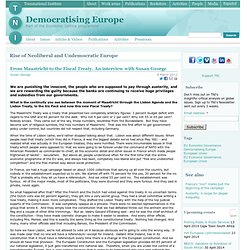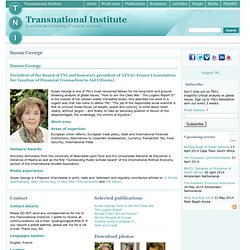 Susan George: How to win the Class War November 2013 The Transnational Institute is proud to present Susan George's compelling satirical 'guide for corporate leaders': How to win the Class War – The Lugano Report II Debt, austerity, devastation July 2013
Susan George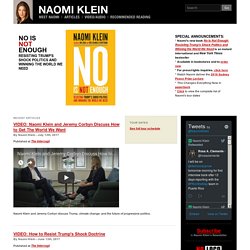 Naomi Klein
Dear Joe, Congratulations on your hasty and unnecessary hatchet job on a book I haven't even finished yet, based on an edited interview about one-tenth of its content. A book of which you haven't read a single word. Disagree with the interview I gave, fine.
Mänskliga rättigheter Amnesty
Welcome to Third World Network (TWN)
The News Dissector