Bragrejer
Get flash to fully experience Pearltrees
"ABANDON ALL HOPE YE WHO ENTER HERE is scrawled in blood red lettering on the side of the Chemical Bank near the corner of Eleventh and First and is in print large enough to be seen from the backseat of the cab as it lurches forward in the traffic leaving Wall Street and just as Timothy Price notices the words a bus pulls up, the advertisement for Les Miserables on its side blocking his view, but Price who is with Pierce & Pierce and twenty-six doesn't seem to care because he tells the driver he will give him five dollars to turn up the radio, 'Be My Baby' on WYNN, and the driver, black, not American, does so." American Psycho , Bret Easton Ellis Click here to see our selection of the 50 best children's books <p style="text-align:right;color:#A8A8A8"></p>
Entertainment Meet David Peterson, who developed Dothraki for Game of Thrones There are seven different words in Dothraki for striking another person with a sword. Among them: "hlizifikh," a wild but powerful strike; "hrakkarikh,"a quick and accurate strike; and "gezrikh," a fake-out or decoy strike. But you won't find these words in George R.
Description This brief is for photographers aged 16 to 22. If you're aged 23 to 30, visit the other Photographic Award brief. For the third year running, we've teamed up with legendary photographic agency Magnum Photos to offer IdeasTap photographers the opportunity of a lifetime.
The 101 Most Useful Websites on the Internet is a frequently updated list of lesser-known but wonderful websites and cool web apps. Presenting the 101 most useful websites of 2012. These sites, well most of them, solve at least one problem really well and they all have simple web addresses (URLs) that you can memorize thus saving you a trip to Google.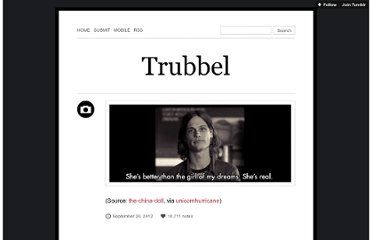 i camden påväg mot äventyr den här staden där alla vet vem du är. utom du själv. (nu bär det av ut mot natten) men det viktigaste att veta är att allt inte är en katastrof bara för att det inte blev som man kanske ville omänsklig torsdag
Your Existing Situation "Creative and emotional, looking for ways to further expand those qualities. Looking for a partner who enjoys the same activities. Seeking adventure and new and unusual activities."
Set in the Kingdom of Denmark, the play dramatizes the revenge Prince Hamlet exacts on his uncle Claudius for murdering the king, Claudius's brother and Prince Hamlet's father, and then succeeding to the throne and taking as his wife Gertrude, the old king's widow and Prince Hamlet's mother. The play vividly portrays both true and feigned madness – from overwhelming grief to seething rage – and explores themes of treachery, revenge, incest, and moral corruption. <p style="text-align:right;color:#A8A8A8"></p>