Titticimmino
titti cimmino
e-Learning Consultant, Math Trainer, Linkeddata supporter, Semanticweb addicted
LinkedData is to spreadsheets and databases what the Web of hypertext documents is to word processor files. Use URIs as names for things Use HTTP URIs so that people can look up those names. When someone looks up a URI, provide useful information.
LinkedData - ESW Wiki
Remote data visualization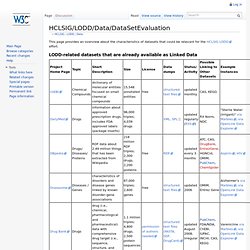 This page provides an overview about the characteristics of datasets that could be relevant for the HCLSIG LODD effort. LODD-related datasets that are already available as Linked Data LODD-related datasets that are already RDFized but not served as Linked Data on the Web LODD-related datasets that are not available as Linked Data yet LODD-related papers
HCLSIG/LODD/Data/DataSetEvaluation - ESW Wiki
Research Themes | Linked Data Research Centre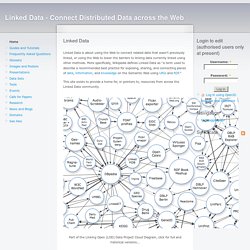 Linked Data | Linked Data - Connect Distributed Data across the
Linked Data is about using the Web to connect related data that wasn't previously linked, or using the Web to lower the barriers to linking data currently linked using other methods. More specifically, Wikipedia defines Linked Data as "a term used to describe a recommended best practice for exposing, sharing, and connecting pieces of data, information, and knowledge on the Semantic Web using URIs and RDF." This site exists to provide a home for, or pointers to, resources from across the Linked Data community. Part of the Linking Open (LOD) Data Project Cloud Diagram, click for full and historical versions...
Semantic Web - The Voice of Semantic Web Business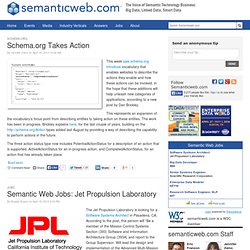 This week saw schema.org introduce vocabulary that enables websites to describe the actions they enable and how these actions can be invoked, in the hope that these additions will help unleash new categories of applications, according to a new post by Dan Brickley. This represents an expansion of the vocabulary's focus point from describing entities to taking action on these entities. The work has been in progress, Brickley explains here, for the last couple of years, building on the http://schema.org/Action types added last August by providing a way of describing the capability to perform actions in the future. The three action status type now includes PotentialActionStatus for a description of an action that is supported, ActiveActionStatus for an in-progress action, and CompletedActionStatus, for an action that has already taken place.
Up to Design Issues The Semantic Web isn't just about putting data on the web. It is about making links, so that a person or machine can explore the web of data. With linked data, when you have some of it, you can find other, related, data. Like the web of hypertext, the web of data is constructed with documents on the web.
Linked Data - Design Issues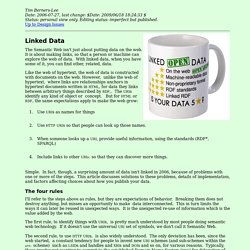 unnamed pearl
News 2013-11-26: Sören Auer, Tim Berners-Lee, Tom Heath, and CHris Bizer are organizing the 7th edition of the Linked Data on the Web workshop at WWW2014 in Seoul, Korea. The paper submission deadline for the workshop is February 16th, 2014. 2013-04-25: The accepted papers of the 6th Linked Data on the Web Workshop (LDOW2013) are online now.
SweoIG/TaskForces/CommunityProjects/LinkingOpenData - ESW Wiki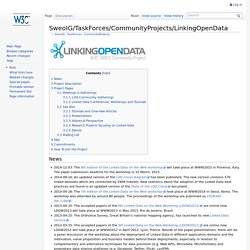 Open Data
An introductory overview of Linked Open Data in the context of cultural institutions. Clear labeling of the licensing terms is a key component of Open data, and icons like the one pictured here are being used for that purpose. Overview[edit]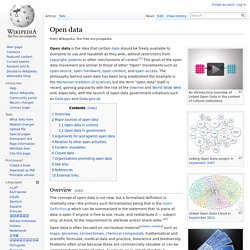 The need of data visualization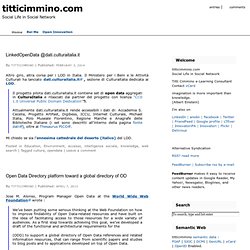 E' con grande piacere che accolgo il binomio Open Data – MIUR! Si, perché finalmente anche nel campo dell'istruzione entra a pieno titolo l'open data vision che per ora è una mission affidata , attraverso il conferimento di incarichi di collaborazione, ai validissimi Lorenzo Benussi del consorzio Top-IX e Solda Kutzmann Donatella. Si tratta di aprire le porte dell'universo dei dati relativi all'istruzione, alla ricerca e all'università non solo per geolocalizzare la scuola col maggior o minor numero di laboratori, l'ateneo più o meno convenzionato con strutture ricettive o con residenze universitarie.
Social Life in Social Network /  titticimmino.com