Titticimmino
titti cimmino
e-Learning Consultant, Math Trainer, Linkeddata supporter, Semanticweb addicted
From W3C Wiki LinkedData is to spreadsheets and databases what the Web of hypertext documents is to word processor files. Use URIs as names for things Use HTTP URIs so that people can look up those names.
LinkedData - ESW Wiki
Remote data visualization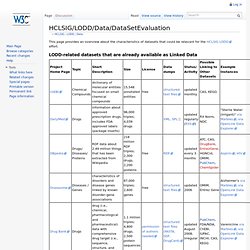 From W3C Wiki This page provides an overview about the characteristics of datasets that could be relevant for the HCLSIG LODD effort. LODD-related datasets that are already available as Linked Data LODD-related datasets that are already RDFized but not served as Linked Data on the Web LODD-related datasets that are not available as Linked Data yet
HCLSIG/LODD/Data/DataSetEvaluation - ESW Wiki
Research Themes | Linked Data Research Centre
Up to Design Issues The Semantic Web isn't just about putting data on the web. It is about making links, so that a person or machine can explore the web of data. With linked data, when you have some of it, you can find other, related, data. Like the web of hypertext, the web of data is constructed with documents on the web.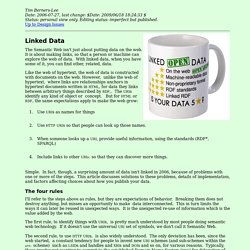 unnamed pearl
From W3C Wiki News 2012-03-25: The accepted papers of the 5th Linked Data on the Web Workshop (LDOW2012) are online now.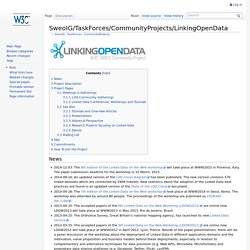 An introductory overview of Linked Open Data in the context of cultural institutions. Clear labeling of the licensing terms is a key component of Open data, and icons like the one pictured here are being used for that purpose. Open data is the idea that certain data should be freely available to everyone to use and republish as they wish, without restrictions from copyright , patents or other mechanisms of control. [ 1 ] The goals of the open data movement are similar to those of other "Open" movements such as open source , open hardware , open content , and open access .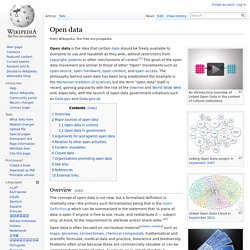 The need of data visualization
Social Life in Social Network /  titticimmino.com