Titticimmino
titti cimmino
e-Learning Consultant, Math Trainer, Linkeddata supporter, Semanticweb addicted
From W3C Wiki LinkedData is to spreadsheets and databases what the Web of hypertext documents is to word processor files. Use URIs as names for things Use HTTP URIs so that people can look up those names.
LinkedData - ESW Wiki
Remote data visualization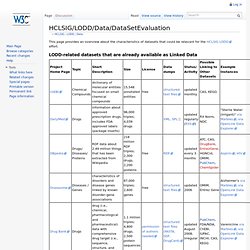 From W3C Wiki This page provides an overview about the characteristics of datasets that could be relevant for the HCLSIG LODD effort. LODD-related datasets that are already available as Linked Data LODD-related datasets that are already RDFized but not served as Linked Data on the Web LODD-related datasets that are not available as Linked Data yet
HCLSIG/LODD/Data/DataSetEvaluation - ESW Wiki
Research Themes | Linked Data Research Centre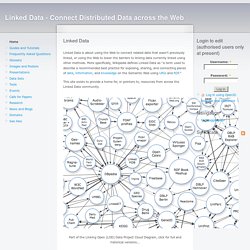 Linked Data | Linked Data - Connect Distributed Data across the
Linked Data is about using the Web to connect related data that wasn't previously linked, or using the Web to lower the barriers to linking data currently linked using other methods. More specifically, Wikipedia defines Linked Data as "a term used to describe a recommended best practice for exposing, sharing, and connecting pieces of data, information, and knowledge on the Semantic Web using URIs and RDF." This site exists to provide a home for, or pointers to, resources from across the Linked Data community. Part of the Linking Open (LOD) Data Project Cloud Diagram, click for full and historical versions...
Semantic Web - The Voice of Semantic Web Business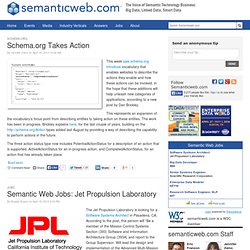 Last week the world learned that the hacks at Target hit more customers than originally thought – somewhere in the 100 million vicinity – and that Neiman Marcus also saw customer credit card information spirited away by data thieves. They're not the first big-name outfits to suffer a security setback, could they be the last? No one can ever say never, of course. But it's possible that new tools that leverage machine learning predictive analytics could put a serious dent in the black hats' handiwork, while also improving IT's hand at application performance management. A big problem in both the APM and security space today is that there's just a ton of data coming at IT pros dealing with those issues, much of it just describing the normal state of affairs, and no one's got time to spend reviewing that.
Up to Design Issues The Semantic Web isn't just about putting data on the web. It is about making links, so that a person or machine can explore the web of data. With linked data, when you have some of it, you can find other, related, data. Like the web of hypertext, the web of data is constructed with documents on the web.
Linked Data - Design Issues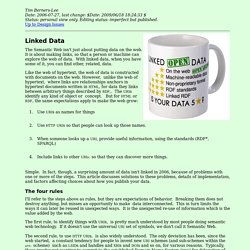 unnamed pearl
News 2013-11-26: Sören Auer, Tim Berners-Lee, Tom Heath, and CHris Bizer are organizing the 7th edition of the Linked Data on the Web workshop at WWW2014 in Seoul, Korea. The paper submission deadline for the workshop is February 16th, 2014. 2013-04-25: The accepted papers of the 6th Linked Data on the Web Workshop (LDOW2013) are online now.
SweoIG/TaskForces/CommunityProjects/LinkingOpenData - ESW Wiki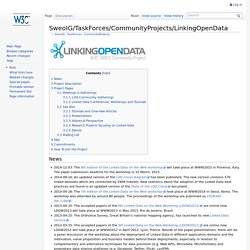 Open Data
An introductory overview of Linked Open Data in the context of cultural institutions. Clear labeling of the licensing terms is a key component of Open data, and icons like the one pictured here are being used for that purpose. Overview[edit]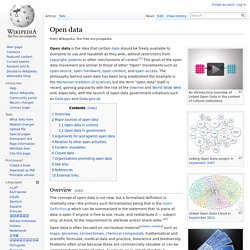 The need of data visualization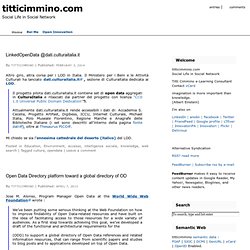 Dice il popolo che quando l'elemosina è generosa, il popolo diffida. E qui si tratta di diffidare eccome. L'elemosina che abbonda in Italia è un meme: open data. Una mistificazione, una diffusione di informazioni non fondate sulla precipua conoscenza dei fatti, diffusione intenzionale -s'intende- col rischio concreto di trascinare l'Italia in una posizione pericolosa. Altro che open data! Andiamo con ordine, tentando una sintesi.
Social Life in Social Network /  titticimmino.com