Web design
The Blog Designer Network For bloggers, aspiring designers, and experienced developers to learn, grow, and inspire others. Not Found, Error 404 The page you are looking for no longer exists. Perhaps you can return back to the site's homepage and see if you can find what you are looking for. Or, you can try finding it with the information below.
Using Custom Web Fonts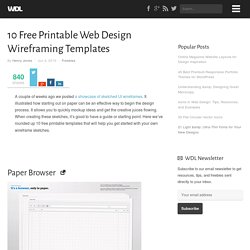 10 Free Printable Web Design Wireframing Templates | Freebies
A couple of weeks ago we posted a showcase of sketched UI wireframes . It illustrated how starting out on paper can be an effective way to begin the design process. It allows you to quickly mockup ideas and get the creative juices flowing. When creating these sketches, it's good to have a guide or starting point. Here we've rounded up 10 free printable templates that will help you get started with your own wireframe sketches. Paper Browser
When starting a new web design project, it's always a good idea to begin with a wireframe . The purpose of a wireframe is to communicate the layout of a page without getting caught up in color and design elements. Wireframes can be a big time saver as they help all parties involved come to an agreement on placement of major page elements such as headers, content areas, navigation menus, and footers. The key is to get the layout nailed down so major layout changes won't take place once detailed design elements are in place. There are several different routes that a designer can take for creating wireframes, and there are even applications designed specifically for this. For this article, we've rounded up 10 excellent tools for creating wireframes . Network :: ProSite
Math is beautiful. Does that sound a little strange? I sure thought so when I first started designing. Math is so rigid and often times boring, or so I thought.