Web design
jQuery API. 10 Free Printable Web Design Wireframing Templates. Shares 11 UI Kits for iPhone and iPad Development Last week we posted a collection of printable wireframing templates which included some for iPhone and iPad app design.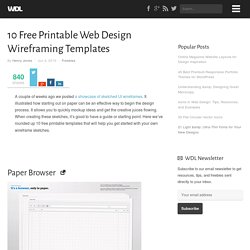 These are great for communicating early mockups and ideas, but when it's time for those ideas to make the jump from paper to the computer screen, it's helpful to have a library of UI elements at… Read More 1335 shares. 10 Excellent Tools for Creating Web Design Wireframes. When starting a new web design project, it's always a good idea to begin with a wireframe. The purpose of a wireframe is to communicate the layout of a page without getting caught up in color and design elements. Wireframes can be a big time saver as they help all parties involved come to an agreement on placement of major page elements such as headers, content areas, navigation menus, and footers. The key is to get the layout nailed down so major layout changes won't take place once detailed design elements are in place. There are several different routes that a designer can take for creating wireframes, and there are even applications designed specifically for this.
For this article, we've rounded up 10 excellent tools for creating wireframes. Make custom mobile apps, web widgets, and rich media ads. Network :: ProSite. The Golden Ratio in Web Design. 1.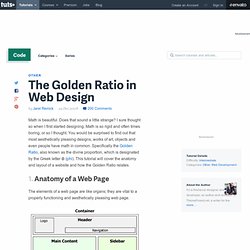 Anatomy of a Web Page The elements of a web page are like organs; they are vital to a properly functioning and aesthetically pleasing web page. These are the main elements of a web page. There are many different ways to organize them but this is perhaps the most common basic layout used online. 2. The Grid System.
---