Photography
Your beautiful eyes on Photography Served. Mystical, Magical & Magnificent Monasteries in Meteora (20 Pics) The caves in Meteora, Greece, had inhabitants for fifty millennia, but due to raids, "hermit monks" moved to the safety of sandstone rock pinnacles in the 9th century and began building monasteries.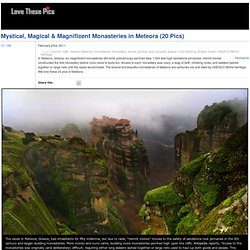 More monks and nuns came, building more monasteries perched high upon the cliffs. Wikipedia reports, "Access to the monasteries was originally (and deliberately) difficult, requiring either long ladders lashed together or large nets used to haul up both goods and people. This required quite a leap of faith — the ropes were replaced, so the story goes, only 'when the Lord let them break.'" UNESCO World Heritage says, "The net in which intrepid pilgrims were hoisted up vertically alongside the 1,224 ft. cliff where the Varlaam monastery dominates the valley symbolizes the fragility of a traditional way of life that is threatened with extinction." Mountain.jpg (JPEG Image, 802x602 pixels) Halfdome.jpg (JPEG Image, 900x1200 pixels) - Scaled (53%)
Eyjafjallajokull-volcano-lightning-iceland_26742. Another World on Photography Served. Awe-inspiring Digital Art & Illustration  This is third part of my weekly design inspiration featuring the best digital illustration around the web.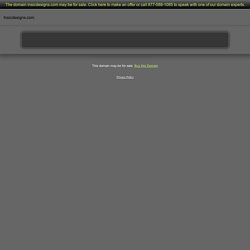 The following list of arts are well detailed and high quality masterpiece of its respective artist that will make you say wow! New Frontiers Dreamland Three Kingdoms-Zhang Chun Hua. Amazing-red-sky-wide.jpg (JPEG Image, 1920x1200 pixels) - Scaled (52. 3206369_large.jpeg (JPEG Image, 1500x500 pixels) - Scaled (67. Earth from Above a collection of aerial photography. "Earth From Above" is the result of the aerial photographer Yann Arthus-Bertrand's five-year airborne odyssey across six continents.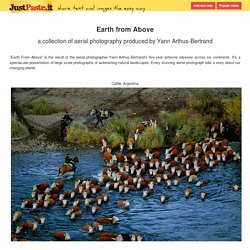 It's a spectacular presentation of large scale photographs of astonishing natural landscapes. Every stunning aerial photograph tells a story about our changing planet.
---