Social media
The learning organization - principles, theory and practice @ the encyclopedia of informal education. The learning organization.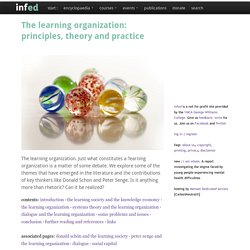 Just what constitutes a 'learning organization is a matter of some debate. We explore some of the themes that have emerged in the literature and the contributions of key thinkers like Donald Schon and Peter Senge. Is it anything more than rhetoric? Can it be realized? Contents: introduction · the learning society and the knowledge economy · the learning organization · systems theory and the learning organization · dialogue and the learning organization · some problems and issues · conclusion · further reading and references · links. Dropbox Forms: Receive files from your web site to your dropbox! Just follow the instructions below.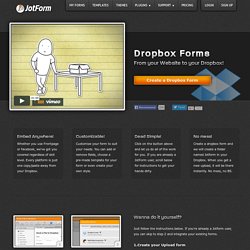 If you're already a Jotform user, you can skip to step 2 and integrate your existing forms. 1.Create your Upload form Go to Jotform Form Builder and drag a File Upload field from the Form Tools menu to your workspace. If you wish to collect any other type of information, add the relevant fields from the tools menu. Directory of E-Learning Tools: Social networks. DIRECTORY OF LEARNING TOOLS 2011 Social networks and collaboration spaces These social media platforms include public social networks as well as tools to create private collaborative, social spaces for groups or communities, as well as enterprise collaboration systems (with multiple group sites), NOW includes Micro-sharing tools.
NOTE: Formal social learning management systems appear here . Public social networks and collaboration platforms | Group and team collaboration tools | Community and enterprise platforms. Our World Digitized: The Good, the Bad, the Ugly | MIT World. The Augmented Social Network. How To: Establish A Social Media Culture In Your Company | Penn. A strong social media culture is beneficial for any company.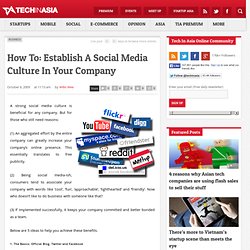 But for those who still need reasons: (1) An aggregated effort by the entire company can greatly increase your company's online presence. This essentially translates to free publicity. (2) Being social media-ish, consumers tend to associate your company with words like 'cool', 'fun', 'approachable', 'lighthearted' and 'friendly'. Social Media Search Tool | WhosTalkin? Samepoint Social Conversation Search | Social Mentions. Digital Textbooks. Social Network for Teachers. Why Social Media Curriculum is Critical in Schools - 140 Charact. I am presenting at The 140 Characters Conference in New York City on April 20th.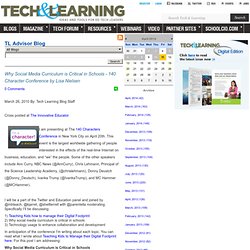 This event is the largest worldwide gathering of people interested in the effects of the real-time Internet on business, education, and "we" the people. Some of the other speakers include Ann Curry, NBC News (@AnnCurry), Chris Lehmann, Principal of the Science Leadership Academy, (@chrislehmann), Donny Deustch (@Donny_Deutsch), Ivanka Trump (@IvankaTrump), and MC Hammer (@MCHammer). I will be a part of the Twitter and Education panel and joined by @mbteach, @kjarret, @shellterrell with @parentella moderating. Student Bloggers. The Bloggers' FAQ on Student Blogging addresses legal issues arising from student blogging.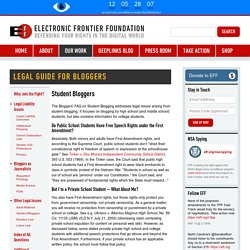 It focuses on blogging by high school (and middle school) students, but also contains information for college students. Do Public School Students Have Free Speech Rights under the First Amendment? Absolutely. Beyond Social Networking: Building Toward Learning Communities - Viewpoint Beyond Social Networking: Building Toward Learning Communities Web 2.0 tools have critically elevated the social networking activity and skills of individuals.
Not only are young people highly active in social networks, but older individuals are also showing a huge increase in their use of these tools. 90+ Essential Social Media Resources. Teacher's Guide To Social Media. Tools for EDU. 7 Fantastic Free Social Media Tools for Teachers. The possibilities for social media tools in the classroom are vast.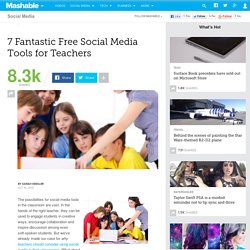 In the hands of the right teacher, they can be used to engage students in creative ways, encourage collaboration and inspire discussion among even soft-spoken students. But we've already made our case for why teachers should consider using social media in their classrooms. What about the how? Emerging Top 100 Tools for Learning 2010. 25 Best Sites for Free Educational Videos. RefSeek's guide to the 25 best online resources for finding free educational videos.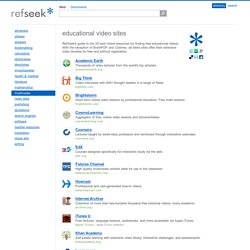 With the exception of BrainPOP and Cosmeo, all listed sites offer their extensive video libraries for free and without registration. Academic Earth Thousands of video lectures from the world's top scholars. academicearth.org. Educational Benefits Of Social Networking Sites Uncovered. In a first-of-its-kind study, researchers at the University of Minnesota have discovered the educational benefits of social networking sites such as MySpace and Facebook.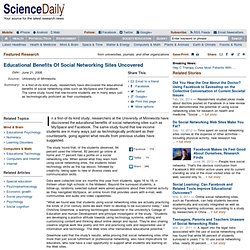 The same study found that low-income students are in many ways just as technologically proficient as their counterparts, going against what results from previous studies have suggested. The study found that, of the students observed, 94 percent used the Internet, 82 percent go online at home and 77 percent had a profile on a social networking site. When asked what they learn from using social networking sites, the students listed technology skills as the top lesson, followed by creativity, being open to new or diverse views and communication skills. Data were collected over six months this year from students, ages 16 to 18, in thirteen urban high schools in the Midwest. Web 2.0, Social Media in safety mode in education.
Top 10 Social Media Blogs: The 2011 Winners! Social media is a big subject. If you're looking for some reliable places to go for the best tips and social media tactics, look no further! Our second-annual contest generated more than 300 nominations. Our panel of social media experts carefully reviewed the nominees and finalists, analyzing the quality of their content, the frequency of posts and reader involvement (among other things). How to say stupid things about social media | Cory Doctorow | A woman checks Twitter on an iPhone Photograph: Sarah Lee Here are some suggested things to say if you want to sound like an idiot when you talk about social media: • It's inconsequential – most of the verbiage on Twitter, Facebook and the like is banal blather Yes, it certainly is. 35 Great Social Media Infographics. 35 Great Social Media Infographics [Note: I recently updated this compilation to include some more recent visualizations... you can see it here.]
Here's a collection of terrific social media infographics that might come in handy. As you probably know, infographics are visual representations of information, data, or knowledge. They illustrate information that would be unwieldy in text form and they act as a kind of visual shorthand, making information easy to understand and consume. They are driven by the same information as charts, but they're often a better form of communication because of their pleasant aesthetics — charts and graphs can communicate data, but infographics turn data into information. "90-9-1" Rule for Participation Inequality: Lurkers vs. Contribu. Which Social Network Is Right For You? - Social Networks - Lifeh.
---