Photography
▶ Erik Johansson: Impossible photography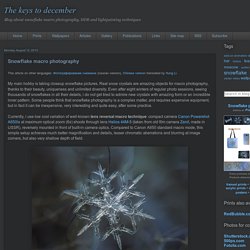 (russian version of this post) I capture snowflakes at open balcony of my house, mostly on glass surface, lighted by LED flashlight from opposite side of glass, and sometimes in natural light, using dark woolen fabrics as background. On a floor of a balcony I put the turned stool (legs up), on them - a glass plate. Previously, i shoot using Canon A650's standard macro mode.
Photographer Tapes a $50 Lens To His P&S Camera To Take Stunning Macro Snowflake Photos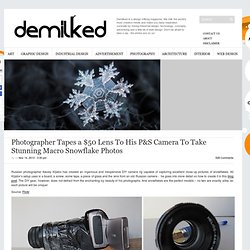 EmailEmail Russian photographer Alexey Kljatov has created an ingenious and inexpensive DIY camera rig capable of capturing excellent close-up pictures of snowflakes. All Kljatov's setup uses is a board, a screw, some tape, a piece of glass and the lens from an old Russian camera - he goes into more detail on how to create it in this blog post. The DIY gear, however, does not detract from the enchanting icy beauty of his photographs. And snowflakes are the perfect models – no two are exactly alike, so each picture will be unique! Source: Flickr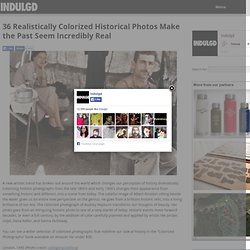 A new artistic trend has broken out around the world which changes our perception of history dramatically. Colorizing historic photographs from the late 1800′s and early 1900′s changes their appearance from something historic and different, into a scene from today. The colorful image of Albert Einstein sitting beside the water gives us an entire new perspective on the genius.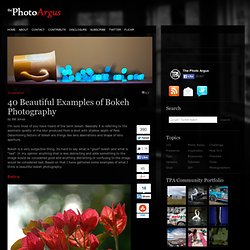 40 Beautiful Examples of Bokeh Photography - The Photo Argus
Inspiration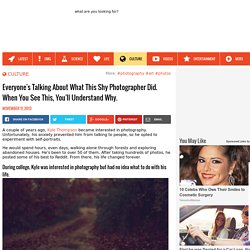 A couple of years ago, Kyle Thompson became interested in photography. Unfortunately, his anxiety prevented him from talking to people, so he opted to experiment with self-portraits. He would spend hours, even days, walking alone through forests and exploring abandoned houses.
Kyle Thompson Self Portrait Photos Are Awesome
Sick by Larrryyy on deviantART
the fear by 8o-clock on deviantART
Empty Spaces by JakezDaniel on deviantART
Mother shuns Disney Princess ideal and dresses daughter up as five REAL heroines from history to commemorate fifth birthday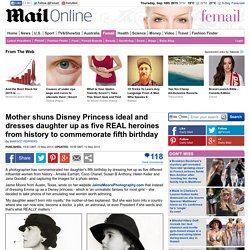 By Margot Peppers PUBLISHED: 15:43 GMT, 13 May 2013 | UPDATED: 19:59 GMT, 13 May 2013 A photographer has commemorated her daughter's fifth birthday by dressing her up as five different influential women from history - Amelia Earhart, Coco Chanel, Susan B Anthony, Helen Keller and Jane Goodall - and capturing the images for a photo series. Jaime Moore from Austin, Texas, wrote on her website JaimeMoorePhotography.com that instead of dressing Emma up as a Disney princess - which is 'an unrealistic fantasy for most girls' - she decided to take photos of her emulating real women worth admiring. 'My daughter wasn't born into royalty,' the mother-of-two explained. 'But she was born into a country where she can now vote, become a doctor, a pilot, an astronaut, or even President if she wants and that's what REALLY matters.'
41 REASONS WHY YOU SHOULDN'T DATE A PHOTOGRAPHER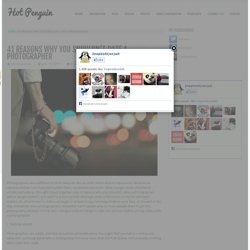 Photographers are a different kind of creatures. We are both artists and entrepreneurs. We love our cameras and we sure love playing with them, sometimes too much. After a longer series of technical articles and advice, I thought I'd put together a list of reasons why you shouldn't date a photographer. Before we get started, I just want to point out that although some of the items on the list will seem realistic, it's all intended to make you laugh or at least bring a knowing smile on your face. At the end of the day, everybody loves photographers, otherwise I can't explain why so many people want to get into photography.
Beauty in Everything - Photography
Brendon Burton - Fine Art
Photo of the Day
Kyle.Thompson's Photostream
Self Portraits by Kyle Thompson
ALEXANDRA DIEZ DE RIVERA
Just water drops
(Rolex GMT Master Root Beer) Mixed Media: Ink, watercolor and print on old paper. Size. 29x21 cm / 11,5x8,2 Inch More in the Blog Shop, HERE The early model of the Rolex GMT Master Root beer, was a favorite of Mr. Clint Eastwood. The Rolex watch is also known as "Dirty Harry" or Tiger Eye..
CAY BROENDUM SPARE TIME
The choice to make by Victoria Ivanova
Overhead Kick by Yuan Atmojo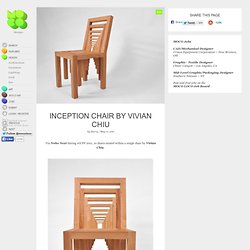 Via Noho Next during #ICFF 2011, 10 chairs nested within a single chair by Vivian Chiu .
Inception Chair by Vivian Chiu
25 Beautiful Photographs of Italy | Inspired Kiwi
Dog Vs Praying Mantis
Mizozo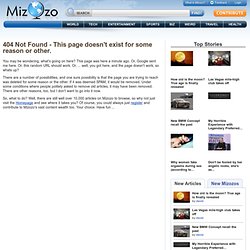 first image 'pencil vs. camera' by ben heine image © ben heine