Music
Pro Tools
What's New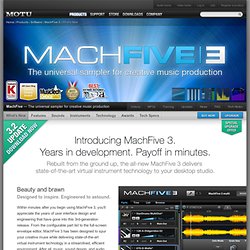 45 GB of included instruments, loops and phrases MachFive's signature scripted instruments give you incredibly realistic core instruments that are basic necessities for any studio: drums, bass, guitar, piano, and percussion. But that's just the beginning.
R&R World: Login
Pizzicato Keyboard contains all the tools you need to write music for the keyboard instruments like the piano, the organ or the synthesizer, with up to 4 staves. This music software contains all the tools of Pizzicato Professional related to keyboard notation. Enter the notes with combinations of mouse clicks, tool palettes, keystrokes, the virtual piano keyboard window, or directly through a MIDI keyboard, step by step or in real time. An extensive and easy to follow tutorial helps you mastering every aspect of Pizzicato.
Pizzicato - A full range of music software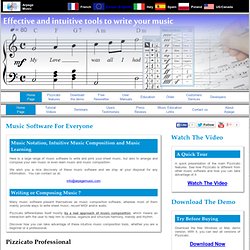 Score Exchange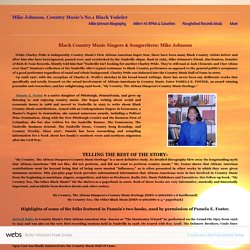 "My Country, The African Diaspora's Country Music Heritage" is a most definitive study. Its detailed discography blew away the longstanding myth that African-Americans "did not like, did not perform, and did not want to perform country music." Ms. Foster shows that African American contributions went far beyond being that of being mere musical "influences," as is often presented in other works in which they were given minimum mention. This 350-plus page book provides substantiated information that African-Americans were in fact involved in Country Music from the beginning as musicians, singers, and writers, and later as Producers, Radio DJs, Music Publishers and Executives.
Black Country Artists - Mike Johnson, Country Music's No.1 Black Yodeler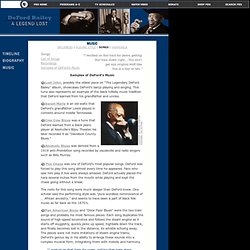 List of Songs Recordings Samples of DeFord's Music Samples of DeFord's Music Lost John, possibly the oldest piece on "The Legendary DeFord Bailey" album, showcases DeFord's banjo playing and singing. This tune also represents an example of the black hillbilly music tradition that DeFord learned from his grandfather and uncles. Sweet Marie is an old waltz that DeFord's grandfather Lewis played in contests around middle Tennessee. Cow Cow Blues was a tune that DeFord learned from a black piano player at Nashville's Bijou Theater.
DeFord Bailey: A Legend Lost . Music. Songs
Black country singers - SH Forums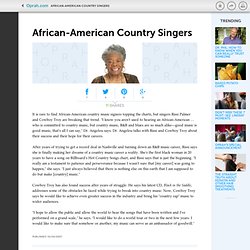 It is rare to find African-American country music signers topping the charts, but singers Rissi Palmer and Cowboy Troy are breaking that trend. "I know you aren't used to hearing an African-American … who is committed to country music, but country music, R&B and blues are so much alike—good music is good music, that's all I can say," Dr. Angelou says. Dr. Angelou talks with Rissi and Cowboy Troy about their success and their hope for their careers. After years of trying to get a record deal in Nashville and turning down an R&B music career, Rissi says she is finally making her dreams of a country music career a reality.
African-American Country Singers
Welcome to MOTU Audio
- KORG - World leader of Musical Instruments