Satanism
Get flash to fully experience Pearltrees
The First Satanic Church was founded on October 31, 1999 by Karla LaVey to carry on the legacy of her father, Anton LaVey , author of The Satanic Bible . [ 1 ]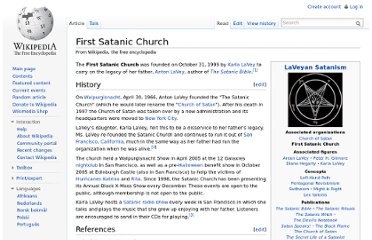 The downward-pointing pentagram is often used to represent Satanism. Satanism is a broad term referring to a group of Western religions comprising diverse ideological and philosophical beliefs. Their shared features include symbolic association with, or admiration for the character of, Satan , or similar rebellious, promethean , and, in their view, liberating figures.
Anton Szandor LaVey [ 1 ] (born Howard Stanton Levey ; April 11, 1930 – October 29, 1997) was the founder of the Church of Satan as well as a writer , occultist , and musician . He was the author of The Satanic Bible and the founder of LaVeyan Satanism , a synthesized system of his understanding of human nature and the insights of philosophers who advocated materialism and individualism , for which he claimed no supernatural or theistic inspiration.
Lucifer ( pron.: / ˈ l uː s ɪ f ər / or / ˈ lj uː s ɪ f ər / ) is the King James Version rendering of the Hebrew word הֵילֵל in Isaiah 14:12 .
Cancel Edit Delete Preview revert Text of the note (may include Wiki markup ) Could not save your note (edit conflict or other problem).
Engraving by Henry de Malvost in the book "Le Satanisme et la Magie" by Jules Bois depicting a Black mass , part of an earlier moral panic of religious desecration and Satanic ceremonies that was a precursor to the satanic ritual abuse moral panic of the late 20th century
From Issue 4.2 - Summer 1998