Geek Stuff
Get flash to fully experience Pearltrees
Qapla' batlh je - KAHPLAH BATL JEH - SUCCESS AND HONOR
In order to do that, you really need access to those underground search engines that may not be quite as well known, but they dig much more deeply into specialized areas of the Internet than the general search engines are capable of.
This list of notable constructed languages is in alphabetical order, and divided into auxiliary , engineered , and artistic (including fictional) languages , and their respective subgenres. [ edit ] Auxiliary languages International auxiliary languages are languages constructed to provide communication among all human beings, or a significant portion, without necessarily replacing native languages.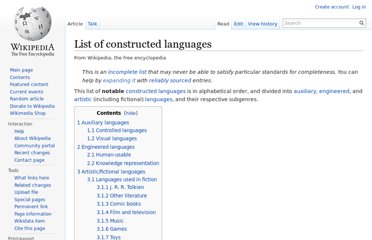 From Wired How-To Wiki
1.Back Track
If you're looking to hide files on your PC hard drive , you may have read about ways to encrypt folders or change the attributes on a file so that they cannot be accessed by prying eyes. However, a lot of times hiding files or folders in that way requires that you install some sort of software on your computer, which could then be spotted by someone else. I've actually written quite a few articles on how you can hide files and folders in Windows XP and Vista before, but here I'm going to show you a new way to hide files that is very counter-intuitive and therefore pretty safe!
This guest post was written by Blair Mathis from LaptopLogic.com – your premier source for the latest laptop software news and best laptop accessories . Computer passwords are like locks on doors – they keep honest people honest.
Keyloggers can generally be classified as either software or hardware keyloggers. Software keyloggers are running as a background task on the system while hardware keyloggers are little devices that are most of the time connected between pc and keyboard recording every keystroke in their own memory.
Internet users across the world have been warned that if they have the "Alureon/ DNS Changer bot" virus on their computers, they will lose their Internet connections.