Outils internet
Geekaphone. Agenda. Twitter. Documents - Page d'accueil. Google Maps. Screencast-O-Matic - Free online screen recorder for instant screen capture video sharing.
Justbeamit.com. Multiupload.com - upload your files to multiple file hosting sites! Free File Sharing - Minus.com.
RSS. Create paintings from photos. Block Posters - Create large wall posters from any image for fre. Real-time local Twitter trends.
Free conversion - no download required - Zamzar. Put the internet to work for you. Share your view. Prezi - The Zooming Presentation Editor. Task Management At Its Best With Wunderlist. Recurring to-dos Capture your daily, weekly and monthly to-dos.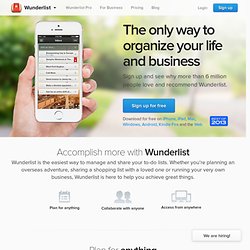 Subtasks Break big tasks intosmaller achievable goals. Share. Easy scheduling. Search for Music Using Your Voice by Singing or Humming, View Music Videos, Join Fan Clubs, Share with Friends, Be Discovered and Much More For Free! - midomi.com. Le planning de toutes vos séries. BD Maniac la communauté 100% BD, Manga et Comics.
Les histoires d'amour durent 3 ans dit-on...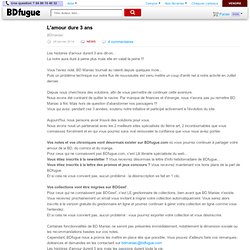 La notre aura duré à peine plus mais elle en valait la peine !!! Vous l'aviez noté, BD Maniac tournait au ralenti depuis quelques mois... Qualys BrowserCheck. Windows Cleaner: clean Windows registry, delete junk files online for free. Clean up ALL Your Applications Privacy Settings in 2 Minutes.
---